Found November 29, 2012 on State of the Texans:
It's not often we talk about other players not associated with the Houston Texans, but the name of Oakland Raiders inside linebacker Rolando McClain has come up. According to multiple sources, the former 8th overall pick (2010 NFL Draft) is set to "no longer" be a Raider.   These tweets came out about McClain and his recent comments.   Former Bama LB Rolando McClain no longer with OAK.He writes: I'm gonna weigh my options. Looking forward to playing for an actual 'team'. — Kyle Burger (@kyle_burger) November 28, 2012   McClain on Facebook: "Officially no longer an Oakland Raider!!" and "I'd like to be anywhere besides here" — Kyle Burger (@kyle_burger) November 28, 2012   No official word from the the Raiders has come out and he is still currently listed on their active roster as of Wednesday night. Reports have surfaced that he and Head Coach Dennis Allen had an argument and was dismissed from practice, and have described McClain's absence as "team-related issue." It is not often a player of McClain's caliber comes available and with his "baggage" (See Here), there is a good chance he could scare away teams from taking a chance on him. As for the Texans, with their serious issues on the inside of their defense they could possibly use the troubled linebacker. Not blessed with the best reputation, his production on the field has slipped in his 3rd season as a professional. Considered a run stopping player, McClain measures in at 6'4″ and 259 lbs.  He had his best season as a Raider in 2011 when he posted 99 total tackles, 5 sacks and 14 pass deflection while starting 14 games. The talent is there but would the Texans take a chance on a low character guy like McClain? The chances of landing McClain are slim with the Texans being so far down on the waiver wire, but to us if the Texans had the chance to claim him it "could" be worth it. The Texans organization is not known for taking chances on low character players, but they opened the door with Bryan Braman and his issues he had in college. Braman has gotten back on track after his off the field issues and turned into a real contributor for the Texans in his two seasons in Houston. There is enough leadership in the close knit locker room of the Texans to help any player that comes to Houston to fall in line. Despite McClain's shortcomings and "alleged" issues, it would be hard to believe that he couldn't succeed in the positive atmosphere in Houston. Throw in his college teammate Kareem Jackson (Alabama) and an up and coming franchise, there are plenty of positives for McClain to be successful. Teams can have one bad apple, but multiple can set up NFL franchises for some tough times. In McClain's case, coming to a new environment and one that is winning just might be what the young player needs to get his life and career back on track. The risk may be high but the reward could even be higher if the Texans can get their hands on him.  Think about it. If the Texans could get him to contribute in some form or fashion this late in the season, it would be a considerable upgrade with his pure football ability. Bigger than that would be the idea he could line up to a healthy Brian Cushing in 2013 and prevent the Texans from using a high draft pick on an inside linebacker in the draft. McClain could be a huge assest to the Texans, but the question lies if team owner Bob McNair and General Manager Rick Smith would be willing to take a big chance on probably the most questionable character player they would have ever faced. The team is a long shot to claim McClain (if he is waived), but would the team take the chance on him is the bigger question.   You can follow Patrick on Twitter.  He is the Editor of State of the Texans.  
Original Story:
http://www.stateofthetexans.com/?p=9367
THE BACKYARD
BEST OF MAXIM
RELATED ARTICLES
NOT AROUND HERE
Rolando McClain may not be free from the Raiders just yet. The organization suspended the linebacker this week. See why.
SHOOT IT TO ME STRAIGHT
Rolando McClain may be getting released by the Oakland Raiders in the near future, and he is going out in a blaze of Facebook glory.
The Oakland Raiders released Rolando McClain late Wednesday with an official announcement on Thursday. This  now allows them to draft Notre Dame Linebacker Manti Te'o. Rolando McClain was nothing but trouble in Oakland as he was arrested and charged with third-degree assault, reckless endangerment and discharging a firearm inside the city limits. It also didn't help that he...
Rolando McClain appears to be on his way out with the Oakland Raiders, and he reportedly isn't hiding his disdain for the organization. The third-year linebacker did not practice with the team on Wednesday for what coach Dennis Allen described as "team-related issues." The former No. 8 overall draft pick then apparently ripped the team over social media. According to Kyle...
Paul Guiterrez of CSNBayArea.com sat down with Oakland Raiders general manager Reggie McKenizie and asked if linebacker Rolando McClain has played his last game in Oakland. "It's going to be a possibility because we suspended him," said McKenizie, per Guiterrez.  "Now, it's always what's going to happen afterward. What's his approach afterward? I know what he texted...
Linebacker Rolando McClain is not practicing again for the Oakland Raiders a day after being held out for an undisclosed team-related issue. The Raiders say McClain is still on the team's roster Thursday despite being held out of practice for two days. Coach Dennis Allen is scheduled to address the media later in the day. McClain was the eighth overall pick in the 2010 draft...
Linebacker Rolando McClain is still officially a member of the Oakland Raiders, but he missed practice on Wednesday for unexplained reasons and wrote on his Facebook page that he is no longer on the team, ProFootballTalk.com reported Wednesday. McClain started nine of the 11 games in which he played for the Raiders this season, but he wrote on his Facebook page, "Officially...
This definitely qualifies as one of the most awkward moments in sports.  Oakland Raiders linebacker Rolando McClain thought he was going to be cut and expressed his relief and excitement on his Facebook page, only to discover the Raiders were going to suspend him for two games for conduct detrimental to the team.McClain had been in legal trouble earlier this year for pulling a firearm...
The Oakland Raiders announced today that they are suspending malcontent LB Rolando McClain for "conduct detrimental to the team", according to Jay Glazer of FOX Sports. All we hear at this point is that they are reportedly not going to release him, so we're not exactly sure what his future will be with the team going forward. They also didn't say how long he...
Oakland Raiders linebacker Rolando McClain was kicked out of practice this week for arguing with head coach Dennis Allen and later suspended two games for conduct detrimental to the team.  Raiders general manager Reggie McKenzie was asked on Friday if McClain had played his last game with the Raiders. Paul Gutierrez of Comcast SportsNet Bay Area provided a transcript of the conversation...
NFL News

Delivered to your inbox

You'll also receive Yardbarker's daily Top 10, featuring the best sports stories from around the web. Customize your newsletter to get articles on your favorite sports and teams. And the best part? It's free!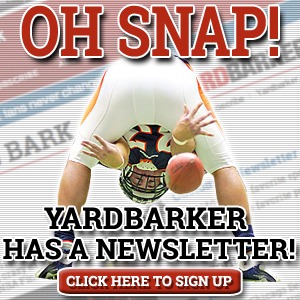 Latest Rumors
Best of Yardbarker

Today's Best Stuff

For Bloggers

Join the Yardbarker Network for more promotion, traffic, and money.

Company Info

Help

What is Yardbarker?

Yardbarker is the largest network of sports blogs and pro athlete blogs on the web. This site is the hub of the Yardbarker Network, where our editors and algorithms curate the best sports content from our network and beyond.