Found May 31, 2012 on Larry Brown Sports:
The more information that comes out, the more we realize the Allen Wranglers must really dislike Terrell Owens. Similar to what happened toward the end of Owens' career with a number of NFL teams, it sounds like the receiver quickly wore out his welcome with the Indoor Football League. The Wranglers may have released T.O. earlier this week and demanded he give back the 2012 Jeep Grand Cherokee that they provided him with, but at least they had the decency to buy back his ownership stake in the company — for $50. As TMZ.com pointed out, T.O. had a 50 percent stake in the company. The Wranglers are no Pittsburgh Steelers, but I'm guessing the team is worth more than $100. In all likelihood, the incredibly insulting "buyout" is another way for the Wranglers to show that they believe T.O. violated his contract by skipping two road games and missing a charity event. As we told you on Tuesday, Owens' lawyers are looking into details of the release. T.O.'s initial contract with the team ...
Original Story:
http://larrybrownsports.com/football/...
THE BACKYARD
BEST OF MAXIM
RELATED ARTICLES
Future Hall of Fame Wide Receiver Terrell Owens now has little hope of a return to the NFL after his latest departure from an indoor football league team. The Allen Wranglers released Owens because of "lack of effort both on and off the field." The Wranglers have an important away game this weekend, and Owens refused to suit up for the road game. In Owens' original contract...
Terrell Owens is being dogged out by a lot of people right now. Former team mates, baby-mamas, agents and even a fourth-tier arena league team. Next up to get some is Mike Tyson. He did a radio interview today with Philadelphia's 97.5: The Fanatic and he kept it real in regards to how Owens has handled himself, whether the public should feel sorry for him and his now notorious...
So much for the magical partnership between Terrell Owens and the Allen Wranglers. The Indoor Football League team released the receiver and pulled his ownership stake in the club because he violated his contract. Team owner Jon Frankel reportedly said T.O. refused to play in two upcoming road games and also missed an appearance at a local childrens' hospital. "It's disappointing...
Terrell Owens has never been a model citizen. Yet, as with most people, there's always been a hope that he'd someday "get it." That day is never coming. After getting kicked to the curb by his Indoor Football League team, it's becoming increasingly clear that "not a model citizen" doesn't even begin to describe Owens. Instead, he's a guy who...
Wide receiver Terrell Owens has been released by the Allen Wranglers of the IFL, according to ESPN Dallas. Fantasy Spin: Owens refused to play in two upcoming road games, and also turned down an appearance at a childrens hospital, and his ownership stake in the Wranglers has been terminated. He chipped in 35 catches for 420 yards and 10 touchdowns over eight games, but the organization...
If anyone thought the sad saga of Terrell Owens as a halfwit player in a two-bit league was over when the Allen Wranglers unceremoniously cut the malcontent after he refused to play in two upcoming road games, and perhaps most egregious of all, didn't show up for a scheduled appearance at a children's hospital, well, [...]
Ballertainment Who does this? Who gets released from their team for refusing to show up and play? Terrell Eldorado Owens, that's who. Yup, that's right. Terrell Owens has been cut from the Indoor Football League. Not only did the Allen Rangers release him, they also put the lid on his stake in ownership. Apparently, T.O. didn't make himself available to join his team on the...
When it was first announced Terrell Owens was headed to the Indoor Football league to play for the Allen Wranglers, you couldn't help but think he'd reached rock bottom. Who would expect 3 months later T.O. would be released and the reasons behind why sounding oddly familiar. Wranglers owner, Jon Frankel cited Owens' refusal to play [...]
Last season, Terrell Owens tried, and failed miserably, to make an NFL comeback. Many thought that signing with the Allen Wranglers, an Indoor Football League team, for a six-figure salary that also included an ownership stake in the team was actually his career's rock bottom. If that was the case, that hold just got a little deeper. Earlier today, the Allen Wranglers cut Owens...
Terrell Owens just keeps falling down the stairs to success. Terrell Owens was at one point a phenomenal athlete but now it seems that people can't get him away from them fast enough. Owens has been playing in the Indoor Football League hoping to bide his time until he could return to the NFL, but after being cut from his own team I doubt that anybody would even consider it...
Terrell Owens time in the Indoor Football League came to an abrupt ending on Tuesday after the Allen Wraglers parted ways with the veteran wide receiver.
Terrell Owens wants to sue his former Indoor Football League team, crying foul over being unceremoniously dumped. The Allen Wranglers, which T.O. played for and was part-owner, dumped him after they had enough of the head case receiver. Team president and co-owner Tommy Benizio said "the proverbial straw that broke the camel's back for Mr. Owens was his no-show to a scheduled...
NFL News

Delivered to your inbox

You'll also receive Yardbarker's daily Top 10, featuring the best sports stories from around the web. Customize your newsletter to get articles on your favorite sports and teams. And the best part? It's free!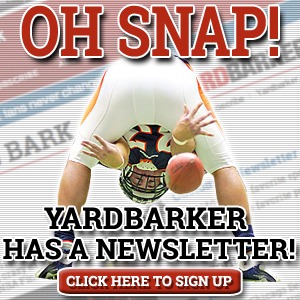 Latest Rumors
Best of Yardbarker

Today's Best Stuff

For Bloggers

Join the Yardbarker Network for more promotion, traffic, and money.

Company Info

Help

What is Yardbarker?

Yardbarker is the largest network of sports blogs and pro athlete blogs on the web. This site is the hub of the Yardbarker Network, where our editors and algorithms curate the best sports content from our network and beyond.