Found May 24, 2012 on Fox Sports Detroit:
ALLEN PARK, Mich. - You know you're a fishing fanatic when that's your sack dance in the NFL. Detroit Lions defensive end Willie Young put his creative celebration on display during last year's Monday Night game against the Chicago Bears. After throwing quarterback Jay Cutler to the ground, Young went into a fly-fishing routine that ended with him pretending to reel in a catch and then showing it off to the crowd at Ford Field. "It was something me, my dad and my brother always joked about," said Young, an avid fisherman who grew up in Palm Beach, Fla. "That's what I do for my leisure time so I figured why not bring it out and have some fun with it?" Young, a seventh-round pick by the Lions in 2010, is entering his third season in the NFL. He's hoping to do that fly-fishing dance even more this year. Young, who played in college at North Carolina State, appeared in only two games for the Lions as a rookie but he started to make a bigger contribution last season. He finished with 14 total tackles, including three sacks, in 14 games. "Willie's rookie year, you could see the development, you could see flashes," veteran defensive end Kyle Vanden Bosch said. "Last year, you could see more consistency. Now you expect him to become a player. "It's no longer a matter of hope. There's going to be expectations that he develops into a guy we can depend on this year." With Vanden Bosch entering his 12th year in the league and Cliff Avril's future after 2012 unclear because of contract issues, Young's performance this season could factor into some of the club's personnel decisions down the road. Is Young simply a good back-up player? Or could he develop into a reliable starter despite being the No. 213 pick overall? "It's a big year," Young said following Thursday's news conference to promote the Lions' charity fishing tournament. "After this year, I'll be a restricted free agent. "I'm just looking to go out and do what I do. What's going to happen is going to happen." Where he ends up in 2013, and with how extensive of a role, is a question that won't be answered for a while. For now, Young is content with trying to improve himself during the Lions' off-season workouts, not to mention getting himself ready for that big fishing tournament. It's being sponsored by not only the Lions but also Kevin VanDam, a Kalamazoo, Mich. native who is the all-time money winner in professional bass fishing. Young is a big fan of VanDam's. They met during an autograph signing last year at one of the Bass Pro Shops. "I was kind of star-struck in a way," Young admitted. Young said his biggest catch was a Tiger Shark that he estimated at around 250 pounds. He caught it off the east coast of Palm Beach, releasing it before the shark got too close to do any damage to the boat. Young said he hasn't been fishing in Michigan yet, but he badly wants to catch a salmon. Maybe he'll celebrate by pretending to spike a football or something. CONTRACT DISPUTE The Lions and Avril are reportedly 2 million a year apart on a long-term contract, according to the NFL Network. Avril is said to be seeking a four-year deal worth more than 42 million. He has until mid-July to sign a long-term contract. Otherwise, he will play for the one-year, 10.6-million franchise tender that the club put on him for 2012. Avril has not been participating in the club's voluntary OTA workouts. "There's a concern but you understand things from his perspective," Vanden Bosch said. "You hope that they can get things worked out because he's going to be a big part of what we do (this season). "I saw Cliff about a week and a half ago. He's staying in shape. He's working hard. He's been in this system. He knows our scheme and knows what we do. He'll be OK once he comes back." FISHING TOURNAMENT FACTS The inaugural Detroit LionsKevin VanDam Charity Fishing Tournament, sponsored by Bass Pro Shops, is scheduled for June 12 at Kensington Metropark on Kent Lake in Milford. To participate in the tournament, the cost starts at 3,500 for two people to be joined by a Lions player on a guided boat provided to them, or 1,500 for three people on their own boat and without a Lions player. For 100 a person, fans can attend the weigh-in and awards dinner where they can meet the players and VanDam. Proceeds will support the Detroit Lions Charities and Kevin VanDam Charities. More information is available on the Lions' website. "There's a lot of golf tournaments," Vanden Bosch said of fund-raising events. "This one's unique. It's good for us. A lot of the players grew up hunting and fishing. "It's a good change of pace from football. It's a good thing to get your mind off whatever stresses you've got. I really enjoy it."
Original Story:
http://www.foxsportsdetroit.com/05/24...
THE BACKYARD
BEST OF MAXIM
RELATED ARTICLES
ALLEN PARK, Mich. - You know you're a fishing fanatic when that's your sack dance in the NFL. Detroit Lions defensive end Willie Young put his creative celebration on display during last year's Monday Night game against the Chicago Bears. After throwing quarterback Jay Cutler to the ground, Young went into a fly-fishing routine that ended with him pretending to reel...
Stephen Tulloch is one of the best middle linebackers in the league, especially in Detroit's wide nine scheme, and was paid accordingly this offseason, signing a 5 year, 25 million dollar deal. However, there are now injury concerns with Tulloch. Tulloch has yet to practice in OTAs with a knee injury and while it was originally viewed as minor, Head Coach Jim Schwartz now says...
Hustle, energy, non-stop — those words perfectly describe Detroit Lions safety Louis Delmas. Delmas, a former Western Michigan star, can't be missed on the field. He's flying, tackling, tipping passes, drilling receivers and giving quarterbacks fits in coverage. There is almost nothing he can't do, really. "This is the guy," Lions defensive backs coach Tim [...]
James Bryant's usage, or potential usage, in the 2012 NFL season is one of the most interesting topics of the Detroit Lions' offseason. Bryant, a former boxer and Canadian Football League player, is a fullback — a position that hasn't been en vogue in Detroit — or in the NFL, for that matter — since [...]
It's just the running game... That has become the excuse of late. People keep pointing to the Giants, Packers and the Patriots last year saying that the days of needing a running game are over. All you need is that elite quarterback and you're set. While to some extent this is true, really, they aren't the standard for offense. The standard last year was the New Orleans...
ALLEN PARK, Mich. -- A year after finishing 10-6, the Detroit Lions' season-win total for 2012 has been set at 9 12 by Las Vegas sports books. In other words, take the "over" if you think they're going to win 10 or more; the "under" if you think they'll win nine or fewer. For a little historical perspective, consider that never in club history have...
The Lions slapped defensive end Cliff Avril with the franchise tender earlier this offseason. However, he has yet to sign the 10.605 million dollar tender. He and the Lions are in negotiations, but reportedly are not close. Avril wants to make that franchise tender amount for 4-5 seasons, according to NFL.com's Albert Breer, who says Avril is shooting for 42 million over 4 years...
For a decade, the Detroit Lions were the laughing stock of the NFL. Before that they were merely irrelevant. When discussing your glory days means reliving the fifties, people don't get too worked up about your team. When Martin Mayhew took over as general manager and hired Jim Schwartz as head coach, they decided they wanted to change the culture around the Detroit Lions. They...
It was rumored that the Detroit Lions entertained the thought of dealing defensive end Cliff Avril during the 2012 NFL Draft. He would have likely been a valuable trading tool, too. And it's safe to say that Avril's pursuit of a financially-advantageous deal had something to do with those discussions. However, if the 6-foot-3, 252-pound [...]
Getty Images There was a report earlier from Albert Breer of the NFL Network that both Avril and the Lions were only $2 million apart in their negotiations, but that seems to not be the case. According to Jason LaCanfora of the NFL Network, the Detroit Lions and defensive end Cliff Avril aren't close to agreeing on a long-term contract.  Both sides haven't been in contact...
Jason Fox got incredibly lucky Wednesday. It was the type of luck that's almost unheard of, honestly. The Detroit Lions offensive tackle may be a great football player, but he narrowly — and I mean narrowly — escaped defeat in a game of H-O-R-S-E prior to a Lions charity basketball game at Flint Southwestern Academy [...]
Former players are suing the NFL at an alarming rate these days. From concussions to health care benefits, a good portion of yesteryear's heroes feel the league didn't do enough to protect their best interest. However, former Detroit Lions fullback Cory Schlesinger doesn't feel that way… exactly. He has "no regrets" about bulldozing defenders in [...]
NFL News

Delivered to your inbox

You'll also receive Yardbarker's daily Top 10, featuring the best sports stories from around the web. Customize your newsletter to get articles on your favorite sports and teams. And the best part? It's free!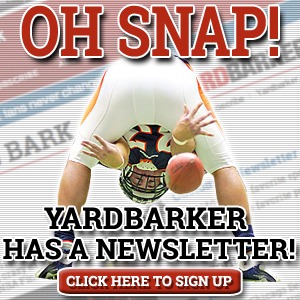 Latest Rumors
The Backyard

Today's Best Stuff

For Bloggers

Join the Yardbarker Network for more promotion, traffic, and money.

Company Info

Help

What is Yardbarker?

Yardbarker is the largest network of sports blogs and pro athlete blogs on the web. This site is the hub of the Yardbarker Network, where our editors and algorithms curate the best sports content from our network and beyond.