Found June 13, 2012 on Jets Insider.com:
Florham Park, N.J. - Ask you're average football fan what they think of Santonio Holmes and you're likely to hear a long list of negative adjectives. They might say he's selfish, a diva and or a headache, but ask his fellow receivers on his team and you'll get an entirely different answer, one that might lead you to believe we're talking about two completely different people and in many ways we are.No one condones Holmes' actions at the end of last season and ideally, yes it would be great if he would just play nice with the media, but that's...
Original Story:
http://www.jetsinsider.com/blogs/chri...
THE BACKYARD
BEST OF MAXIM
RELATED ARTICLES
Jets wide receivers Santonio Holmes and Stephen Hill sat out most of Tuesday's minicamp session with hamstring injuries. Holmes' injury was previously undisclosed but isn't considered serious, coach Rex Ryan announced. Holmes expected to try to do some work this week. The heated exchange with wide receivers coach Sanjay Lal wasn't a factor in Holmes not practicing...
When the New York Jets selected Demario Davis and Josh Bush in the 2012 NFL Draft, we identified some specific skills that could make each player useful in different substitution packages. Those skills give Demario Davis and Josh Bush a chance to contribute right away as rookies even though they won't be starters. Demario Davis and Josh Bush saw some first team reps in different...
Kenrick Ellis gathered a few things from his locker, joked around with a New York Jets teammate and smiled. The second-year defensive tackle was relaxed and happy throughout the team's three-day minicamp, giving no indication that he would be headed to a much different place than everyone else planning their vacations after the final practice Thursday. Ellis is expected to...
Tim Tebow is a bigger player now than he was before. And, it's not just from being in the New York spotlight. The New York Jets backup quarterback says Wednesday he weighs 249 pounds - about 7-to-9 pounds heavier than last season. He adds that the team would like him to be at 250 to start the season. Tebow wants to be ''strong enough to do anything'' without...
When Jets wide receiver Santonio Holmes pulled himself out of practice drills last week, the knee-jerk reaction was that another feud was brewing between the coaching staff and their emotional pass-catcher. While a legitimate hamstring injury ultimately did force New York's WR to the sidelines, how concerned should fans be about Holmes' attitude moving forward?
All Darrelle Revis wants to talk about is his contract. Darrelle Revis spoke with the media after the first day of Mini camp this week and he's singing the same ole' tune.  He wants a new deal and that starts with a sit down with owner Woody Johnson, GM Mike Tannenbaum and Rex Ryan. Rip the Band-Aid (Contract) Off? "I have grown, I've been in a lot of situations, you guys...
Darrelle Revis says there has been no movement on talks with the New York Jets on possibly re-doing his deal, and a sit-down with the team will have to come ''sooner or later.'' The All-Pro cornerback says Tuesday after the Jets' first minicamp practice that he still can't say whether he will report on time to training camp because of the contract situation...
The New York Jets are ready to use Tim Tebow in any way they can.  During mini camp practice Tebow caught some passes out of the backfield. Tebow ran with the ones on Wednesday but coach Rex Ryan let everyone know there is no quarterback controversy between Tebow and Mark Sanchez.   He says you will see Tebow run with the ones because new offensive coordinator Tony Sparano wants...
Getty Images New York Jets wide receiver Santonio Holmes suffered a hamstring injury last week when he pulled himself from an OTA session after a mini-meltdown. The Jets have limited Holmes and allowed him to do some individual drills at a walk-through pace, per Brian Costello of the New York Post. Holmes will be held out of team drills.
Wait. Is that…is that former New York Jets quarterback Drew Stanton? Nah, probably not. He's probably wandering the streets of Indianapolis if anything. Regardless of this homeless man's true identity, If his accusations are in fact true, well, that's not very Christian of one Mr. Tim Tebow. Well, maybe I'm reaching when stating that Tebow [...]
Mike Donnelly is back with his weekly stock watch. Make sure you give Mike a follow on Twitter and give Turn On The Jets a like on Facebook. It is that time of the week again: Stock Watch! It's been a busy week with the Jets as always, and in the sports world in general. We had some big news as Santonio Holmes threw his helmet (on no!) and the media had a collective aneurysm running...
Braylon Edwards is one of several big name wide receivers still without a job, as well as Terrell Owens and Plaxico Burress. However, while both of those players are known for causing headaches like Edwards does, Edwards is different in one significant area: his age. Edwards, a former 1st round pick, is still only heading into his age 29 season, yet he is still unwanted in mid June...
Jets News

Delivered to your inbox

You'll also receive Yardbarker's daily Top 10, featuring the best sports stories from around the web. Customize your newsletter to get articles on your favorite sports and teams. And the best part? It's free!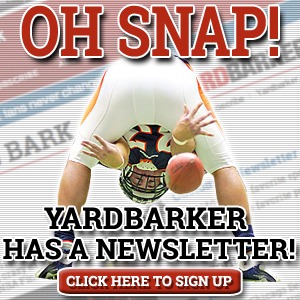 Latest Rumors
Best of Yardbarker

Today's Best Stuff

For Bloggers

Join the Yardbarker Network for more promotion, traffic, and money.

Company Info

Help

What is Yardbarker?

Yardbarker is the largest network of sports blogs and pro athlete blogs on the web. This site is the hub of the Yardbarker Network, where our editors and algorithms curate the best sports content from our network and beyond.