Found December 09, 2012 on Kissing Suzy Kolber:
PLAYERS:
Dan Snyder
,
John Harbaugh
,
Terrell Suggs
,
Peter King
,
Ray Lewis
,
Jerry Brown
,
Josh Brent
,
Donte` Stallworth
,
Robert Griffin III
TEAMS:
Washington Redskins
,
Baltimore Ravens
,
Dallas Cowboys
,
New York Jets
This afternoon, Jacksonville welcomes the Jets to JagRag Stadium. And by the Jets, I mean their injured backup quarterback. Hometown Tebow adoration in Jacksonville is so extreme that the team has even gone so far as to remove its perma-tarp from the upper deck of their stadium, a place no spectator has ever before dared to dwell. Of course, the deity that Jaguars fans come to see is a game-time decision to even dress, let alone play. That should add a few layers of melancholy to a game that you'd have to be fairly masochistic to attempt to watch. The highlight of the early afternoon slate takes place in the D.C. 'burbs, where the Redskins welcome the Ravens. The sports dynamic between Baltimore and Washington is an interesting one. Natives of each city outwardly claim to hate the other one, but there's been so much cross-pollination in their sports rooting interests over the years that no actual rivalry really exists. D.C. people were Orioles fans before the Nationals arrived. Baltimore people embraced the Capitals bandwagon once most D.C. finally realized it had a hockey team a few years ago. More than a few Redskins fans jumped ship to the Ravens rather than endure more bilking by Dan Snyder. John Harbaugh has even openly courted D.C. people to be Ravens fans. Seriously, D.C. and Baltimore, just make out already. Anyway, Terrell Suggs might not play, either due to injury or because he can't stop assaulting the mother of his kids. But apparently that's not the real story, according to KSK whipping blob, Peter King. Baltimore Ravens (9-3) at Washington Redskins (6-6) You know what the saddest part of this game is? That Ray Lewis won't be playing in it. Think about it. Ray Lewis is going to go down as a top 20 player of all time. Robert Griffin III is one of the most exciting rookies to enter the NFL — ever. And Lewis is one week away from a likely return after his torn arm muscle. I just wish we could have seen Lewis chase RGIII once in an NFL game. Not that it'd be a fair fight, but just so we could say: Hey, Ray Lewis played against Robert Griffin III. Oh yes, it's truly a disservice to this game that slow-as-f*ck Ray Lewis won't have a chance to suck wind chugging 15 yards behind RGIII. Why even watch now? That said, if Ray-Ray did play, I couldn't blame RGIII is Lewis' new murder mask did make the rookie phenom sh*t himself. Speaking of death, there was more of that on Saturday. It's starting to become a thing in the NFL, that Saturday death, like the pistol formation and the zone-read. There is a moment of silence planned at Paul Brown Stadium for the memory of former Cowboys practice squad player, Jerry Brown Jr., who died from injuries sustained in the vehicle Josh Brent flipped over a curb early yesterday morning. Brent faces an intoxication manslaughter charge. He might be going to jail for a while, but if it's not the possible 20 years, he should be heartened that Donte Stallworth got another job this week, so don't despair too much, Brent. Your early game slate, as rated for potential watchability by KSK's patented four- and sometimes five-star system: St. Louis at Buffalo ** Atlanta at Carolina ** Dallas at Cincinnati *** Kansas City at Cleveland * Tennessee at Indianapolis ** New York Jets at Jacksonville * Chicago at Minnesota ** San Diego at Pittsburgh ** Philadelphia at Tampa Bay ** Baltimore at Washington *** The post Your Week 14 Early Games Open Thread appeared first on Kissing Suzy Kolber.
Original Story:
http://kissingsuzykolber.uproxx.com/2...
THE BACKYARD
BEST OF MAXIM
RELATED ARTICLES
The New York Jets are a deeply flawed football team. There is a frustrating level of dysfunction in the front office and a concerning lack of talent spread throughout the roster. Yet, when you strip away all the media backlash and punchlines…the Jets are an overachieving mediocre team. Through 13 regular season games, there is 17 teams with an outright better record than them,...
Per multiple sources including Jason LaCanfora on twitter Tim Tebow is active today for the Jets. Tebow has been the second man on the Jets depth chart all year; so, maybe it was a 'can't lose your spot due to injury' piece; maybe Rex Ryan thinks he's their best backup quarterback; or maybe it was a marketing ploy by Woody Johnson and/or NFL higherups; either way, McElroy...
BALTIMORE BADDIE
Ray will sport a new facemask in his return and possibly his last game in the NFL. For the first time in seven weeks Ray Lewis of the Baltimore Ravens hit the practice field in uniform after the star linebacker tore his right triceps muscle back on October 14th.Terrell Suggs and Ray Lewis have yet to see the field together during the 2012 NFL season and it took until the playoffs...
New York Jets backup quarterback Tim Tebow has been limited at practice all week and is questionable to suit up against the Jacksonville Jaguars. The polarizing quarterback will be a game-time decision today, according to Dan Hanzus of NFL.com. Backup Tim Tebow is the biggest question mark here. He practiced on a limited basis this week because of his rib injury, and his status...
The New York Jets have found themselves in a rather familiar situation throughout the 2012 season.  They are making headlines.  The Rex Ryan era has been full of promises, successes, disappointments, and turmoil.  The last three plus years in New York have been nothing short of a media frenzy, and it doesn't seem to be stopping any time soon. Last Sunday, Rex Ryan chose to...
According to ESPN's Adam Schefter, free agent wide receiver Braylon Edwards could end up signing with the New York Jets, who've been depleted at the wide receiver position all season. After winning yesterday's game against the Jaguars, the Jets are now 6-7 and only a game out of the wild card race.  If they sign Edwards it will give them a better chance of making it to the...
Shonn Greene and Bilal Powell ran for short touchdowns and the New York Jets kept their postseason hopes alive with a 17-10 win over the Jacksonville Jaguars on Sunday. The Jets (6-7) were shut out at halftime for the second consecutive week, but they didn't need to change quarterbacks to spark the offense this time around. Instead, they just pounded the Jaguars (2-11) up the...
Ray Lewis is finally back at practice and he comes back looking scarier than ever.  He was seen rocking this new face mask which has been worn by a couple other NFL players recently that are trying to keep other players fingers out of their eyes.  Lewis tore his right triceps muscle back on October 14th, and there is no word on his official return date to game action.  The Ravens...
In the midst of an easy final stretch of the schedule, the New York Jets are facing their usual late-season do-or-die situation. A win improves them to 6-7 and maintains their minuscule hope in attaining a Wildcard beth for at least one more week. A loss could mean a plethora of depth chart adjustments next week.The good thing is, the Jets are in Jacksonville to face an absolutely...
NFL News

Delivered to your inbox

You'll also receive Yardbarker's daily Top 10, featuring the best sports stories from around the web. Customize your newsletter to get articles on your favorite sports and teams. And the best part? It's free!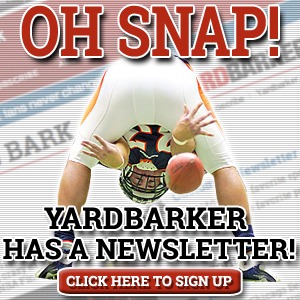 Latest Rumors
Best of Yardbarker

Today's Best Stuff

For Bloggers

Join the Yardbarker Network for more promotion, traffic, and money.

Company Info

Help

What is Yardbarker?

Yardbarker is the largest network of sports blogs and pro athlete blogs on the web. This site is the hub of the Yardbarker Network, where our editors and algorithms curate the best sports content from our network and beyond.