Found September 30, 2012 on Kissing Suzy Kolber:
PLAYERS:
A.J. Green
,
Roy Helu
,
Ryan Torain
,
Roger Goodell
,
Reggie Bush
TEAMS:
Indianapolis Colts
,
Miami Dolphins
,
Arizona Cardinals
,
Cincinnati Bengals
,
Jacksonville Jaguars
,
Oakland Raiders
,
Denver Broncos
,
Washington Redskins
,
New Orleans Saints
,
Tampa Bay Buccaneers
,
Green Bay Packers
Sure, the Indianapolis Colts are on a bye, but that won't stop me from celebrating my favorite second-year cheerleader Lindsey Fingerle up there, because she, like so many of the NFL's delightful ladies, deserves to be celebrated. So everyone take a moment to celebrate. *pauses, falls asleep, farts* Splendid, now on to business.
4:05 PM ET on CBS – Miami Dolphins (1-2) at Arizona Cardinals (0-3)
Wait, what? The Cardinals are 3-0? Get the f*ck out of here. You're pulling my leg. The team that Pete Prisco Tweeted and wrote was going to win the NFC West after their Hall of Fame Weekend loss to the New Orleans Saints? Those Arizona Cardinals? Listen folks, I don't want to live in a world in which Pete Prisco is right.
4:05 PM ET on CBS – Cincinnati Bengals (2-1) at Jacksonville Jaguars (1-2)
I would like 30 points from AJ Green today, please and thank you.
4:05 PM ET on CBS – Oakland Raiders (1-2) at Denver Broncos (1-2)
Ape told me that he was going to a wedding today, but I'm on to him. He's actually starting at DB for the Raiders.
4:25 PM ET on FOX – Washington Redskins (1-2) at Tampa Bay Buccaneers (1-2)
I like to imagine that when the Skins put Roy Helu on the IR, somewhere Ryan Torain smiled and began packing a bag. He put on his favorite suit and grabbed his favorite stuffed animal, and then he sat on the front porch, waiting for Mike Shanahan to come pick him up. Poor guy's still sitting there.
4:25 PM ET on FOX – Green Bay Packers (1-2) at New Orleans Saints (0-3)
I could make a case for starting anyone on either of these teams in fantasy today. Even guys on the IR, because I'm pretty sure they'll even score.
And that's it, that's all we get for the late afternoon games, presumably because Roger Goodell sets more games at 1 PM than 4 PM because he hates church-going NFL fans. Pray to God? PRAY TO ROGER! That might not be true, but I thought I'd throw it out there in case anyone needs a reason to hate him this week.
Feel free to share this open thread with your friends, family and favorite porn stars on Twitter and Facebook, so you can unlock the WE'VE GOT BUSH badge to honor Reggie Bush as he bravely battles through an ouchy boo-boo today.
The post Your Week 4 Late Games Open Thread appeared first on Kissing Suzy Kolber.
Original Story:
http://kissingsuzykolber.uproxx.com/2...
THE BACKYARD
BEST OF MAXIM
RELATED ARTICLES
After an emotional morning at the Colts complex with the news regarding Coach Pagano's illness, a few business matters were attended to in order to prepare for Sunday's game against Green Bay. The Colts have elevated center A.Q. Shipley from the practice squad by signing him back onto the active roster. In order to open a spot for Shipley, the Colts have waived outside linebacker...
Colts Authority Daily Links 10/01/12 The Indianapolis Star and Phil B Wilson have some more info on the specifics of Coach Chuck Pagano's diagnosis, now that the Colts' press conference is wrapping up: The Star first reported the illness and that Pagano would likely miss several games while being treated for acute promyelocytic leukemia. According to the American Cancer...
Here is yesterdays Afternoon Update audio from the voice of the Colts Bob Lamey of 1070 The Fan, posted by a staff contributor.  Lamey's updates are quick and informative, including some audio from Pat Angerer in this one.  Be patient, as with most free content, they need to advertise, and there is about a 25 second commercial built in.
Indianapolis Colts head coach Chuck Pagano was diagnosed with leukemia, according to NFL Network's Albert Breer. ESPN's Chris Mortensen stated Pagano's case treatable. However, he is expected to be hospitalized for four to six weeks while dealing with the disease. Bob Kravitz of The Indianapolis Star offered an explanation of Pagano's diagnosis:  The illness is acute...
Phil B. Wilson of the Indianapolis Star spoke to his brother, Dr. Dave B. Wilson, about the prognosis of acute promyelocytic leukemia, the type that Chuck Pagano is now fighting: Dave B.'s initial take on APL is there's about a 90 percent recovery rate, which means remission and all the reason for the Colts to be optimistic their coach will one day return. Phil B. captures...
Colts Authority Daily Links 10/01/12 Gregg Rosenthal of NFL.com also reports on Chuck Pagano, who has a treatable form of leukemia and says the Colts will hold a press conference at 10:30. He says Pagano intends to be back: "Will be back REAL soon," Pagano wrote to Breer via email. The Breer he is referring to is, of course, Albert Breer of the NFL Network.   You...
During todays press conference to announce that Colts head coach Chuck Pagano has been diagnosed with Leukemia, owner Jim Irsay indicated that he's likely done coaching for this season. "It is unlikely he will be all in as a head coach this season," said Irsay. Right now it makes the most sense to let Pagano take the rest of the season off to get healthy again.
Colts Authority Daily Links 10/01/12 Kevin Bowen of Colts.com has a brief but good write-up in which he talked to Drew Stanton, Antoine Bethea, and Robert Mathis about...Aaron Rodgers and the Packers: The best thing you can do is try and put pressure on him," Stanton said. "As we've seen in the past, if you put pressure on him, it's more difficult to try and do things...
Chris Mortensen of ESPN is reporting that the serious illness Chuck Pagano has is a treatable form of leukemia: The sources said Pagano waited until the Colts' bye week last week to be checked out after experiencing extreme fatigue and bruising, starting in training camp. Pagano, as we've learned during his time so far in Indy, is a heck of a guy and a masterful motivator...
There's a reason why the Bengals took A.J. Green fourth overall in the 2011 NFL draft, he may soon be competing with Calvin Johnson for the distinguished honor of "best in the game." After Sunday's dominant performance over the Jaguars where Green caught six passes for 117 yards and a touchdown, the Bengals No. 1 receiver is now second in the league with 428 yards...
Chuck Pagano I was waiting to write this until the Colts overcame some big obstacle, passed a milestone, or had a momentous victory.  But with Head Coach Chuck Pagano's cancer diagnosis, October first seemed a better day than any.  Especially since October is Breast Cancer Awareness month, a cause now fully embraced by the NFL.  Cancer is a disease that has touched everyone...
After a Week 1 loss to the Ravens, the Cincinnati Bengals have won three straight. AFC North Sniper Stephen Stone says Dalton and Green is one of the league's top passing duos.
NFL News

Delivered to your inbox

You'll also receive Yardbarker's daily Top 10, featuring the best sports stories from around the web. Customize your newsletter to get articles on your favorite sports and teams. And the best part? It's free!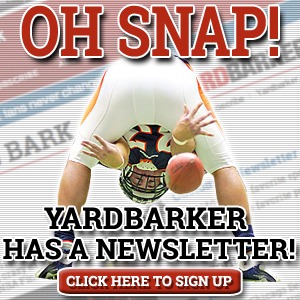 Latest Rumors
Best of Yardbarker

Today's Best Stuff

For Bloggers

Join the Yardbarker Network for more promotion, traffic, and money.

Company Info

Help

What is Yardbarker?

Yardbarker is the largest network of sports blogs and pro athlete blogs on the web. This site is the hub of the Yardbarker Network, where our editors and algorithms curate the best sports content from our network and beyond.