I knew that Pittsburgh Steelers running back Le'Veon Bell has caught a lot of passes in his career. I guess I just didn't realize how many passes he catches. According to team media manager Dom Rinelli, he has an excellent chance of breaking a team record currently held by Antonio...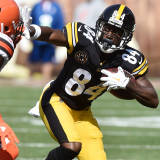 Many players had standout performance in Week 1 of the NFL season. Things kicked off on Thursday night with the Kansas City Chiefs surprising many with a spectacular game against the Patriots, thanks largely to explosive performances from many players who find themselves on this list. A few teams that disappointed last season had great games on Sunday, and their top performers have...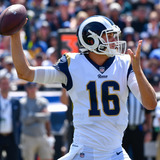 With four weeks of preseason action plus training camp in the books, the first NFL Sunday of the 2017 regular season arrived and did not disappoint. The Patriots- Chiefs game provided some exciting moments on Thursday night, but nothing beats a full slate of games to kick off the season. Fans watched entertaining games, big plays, and head-scratching moments.Here is a closer look...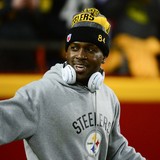 Antonio Brown dressed to impress before Sunday's game against the Browns.The NFL's best receiver donned some of the most lavish garb you'll see an athlete wear, and you need to see it.Check out this $4,200 Gucci tuxedo he wore. I guess that's what a $68 million contract extension will buy you.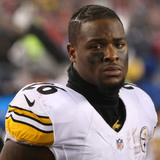 Le'Veon Bell has continued to sit out in protest of his contract situation, and his Steelers teammates have now begun to poke fun at his absence on social media.Both Antonio Brown and Bud Dupree have shared a few words with their followers about how they feel, with neither being very empathetic toward Bell.Bell responded to them Wednesday in a video he posted on Twitter, in which...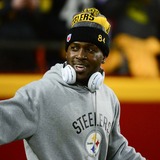 Pittsburgh Steelers wide receiver Antonio Brown has been working with Florida-based fitness trainer Bo Smith for several years, but the longtime relationship has come to an ugly end.Smith, who goes by "Bo the Trainer," blasted Brown on social media over the weekend and called him "bad business." Smith, who has worked with multiple NFL players, indicated in an Instagram post...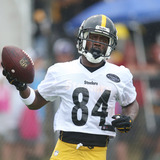 Antonio Brown is considered somewhat of an enigmatic figure off the field. Remember, it was just last year that Brown moved on from his personal chef in what was deemed as an ugly divorce.Now, it looks like the Pittsburgh Steelers' receiver's personal trainer has had enough of him."I had to walk away & remove myself from the bulls**t! Be a man of your word and own up to...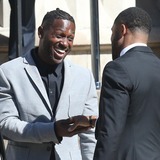 Congratulations are in order for Pittsburgh Steelers wide receiver Antonio Brown, who just became a daddy for the fifth time. Meet baby Apollo Brown. He makes the third child Brown and girlfriend Chelsie Kyriss share, according to TMZ Sports. Brown has two other children from a previous relationship.It was coincidental and fortunate that Apollo waited until August 1 to make his appearance...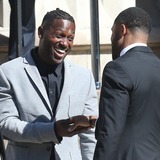 Pittsburgh Steelers wide receiver Antonio Brown recently became the highest-paid player at his position. He made that point abundantly clear at his lavish 29th birthday held at Cipriani restaurant in Miami, Florida.According to TMZ Sports, Brown arrived in a $350,000 Rolls-Royce that the party actually parked inside the restaurant. Brown was dressed to the nines and was wearing a...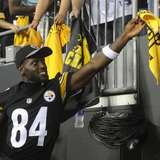 Pittsburgh Steelers wide receiver Antonio Brown's life is practically an open book. He updates his social media accounts multiple times a day showing off and documenting his rigorous exercise habits.On Wednesday, Brown posted a Snapchat of himself wearing a Carolina Panthers helmet while catching footballs in his yard. We are sure there is some silly explanation for this. Maybe...
MORE STORIES >>
Steelers News

Delivered to your inbox

You'll also receive Yardbarker's daily Top 10, featuring the best sports stories from around the web. Customize your newsletter to get articles on your favorite sports and teams. And the best part? It's free!