Steel City Underground presents the 2nd annual SCU Awards. Our panel of contributors all voted on various awards for the Steelers with the player getting the most votes being the winner. Each article will have the list of nominees with one of our contributors stating their case for why that player earned their vote and deserves the award.Comment and let us know if you agree or disagree...
The Pittsburgh Steelers signal caller was Dr. Jeckyll and Mr. Hyde in 2017 when it came to his home and road splits. The Pittsburgh Steelers franchise quarterback, Ben Roethlisberger, has had his ups-and-downs throughout his long NFL career. Whether it be on the field, or off the field, Roethlisberger has always had some pitfalls, but continued to be a dynamic player. With every...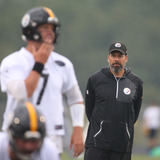 The end of Todd Haley's tenure as offensive coordinator of the Pittsburgh Steelers did not go smoothly. On Wednesday, Haley, now the offensive coordinator of the Cleveland Browns, spoke on his relationship with Ben Roethlisberger and the Steelers.Haley generally took the high road when talking about his former team. Haley was Pittsburgh's offensive coordinator from 2012-2017. During...
Ben Roethlisberger says he wants to play for at least three more seasons and the Steelers are on board with that. On Wednesday, team president Art Rooney II told a small group of reporters that he will eventually have a conversation with Big Ben about extending his deal beyond 2019.  "We haven't had a long conversation about that other than him saying he is interested in playing...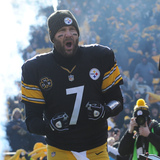 Pittsburgh Steelers president Art Rooney addressed many issues with the media on Wednesday, including quarterback Ben Roethlisberger's future with the team.He said Roethlisberger wants to play beyond his current contract that takes him through two more seasons. This is great news for a Steelers team that's coming off its best regular season since Roethlisberger's rookie year in 2004...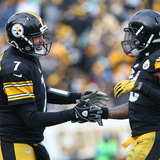 There is a legitimate possibility that the Pittsburgh Steelers could look very different in the near future if Le'Veon Bell leaves in free agency and Ben Roethlisberger decides to retire, but the team seems confident neither of those things will happen.While speaking with reporters on Wednesday, Steelers owner and president Art Rooney II said the team will try to work out a contract...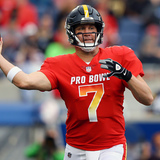 Injured Pittsburgh Steelers linebacker Ryan Shazier was not at Sunday's Pro Bowl. But thanks to quarterback Ben Roethlisberger his presence was felt on the field.Prior to the game, Big Ben unveiled shoes that honored both Shazier and the Steelers late owner, Dan Rooney. #SteelersNation pic.twitter.com/Hh6z25azbA— BigBen7.com (@_BigBen7) January 26, 2018 Roethlisberger also gave Shazier...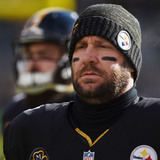 Pittsburgh Steelers quarterback Ben Roethlisberger has been somewhat non-committal when it comes to his future with the team beyond 2018.But this latest comment from center Maurkice Pouncey seemingly clears things up. According to ESPN's Jeremy Fowler, Pouncey said Roethlisberger plans on playing for three more years. That would take Big Ben beyond his current contract, which has...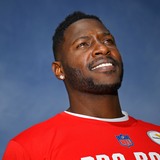 Pittsburgh Steelers receiver Antonio Brown and quarterback Ben Roethlisberger are in Orlando for the 2018 Pro Bowl. In addition to preparing for the most boring exhibition game known to mankind, they're hamming it up for their fans.Brown posted this funny Step Brothers pic of himself and Big Ben on Friday. "Did we just become best friends?""Yep!" Even though the Steelers were eliminated...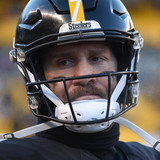 In a well-publicized spat, the partnership between ESPN and Barstool Sports came to a sudden, premature halt in October. But that's not stopping the kids at Barstool from making merry as the NFL's conference championship games draw near.Barstool's Twitter network is currently awash in a self-described "mean" wager involving the on-air team, three tickets to the Super Bowl, and one...
MORE STORIES >>
Steelers News

Delivered to your inbox

You'll also receive Yardbarker's daily Top 10, featuring the best sports stories from around the web. Customize your newsletter to get articles on your favorite sports and teams. And the best part? It's free!