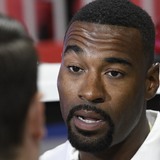 There had been some rumors during the 2017 regular season that Calvin Johnson might make a comeback after a two-year hiatus from the NFL.While seemingly still in the prime of his career, Johnson abruptly retired from the NFL at the age of 30 following the 2015 season. It came after he put up 88 receptions for 1,214 yards and nine touchdowns for the Lions.The speculation of him returning...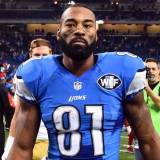 Calvin Johnson has made it clear that he's not going to return to the NFL after retiring in 2016, but that's not stopping teams from being interested in his services. According to ESPN's Adam Schefter, two teams have made inquiries into what it might take to trade for the rights of the future Hall of Famer."Figuring they had nothing to lose, the Lions told teams to reach out to Johnson...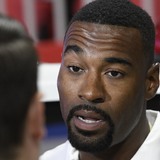 Is one of the greatest wideouts in NFL history coming back?Calvin Johnson, 32, hasn't played a down of football since the 2015 season. And that season, Megatron would haul in 88 catches for 1,214 yards and nine scores. Then suddenly, he retired.But now, a couple of teams are interested in his services. Still, chances of a deal are slim. That's because Johnson is simply not interested...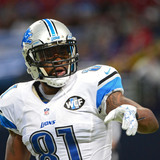 A couple NFL teams are dreaming big and hoping former All-Pro wide receiver Calvin Johnson wants a return to the league.According to ESPN's Adam Schefter, two teams have reached out to the Detroit Lions about trading for Johnson's rights in the last week, with the NFL trade deadline looming on Tuesday. The Lions, however, have not been particularly interested in such a deal.Even...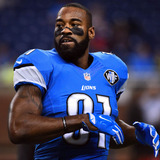 Calvin Johnson may be retired, but that hasn't stopped NFL teams from seeing whether he's open to a comeback.Bleacher Report's Mike Freeman says multiple NFL teams have reached out to Megatron to see whether he'd be open to a return. Johnson has declined so far.Johnson retired after the 2015 season and missed last year. He is set to turn 32 in September and was still a top player...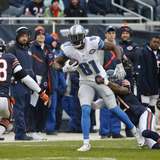 The Detroit Lions and Calvin Johnson haven't been sharing many warm and fuzzy moments together since the All-Pro receiver retired in 2015. In fact, Johnson hasn't been shy about bashing his former team in recent months, and he indicated not long ago that he might have tried to play for a contender if he weren't locked up by Detroit contractually.As a way to attempt repairing this...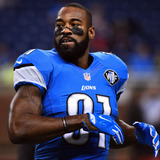 It's been a little more than a year since former Detroit Lions wide receiver Calvin Johnson announced his retirement from the NFL. But, that has not stopped him from discussing some of his past experiences with his former team. Unfortunately, many have been negative.He was at it again recently, speaking to media in Italy. "I thought about (changing teams), but it's not quite like...
Calvin Johnson was known as "Megatron" throughout his storied NFL career thanks to then-Detroit Lions teammate Roy Williams bestowing the moniker upon him during his rookie season. The iconic nickname now has given rise to the retired Lions wide receiver somewhat spoofing it in a video posted to Instagram to promote the upcoming release of "Transformers: The Last Knight." Via ESPN...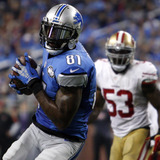 Calvin Johnson is enjoying retirement from the NFL, but prefers not to talk about his former team, the Detroit Lions.Apparently, Johnson, the franchise-leader in receptions, receiving yards and receiving touchdowns, feels he wasn't treated properly by the Lions."I don't even like to talk Lions too much just because the way our relationship ended," Johnson told the Detroit Free Press...
When Calvin Johnson announced his retirement, there were some who believed that it was because he'd grown tired of the losing culture that permeates the Detroit Lions' organization. It turns out that, while not the primary reason, Detroit's history of failure made it easier for Johnson to walk away. Johnson told ESPN's Michael Smith in an interview for "E:60" that, while the wear...
MORE STORIES >>
Lions News

Delivered to your inbox

You'll also receive Yardbarker's daily Top 10, featuring the best sports stories from around the web. Customize your newsletter to get articles on your favorite sports and teams. And the best part? It's free!