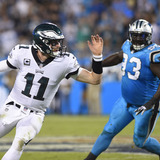 For the first time since Week 1, we had a Thursday night game between two playoff contenders unfold with the Philadelphia Eagles traveling to Carolina to take on Cam Newton and the Panthers. And it didn't disappoint.Despite some sloppy play on offense and whole host of Eagles penalties, the game was about as drama filled as they come. In the end, Philadelphia moved to 5-1 on the...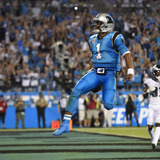 Panthers quarterback Cam Newton has earned the "Superman" nickname, as he's been known to stretch out and use his athleticism to create plays that few others players in the league can.That was on full display in the fourth quarter of Thursday night's game against the Eagles, when Newton took off running in the red zone and tried to score. He leaped from just inside the five-yard...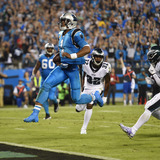 Carolina Panthers quarterback Cam Newton is on quite the hot streak passing, having thrown six touchdowns over the past two games.But Thursday night against the Philadelphia Eagles, the former MVP used his legs for the Panthers' first touchdown of the game. And it was a thing of beauty. Two jukes and seven points later, Carolina found itself up by the score of 10-3 in the second...
Cam Newton was still talking about his sexism controversy during the week following Sunday's road win over the Lions.After the game, the Carolina Panthers quarterback said his controversy stemmed from a sarcastic comment gone wrong. It's truly a wonder what part of laughing at a female reporter for talking about routes was complimentary rather than sexist.Newton gave a good apology...
Jourdan Rodrigue, the reporter who was the subject of what many believed to be sexist comments from Carolina Panthers quarterback Cam Newton, is apparently leaving the Panthers' beat after allegedly receiving death threats. This represents the ugly underbelly of what has been a machismo culture around the NFL for far too long. Sure there's probably just a few bad apples sending her...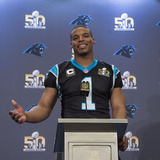 Panthers quarterback Cam Newton wants everyone to know he's a fan of women.After making a stupid, insensitive comment to a female reporter about route running, Newton has been trying to send a message that he's not the misogynistic person he came off as in the press conference.Newton apologized to the reporter, and to whomever else he may have offended. He was also seen wearing a...
Cam Newton is working hard to repair his relationship with women after his PR disaster during the week.The Carolina Panthers quarterback held a sexist attitude towards a female reporter who asked him a football question at a press conference during the week. He was criticized for his attitude towards the woman and even lost a sponsorship. A day later, he apologized.Now he's taking...
Cam Newton posted a video on Twitter Thursday night in which he apologized for his "degrading and disrespectful" comments to a female reporter.The Carolina Panthers quarterback came under fire Wednesday after laughing at the thought of a female reporter asking him a serious football question about a wide receiver running routes. The sexist attitude displayed by Newton led to severe...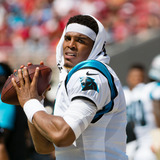 Cam Newton may have felt that the sexist comment he made toward a female reporter on Wednesday did not warrant an apology, but it was apparently enough for one major company to drop the quarterback as an endorser of its products.On Thursday, the Dannon yogurt company announced that it is terminating its relationship with Newton, who was an endorser of Dannon Oikos yogurt. The company...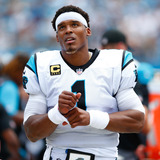 Carolina Panthers quarterback Cam Newton has started slow out of the gate this season. Through three games, the former NFL MVP is averaging less than 200 passing yards and has thrown two touchdowns compared to four interceptions.It's been an absolutely abysmal performance from the quarterback after he underwent off-season shoulder surgery.Now comes this report from Bleacher Report...
MORE STORIES >>
Panthers News

Delivered to your inbox

You'll also receive Yardbarker's daily Top 10, featuring the best sports stories from around the web. Customize your newsletter to get articles on your favorite sports and teams. And the best part? It's free!