Newly extended Arizona Cardinals general manager Steve Keim is going to have his hands full this offseason. It starts and ends at the quarterback position after Carson Palmer announced his retirement following the 2017 campaign.The Cardinals had previously addressed their need for a quarterback publicly, but there wasn't any real idea where the team might look to get its next signal...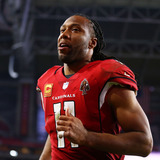 There has been speculation that Larry Fitzgerald will be inclined to retire now that Cardinals head coach Bruce Arians and quarterback Carson Palmer have called it a career, but the star wide receiver may have one more season left in him.In an appearance on NFL Network Sunday, Fitzgerald seemed to hint that he is planning to play in 2018. He said he'll make a final decision within...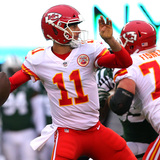 The Kansas City Chiefs and Washington Redskins pulled off a blockbuster trade Tuesday night that will have wide-ranging ramifications around the NFL. By virtue of Pro Bowl quarterback Alex Smith heading to Washington, the entire dynamic of the NFL offseason changes on a dime.What does this mean for Kirk Cousins and his future NFL destination? How will the top of the 2018 NFL Draft...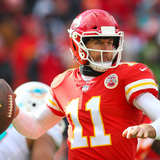 The Cardinals were among a handful of teams interested in trading for Alex Smith, Kent Somers of AZCentral Sports tweets. However, the Chiefs wound up trading the quarterback to the Redskins on Tuesday night in a deal that netted them cornerback Kendall Fuller and a third-round draft choice. It's no surprise that the Cardinals expressed interest in Smith given their own murky quarterback...
The Arizona Cardinals are set to have a busy offseason. Head coach Bruce Arians retired. So did quarterback Carson Palmer. But it turns out that if running back David Johnson got his way, Palmer would still be playing. "I think Carson's done. I've talked to him. I was trying to get him to come back just because he was another person who was very impactful not just on the field but...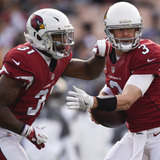 The Arizona Cardinals will have a much different look in 2018. One of the new faces will be at quarterback, following the retirement of Carson Palmer.Palmer retired despite the efforts of star running back David Johnson, who missed most of 2017 with an injury."I was trying to get him to come back just because he was another person who was very impactful not just on the field but...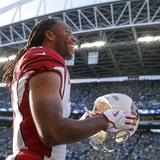 The Arizona Cardinals have a lot of work to do this offseason. They are currently coming off an 8-8 season, but that's just the start of it. Head coach Bruce Arians has retired, as has starting quarterback Carson Palmer. But wideout Larry Fitzgerald, 34, isn't letting those decisions impact him."Larry Fitzgerald just said on @nflnetwork that the retirements of Bruce Arians and Carson...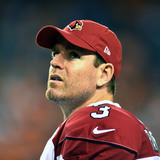 The Arizona Cardinals are going to be in search of a new starting quarterback in addition to a new head coach this offseason.Carson Palmer announced in an open letter to Cardinals fans on Tuesday that he is retiring after 15 seasons in the NFL. Palmer currently ranks 12th all time in the NFL in both passing yards with 46,247 and touchdown passes with 294. He spent time with the Cincinnati...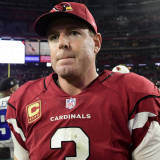 Not only will the Arizona Cardinals be looking for a new head coach this offseason, they're going to have to find a replacement for quarterback Carson Palmer.Fresh off an injury-plagued 2017 campaign, the 38-year-old Palmer has announced his retirement from the NFL.It came via the team's official website on Tuesday. Palmer missed the final nine games of the 2017 season after suffering...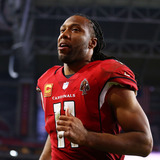 Bruce Arians may not be the only key personality the Arizona Cardinals lose to retirement this offseason.The Cardinals are still awaiting word on the fates of quarterback Carson Palmer and wide receiver Larry Fitzgerald. According to NFL.com's Ian Rapoport, Palmer is seen as a long shot to return, while Fitzgerald may not be keen on working with a new head coach. Palmer broke his...
MORE STORIES >>
Cardinals News

Delivered to your inbox

You'll also receive Yardbarker's daily Top 10, featuring the best sports stories from around the web. Customize your newsletter to get articles on your favorite sports and teams. And the best part? It's free!