APCharlie Weis's time in Kansas has been prematurely cut short. After a disappointing 23-0 home loss to the Texas Longhorns the Jayhawks decided they had seen enough of Weis's coaching in Lawrence. Kansas was 6-22 under Weis.Weis's career in college football has not worked out so well. Weis started his college coaching career at his alma mater of Notre Dame in 2004 and...
On Twitter @TheCoachBart * Wins Can Be Found In Kansas, Dorothy Kansas has a football job opening, and it's a good job. Scoff if you must, but these are the breaks. If you're looking for a shot to be great, the job is open, and the juice is worth the squeeze. Charlie Weis was fired this weekend, and if you're Kansas, it looks grim. You hired the guy after choosing him over...
Another college football head coach was left unemployed on Sunday morning, as it was announced that the Kansas Jayhawks had fired head coach Charlie Weis. Weis' tenure with the Jayhawks was certainly one to forget. The former Super Bowl-winning offensive coordinator with the New England Patriots compiled a 6-22 record in a little over two seasons with the team, including a 2-3...
Kansas football did what it had to Sunday, firing Charlie Weis just into his third season as head coach. Why Make the Change Now? Make no mistake about it: this is something KU had to do right now. Sure, it's usually not a good thing for a program to terminate its coach in the middle of a season, with eight games remaining on the schedule. However, sometimes a leadership change...
After a disastrous 6-22 record in three seasons, Charlie Weis was fired as Kansas' head coach on Sunday. Weis went 1-18 in three years during...
Charlie Weis has been fired from his job at Kansas after his ddisastroustenure resulted in a 6-22 record. Kansas will pay Weis $7 million in the form of a buyout and will also continue cashing checks from Notre Dame until 2015. Charlie Weis disaster in a nutshell: him falling asleep in a team meeting when squad was being addressed by #KU's head athletic trainer. — Bruce Feldman...
The Charlie Weis era at Kansas University was a disaster, and the school put Weis out of his misery Sunday. Kansas announced Weis' firing Sunday, ending his extremely unsuccessful tenure with the Jayhawks. Weis managed just a 6-22 record at Kansas that culminated with a listless 23-0 loss to the University of Texas on Saturday. Defensive coordinator Clint Bowen will take over...
Let the job searching begin for one Big 12 program. The University of Kansas has decided to move it's football program forward without the services of head coach Charlie Weis. As reported by Matt Tait at KUSports.com, Weiss was relieved from the program after a 6-22 record since being hired before the 2012 season. Though the move isn't surprising, the fact that it was done...
The definition of just a coach going through the motions and cashing a check. Charlie Weis disaster in a nutshell: him falling asleep in a team meeting when squad was being addressed by #KU's head athletic trainer. — Bruce Feldman (@BruceFeldmanCFB) September 28, 2014
via KUAthletics.com Lawrence, Kan. – Charlie Weis has been relieved of his duties as Head Football Coach at the University of Kansas, KU Athletics Director Sheahon Zenger announced Sunday. Weis was in the third year of a five-year contract. Zenger named KU defensive coordinator Clint Bowen interim head coach. "I normally do not favor changing coaches mid-season," Zenger said...
MORE STORIES >>
College Football News

Delivered to your inbox

You'll also receive Yardbarker's daily Top 10, featuring the best sports stories from around the web. Customize your newsletter to get articles on your favorite sports and teams. And the best part? It's free!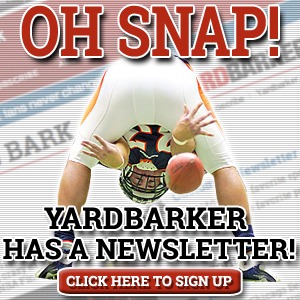 THE COLLEGE FOOTBALL HOT 10