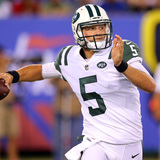 Christian Hackenberg hasn't come close to sniffing a single play as an NFL quarterback in a regular season game in two years, despite plenty of opportunities. For some reason, the New York Jets have refused to unpack him from bubble wrap, despite having nothing to lose in the second half of the final two seasons.The team has had no issue throwing Bryce Petty to the wolves, and he...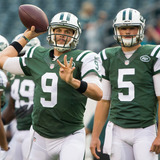 The New York Jets got surprisingly solid quarterback play from Josh McCown before he broke his hand this season, but the 38-year-old was only a temporary solution for the team. Heading into the offseason, there's a possibility that the Jets could start completely fresh at the quarterback position.Manish Mehta of the New York Daily News has been led to believe that neither Bryce Petty...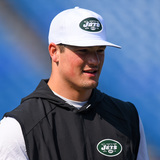 The New York Jets envisioned Christian Hackenberg as someone who could be their quarterback of the future when they used a second-round pick on him in the 2016 NFL Draft. My, how things have changed.With Josh McCown sidelined for the remainder of the season because of a hand injury, there was some speculation that the Jets might give Christian Hackenberg his first ever regular season...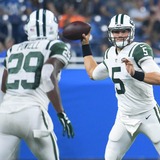 Jets head coach Todd Bowles doesn't think quarterback Christian Hackenberg is at fault for the hard-boiled egg he laid in Saturday's preseason game.Speaking with reporters after the 16-6 loss to the Detroit Lions, Bowles blamed the offensive line for Hackenburg's poor performance."They really didn't give him a chance," Bowles said, per Eric Allen of the team website. "They had a...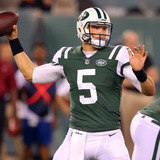 The New York Jets wanted to see what Christian Hackenberg could do as the starter Saturday night in Detroit against the Lions. It was the first time he'd ever been given the opportunity to start after spending his first season inactive. Let's just say, it wasn't pretty.In fact, Hackenberg's performance can only be described as one of those slow-motion disasters you can't peel your...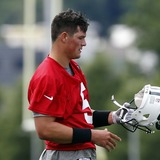 Early Monday morning, we covered a report that detailed how Christian Hackenberg has yet to take a single first-team rep during training camp. We should have waited just a little bit longer to write that story, because now we have a little better understanding as to why he's still not allowed to play with the big kids.On Monday, Hackenberg was ordered off the practice field. And...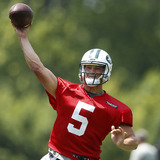 Christian Hackenberg has had a rough go of it throughout his brief career with the New York Jets. While he's earned some recent praise from the coaching staff during the team's offseason program, it hasn't been a smooth process. But to hear it from the second-year signal-caller, he only cares about what the team thinks, everything else is just noise."I don't pay attention to [media...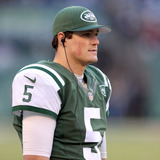 Unless Christian Hackenberg has magically developed pinpoint accuracy this offseason, it seems unlikely he'll be the starting quarterback for the New York Jets in 2017.Discussing the Jets' upcoming so-called quarterback competition, Rich Cimini of ESPN shared what one scout had to say about Hackenberg."I talked to an opposing scout who studied him in pregame warmups for one game...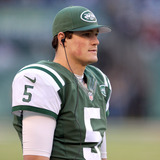 Normally a quarterback drafted in the second round who is entering his second season is ready to at least take a shot at being the starter.Not Christian Hackenberg.A source told the New York Daily News in January that Hackenberg "will never make it," and it's hard not to believe that source with the Jets bringing in all these retread backups for a visit.Chase Daniel is the latest...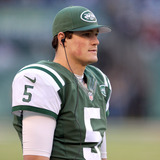 Christian Hackenberg has had a rookie season to forget, and the organization that drafted him has not made life any easier on the former Penn State star. Earlier in the week, ESPN's Adam Schefter revealed that he was told by an anonymous coach that Hackenberg has regressed during the season and "couldn't hit the ocean" with one of his passes. Hackenberg said Monday that he isn't...
MORE STORIES >>
Jets News

Delivered to your inbox

You'll also receive Yardbarker's daily Top 10, featuring the best sports stories from around the web. Customize your newsletter to get articles on your favorite sports and teams. And the best part? It's free!