David Johnson underwent surgery over the weekend to repair a wrist injury he suffered in Week 1, and the Arizona Cardinals star has vowed to come back with a vengeance.On Sunday, Johnson shared some photos from a hospital bed and called his wrist surgery a "minor setback." Losing Johnson will be a major blow for Arizona, as he accounted for a huge portion of their offense in 2016...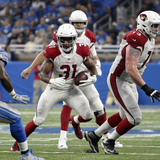 David Johnson took a huge hit during Sunday's loss to the Detroit Lions, but it sounds like the Arizona Cardinals star avoided a significant injury.Ian Rapoport of NFL Media is reporting that an MRI for Johnson revealed a sprained wrist. As Rapoport notes, that could be the reason Johnson fumbled the first time he carried the ball after getting hurt. Johnson caught a pass inside...
Arizona Cardinals running back David Johnson put up huge numbers in his first full season as the lead back, gaining 2,118 total yards from scrimmage with 20 touchdowns (16 rushing) to go along with it. He has dominated the league since coming out of the University of Northern Iowa three years ago, and because of that sustained performance over his first two campaigns he was right...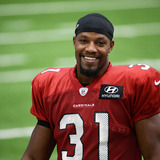 Arizona Cardinals running back David Johnson has changed his diet after watching a Netflix series.Right off the bat, you may be thinking that Johnson had to trim down after munching on potato chips as a couch potato while binge-watching Netflix.Not exactly.In July, Johnson and his wife Meghan started following a plant-based diet after watching Netflix documentaries on food.Johnson...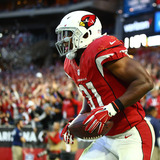 In an era where the running back position has generally been devalued, David Johnson wants to see Le'Veon Bell land a monster contract."I hope he gets the deal he deserves," Johnson said, via Andy Benoit of TheMMQB.com. "I hope it's going to be the type of deal that cornerbacks get and quarterbacks get."The Arizona Cardinals star back has a rather selfish reason for this, as any...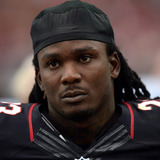 Chris Johnson will turn 32 in September and is coming off a year in which he appeared in just four games, but the veteran running back is not ready to call it a career.In an appearance on SiriusXM NFL Radio Friday, Johnson said he still wants to play in the NFL. He claims a few teams have expressed interest and he has been in contact with the Arizona Cardinals about a possible return...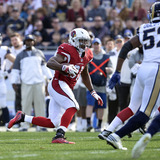 Arizona Cardinals running back David Johnson was carted off the field in Los Angeles on Sunday after injuring his leg against the Los Angeles Rams. Johnson's leg bent awkwardly underneath his body after he was tackled on a run in the first quarter. Here's a look at the play: that David Johnson is ok!!!! pic.twitter.com/AihXBwhVSC — ACL Recovery Club (@ACLrecoveryCLUB) January...
The Arizona Cardinals and David Johnson didn't waste very much time getting down to business on Monday Night Football against the New York Jets. Watch David Johnson wait for the hole to open and then he's gone! David Johnson's patience is unbelievable.This is the longest TD run of his career... 58 YARDS! #MNF #NYJvsAZ https://t.co/6nCOgCBrdf — NFL (@NFL) October 18, 2016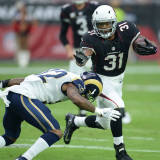 The first five games for David Johnson have put the Arizona Cardinals running back on pace for one of the rarest seasons ever at his position. Johnson rushed for 157 yards and caught three passes for 28 yards during Arizona's 33-21 win over the San Francisco 49ers on Thursday night. The second-year running back now has 457 rushing yards and 238 receiving yards after five games in...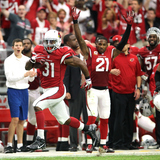 David Johnson has made quite an amazing first impression in his rookie season with the Arizona Cardinals. The rookie running back scored on a 55-yard pass in Week 1, and he followed that up with a phenomenal 108-yard kickoff return for a touchdown on Sunday. Check out the amazing video: The longest play in #AZCardinals history. And it happened on the opening kickoff! pic.twitter...
MORE STORIES >>
Cardinals News

Delivered to your inbox

You'll also receive Yardbarker's daily Top 10, featuring the best sports stories from around the web. Customize your newsletter to get articles on your favorite sports and teams. And the best part? It's free!