Bucs wide receivers DeSean Jackson and Mike Evans knelt during the national anthem. Evans had his hand over his heart while on a knee. Shortly after kickoff, Bucs co-chairman Joel Glazer released a statement via Twitter: "As we have stated previously, the Buccaneers recognize every individual's constitutional right to freedom of speech, which is crucial [more]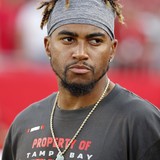 Increased national anthem protests are expected on Sunday in response to President Trump's comments made on Friday.Speaking at a rally in Alabama, President Trump termed anyone who does not stand for the national anthem a "son of a b—-" and said NFL owners should fire those players. His comments sparked the strongest of responses from athletes, as well as from the NFL commissioner...
Is this a good week to start Buccaneers WR DeSean Jackson, even with Tampa Bay facing a very talented Minnesota defense?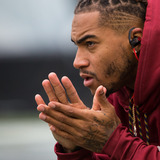 The Tampa Bay Buccaneers signed DeSean Jackson to a three-year, $33.5 million contract this offseason, and they want to make sure he is as focused as possible heading into his first season with the team.Bucs offensive coordinator Todd Monken is expecting Jackson to be a "great player" given how much money the 30-year-old wide receiver is making, and he has not been shy about...
Desean Jackson got the uniform number he wanted and helped out children in the process. It was a win for everyone involved.Not long after joining the Buccaneers, Jackson got to work on seeing what it would take to be able to wear uniform No. 11 with this new team. After sporting No. 10 with the Eagles, Jackson wore No. 11 for the past three seasons with the Redskins and apparently...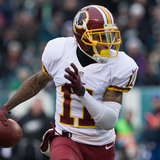 DeSean Jackson has reportedly agreed to a deal with the Tampa Bay Buccaneers.According to ESPN's Adam Schefter, Jackson will sign with the Bucs when free agency officially begins on Thursday barring any unexpected changes. The Bucs have been the favorites to land Jackson all along, although Jason La Canfora of CBS Sports reported Thursday morning that Washington was still hoping...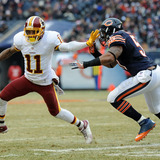 Rumored to be heading to the Tampa Bay Buccaneers, wide receiver DeSean Jackson is surely having some fun with this whole free agency thing.With free agency itself set to start on Thursday, we should learn exactly where the former Pro Bowler will land. But Jackson himself seems to think it's a good idea to joke around on social media as he nears a payday. Okay, that was some...
Well, it looks like only a matter of time before DeSean Jackson ends up in Tampa Bay catching passes from Buccaneers quarterback Jameis Winston.According to Michael Lombardi of The Ringer, the Bucs are offering Jackson more than $10 million per year to sign with them. This reported big-money bid falls in line with Jackson's reported desire to make at least $10 million per year...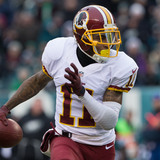 Washington Redskins wide receiver DeSean Jackson will be one of the top free agent receivers when the league opens for business next week. He's already been linked to the Philadelphia Eagles in what would be a reunion for the two sides. That makes sense considering Philadelphia will be looking for a top-end receiver in free agency (more on that here).Though, another team has now...
DeSean Jackson returning home to the Philadelphia Eagles is one of the more underrated possible story lines this offseason.Jackson has spent the last three years with the Washington Redskins in the NFC East, but was drafted by the Eagles back in 2008 and put on a show during his time there. An ugly split led to his staying within the division.Things have changed in Philadelphia,...
MORE STORIES >>
Buccaneers News

Delivered to your inbox

You'll also receive Yardbarker's daily Top 10, featuring the best sports stories from around the web. Customize your newsletter to get articles on your favorite sports and teams. And the best part? It's free!