It's not really news that the Saints and quarterback Drew Brees (more accurately, his agent) will discuss the parameters of a new contract at the Scouting Combine in Indianapolis. With all teams and all agents in town for multiple days, it's a given that discussions will be had, especially when one franchise is facing the [more]
Reports are that Drew Brees and the New Orleans Saints will begin discussing a new contract at next week's NFL Scouting Combine. There are two things we know as Saints fans going into the upcoming period of free agency. The Saints want...
Brees and the Saints were two games away from reaching the Super Bowl last season.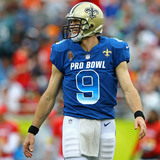 The New Orleans Saints and future Hall of Fame quarterback Drew Brees will have to work out a new contract before the start of free agency. Should that not happen, Brees will become an unrestricted free agent next month.There's no expectation that Brees will move on to another team. Both the Saints' brass and the quarterback himself have said he'll return next season.Now, according...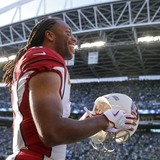 Each year at this time as we prepare for the upcoming NFL season, it is fun to reflect on some of the league's senior players. We are talking guys sometimes over a decade older than their peers but are still playing like young 20-somethings.It is hard to believe that the oldest active player in the league is 45 years old. There are also some quarterbacks who want to hit that mark...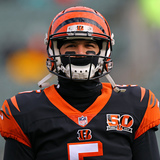 Last offseason, the Bengals offered quarterback AJ McCarron to the Jets. The team ultimately declined the trade, but ESPN.com's Rich Cimini believes the organization could have more interest in the free agent this offseason.The writer believes McCarron is the team's backup plan to Kirk Cousins, and he anticipates that the 2014 fifth-rounder will receive a deal that exceeds Mike Glennon...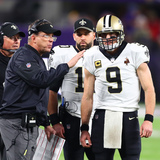 If Drew Brees decides to play hardball, he could take control of his contract negotiations with the Saints, Jeff Duncan of the Times-Picayune writes. But, so far, Brees has been a good solider, saying repeatedly that he wants to retire in New Orleans and indicating that he will not test the free agent market.In theory, things can change between now and March 14. If the Saints try...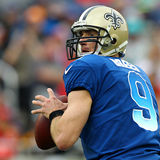 Drew Brees and the New Orleans Saints have been going for short-term deals for several years now, and there is no indication that's about to change this offseason.Mike Triplett of ESPN reported that there's no reason to believe significant changes are coming to how Brees and the Saints have operated, and a one- or two-year deal will likely be on the table at most. The expectation...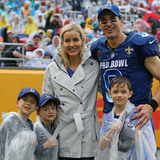 The best thing that happened in the Pro Bowl Sunday revolved around Drew Brees, but it had nothing to do with his play. His three sons became an Internet sensation when two of them started fighting during a sideline interview, much to the delight of social media users all over the place.When it happened, Brees was not a happy camper, and he had some words with them. After the game...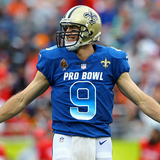 The best thing that happened in the first half of the Pro Bowl Sunday was, by far, when Drew Brees' sons started fighting on the sideline during an interview.The two younger kids were literally pounding on each other as their older brother was being interviewed about his experience as the team's ball boy. Afterward, Brees went straight into dad mode and chewed out his kids, especially...
MORE STORIES >>
Saints News

Delivered to your inbox

You'll also receive Yardbarker's daily Top 10, featuring the best sports stories from around the web. Customize your newsletter to get articles on your favorite sports and teams. And the best part? It's free!