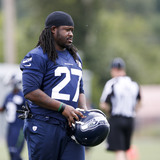 Eddie Lacy was surprisingly a healthy scratch from the Seattle Seahawks' game against the San Francisco 49ers last Sunday, which may have signaled that he is on the verge of being released. Head coach Pete Carroll insists he is still in the team's plans, however, and Lacy is trying not to think too far into the future.After practice on Wednesday, Lacy said he is focused only...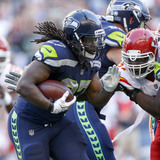 Eddie Lacy was a healthy scratch for Sunday's Seattle Seahawks game against the San Francisco 49ers, and his time with the team may be coming to an end.Lacy was signed in the offseason and had a contract filled with various incentives related to his weight. He was expected to have big role for Seattle this season, but that did not manifest as the preseason went on. Instead, rookie...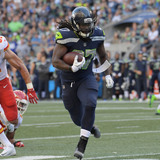 This would be the ultimate troll job after his career with the Green Bay Packers came to an abrupt end following last season.In talking about his first regular season game as a member of the Seattle Seahawks, former Packers Pro Bowler Eddie Lacy indicated that he's contemplating doing the famed Lambeau Leap should he score in his return to Green Bay Sunday. Now, that would be a...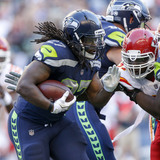 Seattle Seahawks running back Eddie Lacy is at full speed for the weekend, according to coach Pete Carroll.Carroll said Wednesday that, with top option Thomas Rawls considered questionable with an ankle injury, Lacy is ready and able to handle 20-25 carries if needed against the Green Bay Packers. Just because Lacy can do it does not mean he will. While he is the most accomplished...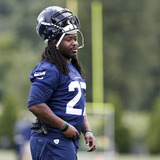 Eddie Lacy was scheduled to weigh in with the Seattle Seahawks last week to determine if he could earn another $55,000 bonus, and the lack of information about the weigh-in led some to believe the running back was not where he should have been. According to Pete Carroll, that was not the case.Carroll was asked on Monday if Lacy has gotten under his latest benchmark of 250 pounds...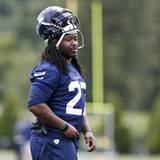 Seattle Seahawks running back Eddie Lacy is confident that he will meet his next weigh-in that takes place on Tuesday."It is going to be where it needs to be," Lacy told reporters on Monday, via Mike Florio of Pro Football Talk."Lacy has so far met two other weigh-ins that paid him $55,000 each. He doesn't sound like he's about to forfeit another cool $55k in favor of splurging...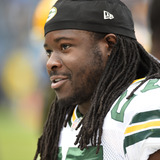 Seattle Seahawks running back Eddie Lacy just became $55,000 richer for sticking to his weight loss plan. Lacy signed an incentive-laden, one-year deal with the Seahawks which pays out salary bonuses for keeping his weight in check. This is the second reported pay out Lacy has received for passing his scheduled weigh-ins. Lacy earned another $55,000 in May for weighing in at 253...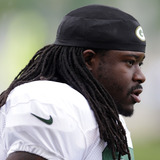 Seahawks running back Eddie Lacy has a lot on the line on Monday. If the heavyset running back gets down to 250 by his weigh-in, he'll take home another $55,000 check.Lacy's one-year contract with Seattle requires seven weigh-ins, with Lacy netting a bonus if he can reach his weight goal. He had to be under 255 pounds for his May 15 weigh-in, and he cleared that by two pounds...
Seattle Seahawks running back Eddie Lacy has plenty of reasons to continue dropping weight. To aid in this effort, he's going back to Tony Horton's Beachbody workouts, otherwise known as P90X, which he has used before to get into shape.On Saturday, Lacy posted a short loop of himself on the ground doing part of this workout routine with the hashtags #BeachbodyPartner and #BeachbodyOnDemand...
MORE STORIES >>
Seahawks News

Delivered to your inbox

You'll also receive Yardbarker's daily Top 10, featuring the best sports stories from around the web. Customize your newsletter to get articles on your favorite sports and teams. And the best part? It's free!