I find it hard to blame anybody who wants beyond reason to see Pittsburgh Steelers outside linebacker James Harrison on the field as much as possible. He is a deserving fan favorite for his dominant play in years past, including a Defensive Player of the Year campaign in 2008, and...
I'm sure it was an odd sight for many of us who have followed the Pittsburgh Steelers for the past decade to see outside linebacker James Harrison spending so much time standing on the sidelines—even in street clothes—during games this year. During his pre-game press conference earlier today, Head Coach...
While the Pittsburgh Steelers spent much of the evening dominating the previously-dominating Kansas City Chiefs on their home turf, they repeatedly failed to put the game away early, and so, when it came down to crunch time, they needed somebody—anybody—to come in and close it out. Enter James Harrison. Literally....
Pittsburgh Steelers defensive coordinator Keith Butler said that 39-year-old outside linebacker James Harrison is going to dress for the first time in the past three weeks after being a healthy scratch two games in a row. Harrison said that he's heard that he's going to dress, but he has "no...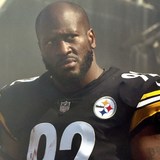 Saying Steelers linebacker James Harrison's unorthodox style of lifting weights is intense would be an understatement.I have a lot of favorite videos, from him doing hyperextensions with a 45-pound weight across his chest after playing in a road game earlier that day, to using a barbell with over 100 pounds for pelvic thrusts, which is ridiculous.But I may now have a new personal...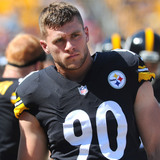 TJ Watt's NFL career is getting off to a good start.The rookie first-round pick out of Wisconsin was listed as the Pittsburgh Steelers' starting right outside linebacker on the team's depth chart Tuesday. Veteran James Harrison is the second stringer at that position.Steelers head coach Mike Tomlin said that Watt has been essentially operating as the team's starter for a while, but...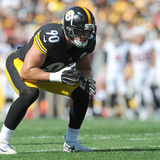 The Pittsburgh Steelers still expect a freakish James Harrison to play a huge role on defense at the age of 39 this season. But on Tuesday, the team named rookie T.J. Watt as its starting right outside linebacker heading into Week 1."He's (Watt) been in that position really since Day 0," Tomlin said in announcing the decision, via ESPN.com. "You don't like to anoint people. You like...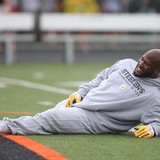 On the day that five-time Super Bowl champion Tom Brady turns 40, another fountain of youth NFL player story was shared. Pittsburgh Steelers linebacker James Harrison apparently spends $300,000 annually on various treatments and personal services to maintain his strength and health. He turned 39 in May.Harrison shared the details as to what exactly the $300K covers which includes...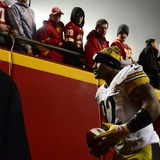 James Harrison is 39-years-old and has been playing in the NFL since he was signed as an undrafted free agent by the Pittsburgh Steelers way back in 2002. To stay in the league this long, Harrison has to do many things right both on and off the field.One thing is for sure, off the field, Harrison works out harder than anyone.No really. Harrison is better at working out than you and...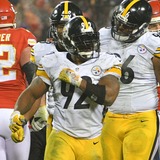 Veteran linebacker James Harrison will be 39 years old when the 2017 season begins, but he's not interested in retiring just yet.According to Ian Rapoport of NFL Media, Harrison wants to return to the Pittsburgh Steelers in 2017, and the club is eager to have him. Father Time will eventually catch up to the once undrafted free agent out of Kent State, but he's still going strong...
MORE STORIES >>
Steelers News

Delivered to your inbox

You'll also receive Yardbarker's daily Top 10, featuring the best sports stories from around the web. Customize your newsletter to get articles on your favorite sports and teams. And the best part? It's free!