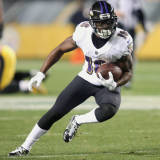 When the Baltimore Ravens square off against the Indianapolis Colts on Sunday, they'll be without second-leading receiver Jeremy Maclin. It's not a huge surprise to see Maclin inactive. He's dealing with a knee injury and was listed as doubtful during the week.Maclin has caught 40 passes for 440 yards on the season with three touchdown passes.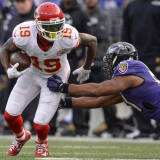 Jimmy's Famous Seafood, a Baltimore restaurant, has a rather famous history of offering athletes free food for life for various reasons. Wide receiver Jeremy Maclin got such an offer, and he elected to take them up on it.When Maclin was being courted by the Baltimore Ravens as a free agent, Jimmy's, as they often do, made a public offer of free crab cakes for life if he signed with...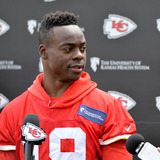 Jeremy Maclin was surprisingly released by the Kansas City Chiefs earlier this month, though the veteran wide receiver was coming off the worst statistical season of his career. How big of a role did his groin injury play in that?A very significant one, it would seem.Maclin missed four games in 2016 with a groin injury, but the extent was never clear. In an appearance on Adam Schefter...
Jeremy Maclin says the Chiefs didn't approach him about taking a pay cut, and they didn't even approach him personally to tell him he was released.The new Ravens wide receiver said that Chiefs general manager John Dorsey delivered the message through a voicemail."I was upset, I was shocked," Maclin told Pro Football Talk. "Apparently, they had been trying to trade me for two or three...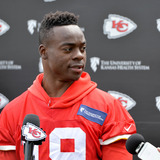 The Kansas City Chiefs made the shocking decision to release Jeremy Maclin earlier this month. No specific reason was given for their move, leading to much speculation.Many thought that Maclin was released for financial reasons, as the move saved them money against the salary cap. But now another reason has come to light.The Baltimore Sun's Jeff Zrebiec says the Chiefs may have been...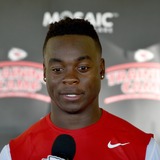 Free agent wide receiver Jeremy Maclin agreed to a two-year deal with the Baltimore Ravens on Monday, but did you know the Philadelphia Eagles were in the mix for the former Pro Bowler? Neither did a lot of people.Contrary to popular belief, Maclin's decision came down to the Ravens and Eagles, not the Buffalo Bills, a source told ESPN's Josina Anderson. Maclin visited the Bills...
The Baltimore Ravens have landed a potential No. 1 wide receiver.The team announced on Monday that they have agreed to a two-year deal with Jeremy Maclin. Maclin, who was surprisingly released by the Kansas City Chiefs, had reportedly narrowed his decision down to the Ravens and Buffalo Bills. As we saw with Steve Smith and Derrick Mason before him, veteran wide receivers have carved...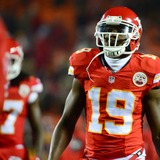 Wide receiver Jeremy Maclin surprisingly wound up a free agent on June 2. It did not take long for a receiver-needy Buffalo Bills to reach out to host Maclin for a visit.Though, according to a report by NFL.com, it is speculated that a salary conflict could be the reason that Maclin left New York without a deal.Earlier in the day, it appeared that Maclin signing with the Bills was...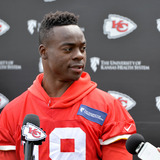 Free agent wide receiver Jeremy Maclin will reportedly have his pick between four and five "serious contenders" interested in his services. The Buffalo Bills, already in preliminary talks with Maclin, are said to be tempting for him as well. NFL Network's Mike Garafolo followed up on Sal Capaccio's tweet, saying "The situation will start to clarify itself today. Because he was cut...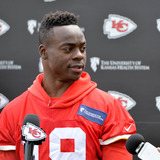 Tyrod Taylor is begging the Buffalo Bills to sign Jeremy Maclin, and LeSean McCoy is recruiting him as well. Now we're getting word that the Bills are in preliminary talks with the free agent receiver, which could certainly lead to a deal in the near future if Maclin is so inclined to join them. Maclin was shockingly cut by the Kansas City Chiefs this weekend for salary cap reasons...
MORE STORIES >>
Ravens News

Delivered to your inbox

You'll also receive Yardbarker's daily Top 10, featuring the best sports stories from around the web. Customize your newsletter to get articles on your favorite sports and teams. And the best part? It's free!