Cornerback Sidney Jones has spent a long time recovering from the torn Achilles tendon he suffered in March and the time has come for the Eagles second-round pick to show how that process has gone. Jones will be practicing with the Eagles this week for the first time since he was drafted and defensive coordinator [more]
As some of you may know by now, the Los Angeles Rams are not the only football team I root for. This may make you angry, "how can you adore two teams at once??" I can hear the yells already. One can take a guess as to who the other team I root for is: The Philadelphia Eagles. You know what this means, though? I can break down the five greatest weaknesses of the Eagles to redeem myself...
The Eagles' defense has become one of the league's best under Jim Schwartz. How long will he stay?
With his defense considered one of the best in the NFL, and the Eagles at 10-2, chances are that multiple teams are going to come calling this offseason in hopes of prying defensive coordinator Jim Schwartz away. COSTA MESA, Calif. -- With his defense considered one of the best in the NFL, and the Eagles at 10-2, chances are that multiple teams...
Jim Schwartz on Tuesday defended his relationship with Doug Pederson and denied having issues with the head coach.Schwartz is in his second season as the Philadelphia Eagles' defensive coordinator, while Pederson is in his second season as Philly's head coach. A Philly.com article by Jeff McLane last week seemed to suggest many believe Schwartz is trying to usurp Pederson as head...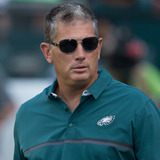 It wouldn't be an NFL season without some drama surrounding Philadelphia Eagles defensive coordinator Jim Schwartz. Considered a brilliant defensive mind, Schwartz himself is also seen as a highly enigmatic figure.So it shouldn't be a surprise that on the eve of Philadelphia's Week 1 game against the Washington Redskins, one report surfaced that Schwartz is attempting to unseat Doug...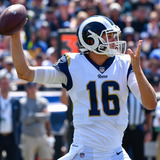 With four weeks of preseason action plus training camp in the books, the first NFL Sunday of the 2017 regular season arrived and did not disappoint. The Patriots- Chiefs game provided some exciting moments on Thursday night, but nothing beats a full slate of games to kick off the season. Fans watched entertaining games, big plays, and head-scratching moments.Here is a closer look...
Doug Farrar of Bleacher Report recently ranked the top 10 defensive schemes in the NFL. Jim Schwartz's attacking wide 9 defense in Philadelphia was ranked number eight overall.Schwartz's defensive scheme was the only NFC East defense to be featured on the list as the top three consisted of the Seattle Seahawks, Dick LeBeau's in Tennessee, and Wade Phillip's defense in Denver. Schwartz...
Jim Harbaugh has long been known as a rather fiery guy with a big personality. Some love it, others hate it. And after a October 16, 2011 game between the San Francisco 49ers and Detroit Lions — a 25-19 49ers victory — Jim Schwartz hated it. As time expired, Harbaugh sprinted onto the field celebrating like they had just won the Super Bowl. With a mild acknowledgement, he shook Schwartz...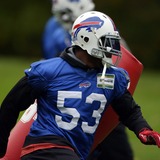 Philadelphia Eagles linebacker Nigel Bradham has been arrested and charged for assaulting a cabana boy in Miami last week. According to NBC 10 in Philadelphia, Bradham, who lives and trains in South Florida, turned himself into the Miami Police on Monday. The event in question stems around an argument at Hilton Bentley in Miami in which Bradham and others were upset about how long...
MORE STORIES >>
NFL News

Delivered to your inbox

You'll also receive Yardbarker's daily Top 10, featuring the best sports stories from around the web. Customize your newsletter to get articles on your favorite sports and teams. And the best part? It's free!