With Jon Gruden taking over as head coach of the Oakland Raiders, the coaching staff has new faces, and Brian Callahan is one of them. The 2018 Oakland Raiders have a brand new head coach, as Jon Gruden returns to the sidelines to finish his business with the franchise. Gruden helped...
Ok, let's not get crazy. Jon Gruden is known for his work ethic and his passion for the game of football. It's kind of his thing. He gets up really early to get to the office and leaves late. Even during the nine years he was out of coaching, he was said to maintain his preparation schedule, only it was usually for his gig as an NFL analyst for ESPN. He's also known for being hard...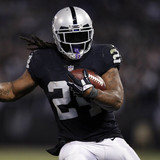 Marshawn Lynch is reportedly a fan of new Oakland Raiders coach Jon Gruden and apparently, the feeling is mutual. But in no uncertain terms, Gruden made it known that Lynch will need to be better in 2018 than he was in 2017.Gruden, responding to a comment that Lynch didn't get into shape until Week 10, stated in no uncertain terms that will not fly in 2018."We're not going to have...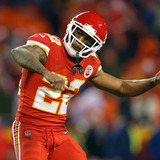 Chatter that Marcus Peters may not be long for the Chiefs continues to circulate in league circles, according to Jason La Canfora of CBSSports.com (on Twitter). That talk figures to pick up next week at the combine, JLC notes, and that could spur action on a deal.If the Chiefs are serious about dealing the cornerback, now would be the time to do it, opines Mike Florio of PFT. For...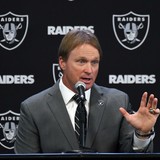 Jon Gruden is BACK, baby. But he's not here to make friends. In his absence, the NFL would change plenty of things. And he's not having one rule change in particular. A change, which came into the new CBA back in 2011, heavily restricts coaches from having contact with their players during the offseason. What gives, right?Well, Gruden isn't shy."You're not allowed to be with your...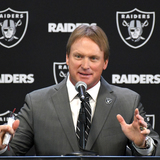 With a non-guaranteed $7.7MM salary, Michael Crabtree is among this year's potential high-profile salary cap casualties. However, in a recent interview, Raiders coach Jon Gruden indicated that Crabtree is a part of the team's plans. "I got to bump into Crabtree. Hopefully we can get the best out of Crabtree and his career," Gruden told Jerry McDonald of the Bay Area News Group.Crabtree...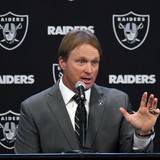 After a one-year hiatus from the National Football League, Marshawn Lynch would return. But instead of re-joining the Seattle Seahawks, he would opt for the Oakland Raiders. And after a slow start, Lynch would put together a solid season out of the backfield. 207 carries and seven touchdowns later, 'Beast Mode' averaged 4.3 yards per carry.Lynch has a roster bonus of $1 million due...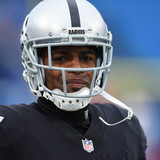 As the 2017 NFL season wore down, it was reported that Oakland Raiders would likely release receiver Michael Crabtree in the offseason (read more about that here). But new coach Jon Gruden recently spoke on the matter and hinted that that may not happen.Gruden was answering questions about his first month on the job. In doing so, he referenced a brief encounter with Crabtree."I got...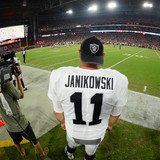 Sebastian Janikowski's 18-year run with the Raiders has come to an end. On Wednesday, the Raiders informed the kicker that he will not be re-signed for the 2018 season, Adam Schefter of ESPN.com tweets.  Last offseason, Janikowski initially balked when the Raiders asked him to take a pay cut, and that nearly marked the end of his tenure in Oakland. The kicker eventually acquiesced...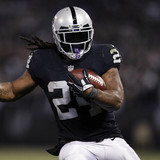 The NFL is busting with breaking news this busy post-Super Bowl Thursday. Though, not necessarily every topic hitting the presses is "real" football news.Marshawn Lynch's agent Doug Hendrickson put an end to a rumor that the Oakland Raiders' running back missed a meeting with new head coach Jon Gruden. Hendrickson was not shy about blasting the parties responsible for the bogus report...
MORE STORIES >>
Raiders News

Delivered to your inbox

You'll also receive Yardbarker's daily Top 10, featuring the best sports stories from around the web. Customize your newsletter to get articles on your favorite sports and teams. And the best part? It's free!