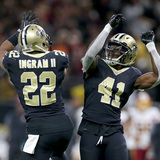 Saints running backs Alvin Kamara and Mark Ingram completed a regular-season campaign for the ages, so much so that the Pro Football Hall of Fame is honoring them.Kamara and Ingram became the first rushing tandem in NFL history to each produce 1,500 yards from scrimmage in a season, which resulted in the Hall of Fame putting their Week 16 jerseys on display. Kamara produced 1,554...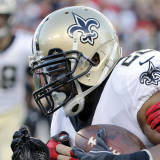 New Orleans Saints running back Mark Ingram posted career-highs across the board in rushing yards (1,124), rushing touchdowns (12) and receiving yards (416) in 2017. Yet, it was not enough to earn Ingram All-Pro honors.Ingram's All-Pro snub leaves him tied to his current contract instead of forcing a void which would make him a free agent, per ESPN. Now Ingram will continue to play...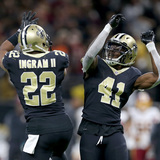 On Tuesday, Pro Bowl rosters would be announced. But for the New Orleans Saints, it was particularly special. How about that?In his seventh season, Ingram already has a career-high in rushing yards (1,045) and TDs (11). Plus, he has 51 receptions for 375 yards. And what he is unable to do, Kamara picks up the slack. Even if he doesn't need to, of course.In his rookie season, Kamara...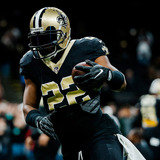 The NFL's best backfield will have all hands on deck Thursday night, as Mark Ingram is expected to play despite battling a toe injury.ESPN's Adam Schefter reports that Ingram, who was limited all week in practice and is listed as questionable, will play against the Atlanta Falcons. Ingram and dynamic rookie Alvin Kamara are largely responsible for the Saints being one of the biggest...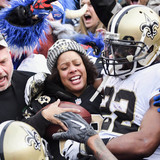 Bills fans have no chill.Saints running back Mark Ingram learned that lesson during the first quarter of Sunday's game after rushing for a touchdown from one yard out.Ingram elected to celebrate by leaping into the stands — which really isn't a great idea when in Orchard Park — and he managed to find a few Saints fans who were there to embrace him.There were a lot of Bills fans in...
Le'Veon Bell and David Johnson are the two best all-around running backs in the NFL, and it's not really close. Just don't tell that to Mark Ingram.The New Orleans Saints running back thinks he's on the same level as those guys and wants to keep proving he's "the best complete back in this game.""I just want to keep proving that I'm the best complete back in this game," Ingram said...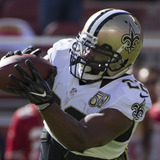 With the New Orleans Saints having signed one of the best running backs in NFL history in Adrian Peterson, there have been some rumblings that Mark Ingram could be on the trading block.Not so, say multiple reporters.After Saints center Max Unger suffered a foot injury last week that could force him to miss the start of the season, there was speculation that Ingram could become expendable...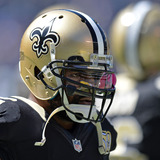 Mark Ingram and several of his New Orleans Saints teammates were turned away from a nightclub in London on Monday night, and early indications were that the decision was racially motivated. The club, however, says that is not what happened.In a statement released on Tuesday, a representative from Cirque le Soir in Soho says Ingram and his friends were denied access because they had...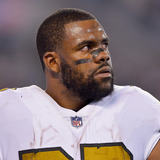 New Orleans Saints running back Mark Ingram and three of his teammates say they were denied entry into a nightclub in London Monday night after being told they were "too urban."Ingram, who is visiting England with Sterling Moore, B.W. Webb, Vonn Bell and two others, says he and his teammates and friends had a reservation for bottle service at Cirque le Soir in Soho. When they arrived...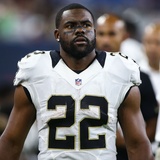 New Orleans Saints running back Mark Ingram added his voice to the growing chorus of NFL players speaking out against social injustice in America. Speaking with local media on Friday in the Saints' locker room, Ingram shared his heartbreak over police violence against people of color, such as we saw recently with Terence Crutcher. "It hurts my heart and it's a sensitive topic...
MORE STORIES >>
Saints News

Delivered to your inbox

You'll also receive Yardbarker's daily Top 10, featuring the best sports stories from around the web. Customize your newsletter to get articles on your favorite sports and teams. And the best part? It's free!