Lions quarterback Matthew Stafford's status was uncertain at this point last week because of a right hand injury that he suffered late in the Week 13 loss to the Ravens. Stafford started the week as a limited participant in practice, but moved up to a full workload with his pinky and ring finger taped for [more]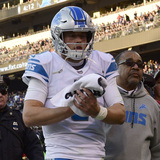 Matthew Stafford suffered a hand injury in last weekend's loss to the Baltimore Ravens, and it sounds like there is at least a chance that it could prevent him from playing on Sunday against the Tampa Bay Buccaneers.After initial fears that he may have fractured a bone in his hand, X-rays came back negative for Stafford and he was diagnosed with just a bruise. However, the injury...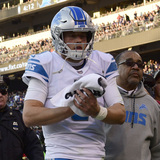 Matthew Stafford exited the Detroit Lions' recent loss with a hand injury, and the quarterback isn't a lock to start in Week 14.Kyle Meinke of MLive notes Lions coach Jim Caldwell said he doesn't know whether the injury to Stafford's throwing hand will affect his ability to play."We'll have to kind of see how that goes, to be honest with you. any time that you're dealing with a throwing...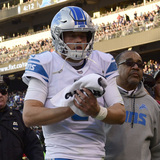 Detroit Lions quarterback Matthew Stafford avoided the worst-case scenario after suffering a hand injury on Sunday.Stafford was knocked out of the game against the Baltimore Ravens amid some initial fears that he fractured his throwing hand. X-rays came back negative, though, and Stafford escaped with only a bruise. This is far from the first time Stafford has been beaten up this...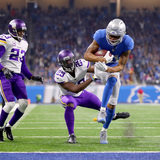 Even double coverage wasn't enough to slow down Marvin Jones on Thanksgiving.The Lions trailed by 11 points to begin the fourth quarter, and the team did not get conservative in its playcalling when attempting to cut into the Vikings' lead.Faced with a third-and-14 situation early in the game's final stanza, Lions quarterback Matt Stafford aired it out down the field, looking for...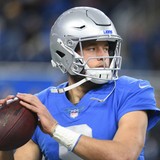 The play itself was otherwise awesome. But it could have wide-ranging ramifications on the Detroit Lions' playoff hopes.Early in the fourth quarter of Thursday's game against the Minnesota Vikings, Stafford hit Marvin Jones on this beautiful 43-yard touchdown pass to pull Detroit to within four points. Unfortunately, Stafford saw his troublesome right ankle rolled up on, forcing...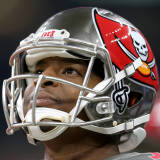 Detroit Lions wide receiver Golden Tate was not in the least bit impressed with Jameis Winston's odd pregame speech.Video circulated of Winston trying to fire up his Buccaneers before Sunday's game with a speech about eating and getting a "W." One satirical NFL Twitter account got a hold of it and asked fans to retweet if they essentially thought Winston was being an oddball and...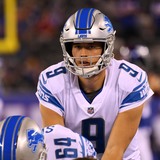 The Detroit Lions' offense has one of the coolest audibles we've heard.During the third quarter of the Lions' Monday night game against the New York Giants, quarterback Matthew Stafford could be heard saying "Kershaw" for one of his calls at the line of scrimmage: The "Kershaw" audible seemed to be a nod to Stafford's childhood friend, Clayton Kershaw.The two grew up playing sports...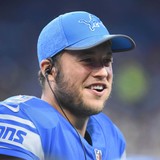 The Detroit Lions just made quarterback Matthew Stafford the highest-paid player in the NFL. Stafford agreed to terms on a whopping five-year extension worth $135 million on Monday evening.So, what exactly does Stafford plan to spend his new paycheck on? Not cars, or a new house. Not even a luxurious vacation home. Diapers. And, lots of them. Stafford's wife Kelly gave birth to two...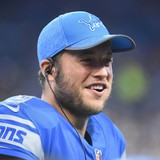 Move over Derek Carr, you have some company.According to ESPN's Adam Schefter, the Detroit Lions are expected to sign quarterback Matthew Stafford to a five-year contract extension that will make him the highest-paid player in NFL history. A deal between the two sides had been bandied about for some time. But the closer we moved to the regular season, the less likely an extension...
MORE STORIES >>
Lions News

Delivered to your inbox

You'll also receive Yardbarker's daily Top 10, featuring the best sports stories from around the web. Customize your newsletter to get articles on your favorite sports and teams. And the best part? It's free!