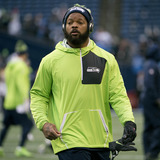 The writer who inspired Seahawks defensive end Michael Bennett to boycott a local Seattle newspaper has issued an apology.Over the weekend, Matt Calkins of the Seattle Times published a feature that praised Bennett for the work he does in the community but criticized him for his "incredibly childish" behavior at times. As an example, Calkins cited the incident last postseason in...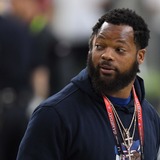 Michael Bennett is unhappy with a story that was written about him in a local Seattle newspaper last week, and the Seahawks defensive end is trying to blacklist the media outlet because of it.In a feature story published on Saturday, Matt Calkins of the Seattle Times praised Bennett for being "passionate and colorful" but criticized him for not finding mature ways to express himself...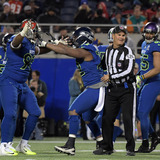 An official in the Pro Bowl tried to prevent Michael Bennett from doing his signature sack dance during Sunday night's game, but was unsuccessful in doing so.Bennett sacked Andy Dalton in the second quarter of the Pro Bowl, and then proceeded to bust out his three-pump sack dance. The ref, however, wanted to keep the game as family-friendly as possible, so he grabbed Bennett to try...
Seattle Seahawks defensive end Michael Bennett has never been afraid to speak out about issues surrounding the sports world and the broader landscape of American society. It's his outspoken and sometimes comedic nature that makes him a gem in the Pacific Northwest. In talking about community service and how professional athletes should give back, Bennett criticized two-time reigning...
Fans are tired of hearing millionaire athletes whine about their contract, but Seahawks defensive end Michael Bennett gets a pass because he does it with a humorous twist. Fellow defensive linemen Malik Jackson, Olivier Vernon and Fletcher Cox all have signed contracts this offseason that average out to more than $10 million a year. Bennett, meanwhile, continues to play on a four...
Seattle Seahawks defensive end Michael Bennett gets a little sick to his stomach when he thinks about Philadelphia Eagles quarterback Sam Bradford demanding a trade after the Eagles drafted Carson Wentz with the second overall pick. "I listened to Sam Bradford again. I just almost threw up," Bennett said, via ESPN. "I can't believe Sam Bradford is complaining about making $40 million...
If you think the officiating has been particular bad in the NFL this season, you haven't been paying attention in years past. That's how Seattle Seahawks defensive lineman Michael Bennett feels, at least. In a lengthy interview that will appear in the Dec. 21 issue of Sports Illustrated, Bennett was asked about the performance of the NFL's officials. He was not kind. "Referees...
Adding insult to injury, Michael Bennett abused Andy Dalton by hitting him repeatedly following an interception on Sunday when the Seattle Seahawks visited the Cincinnati Bengals. The first block was understandable, even though it was a block in the back. The second hit was questionable — at best. The third hit was absolutely dirty, and it will be interesting to see what kind of...
Seattle Seahawks defensive end Michael Bennett is one of the funniest players in the NFL today, and he knows it. Whether it's riding a police bike around CenturyLink Field, or calling out team owner Paul Allen over Kam Chancellor's contract situation, Bennett is the NFL's unofficial king of comedy. It must run in the family, as his brother, Martellus, compared Bears quarterback...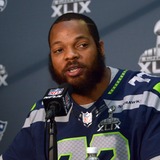 By Larry Brown Michael Bennett is one of the funnier, more outspoken players in the NFL, so it's no surprise to hear that he also talks some great trash to opposing quarterbacks. In a feature with Seattle Met, the Seahawks defensive lineman spoke unfiltered and shared his opinions on a range of subjects. One of the best things to come from the feature was him sharing some of his...
MORE STORIES >>
Seahawks News

Delivered to your inbox

You'll also receive Yardbarker's daily Top 10, featuring the best sports stories from around the web. Customize your newsletter to get articles on your favorite sports and teams. And the best part? It's free!