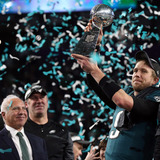 Imagine if this had taken place some five years ago. According to a report from ESPN's Phil Sheridan the defending champion Philadelphia Eagles once turned down a Cleveland Browns trade offer that would have sent Josh Gordon further east in exchange for Super Bowl LII MVP Nick Foles."The Philadelphia Eagles turned down a trade that would have brought them Cleveland Browns wide receiver...
Now that we're just a few weeks away from the start of free agency, NFL teams have fully transitioned from the 2017 campaign to the offseason. We've already seen two major quarterback situations settled with Jimmy Garoppolo re-signing in San Francisco and Alex Smith being traded to Washington. That position is going to be the talk of NFL free agency.Though, there's a handful of big...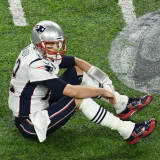 Those in Philadelphia and its surrounding areas are not soon going to let others forget that their Eagles defeated the mighty New England Patriots in Super Bowl LII earlier this month. It was the Eagles' first ever Super Bowl title. It came against a fellow east coast powerhouse with Philadelphia itself being major underdogs. Already a boisterous sports town, the hype is not going...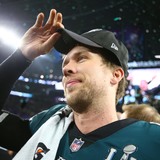 Tom Brady never even bothered to shake Super Bowl MVP Nick Foles' hand after his team lost 41-33 in Super Bowl LII.One would think that Brady, who has won five rings over the course of his career, could have humbled himself enough to congratulate his counterpart, especially for as well as Foles played in the game.But he didn't.Foles was recently asked about it on "Jimmy Kimmel Live...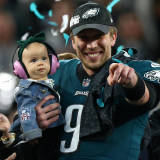 Super Bowl LII MVP Nick Foles continued making the rounds on the talk show circuit this week with an appearance Thursday night on "Jimmy Kimmel Live." The Philadelphia Eagles quarterback mentioned something about a situation that became quite the talker in the wake of his team's upset 41-33 victory over the New England Patriots.He has yet to hear from Tom Brady.Much was made in the...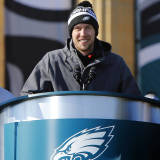 There's a good chance the defending champion Philadelphia Eagles decide to hang on to reigning Super Bowl MVP Nick Foles as an insurance policy in case Carson Wentz isn't ready for the 2018 season.At the very least, that's what the Eagles would like us to believe.Though, there's two issues with this. Coming off one of the best playoff runs by a quarterback in recent NFL history,...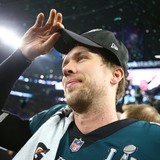 One of the biggest questions for the world champion Eagles is what the team will do with quarterback Nick Foles.Carson Wentz is coming off major surgery to repair a torn ACL, as well as a partially-torn iliotibial band. Not only that, he also had some meniscus damage that was cleaned up, so it's unclear if he'll be able to return in time for Week 1 of the 2018 regular season.As for...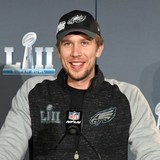 Nick Foles chose the friendly environs of "The Ellen DeGeneres Show" for his first televised interview since leading the Philadelphia Eagles to victory in Super Bowl LII.Foles, coming off an arguably improbable MVP nod due to his impressive performance in a 41-33 victory over the favored New England Patriots, called the entire experience "surreal." "It was a dream as a kid," Foles...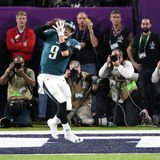 Philly Special? Maybe not. That is, if you believe the NFL's former head of officiating, Mike Pereira. But for the time being, let's file this one under: too late.Remember the 'Philly Special' trick play, though? Remember when Nick Foles would catch a touchdown pass en route to a Super Bowl championship? What a play. But according to the former head of officiating, it shouldn't have...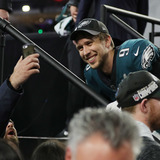 Matthew McConaughey is quite excited about fellow Texan Nick Foles's Super Bowl excellence.McConaughey took out a full-page ad in Sunday's Austin American-Statesman congratulating the Philadelphia Eagles quarterback, "from one Texan to another." Foles probably wouldn't have expected that, but it's a cool gesture. Foles is, in fact, a native of Austin, where McConaughey lives. Who...
MORE STORIES >>
Eagles News

Delivered to your inbox

You'll also receive Yardbarker's daily Top 10, featuring the best sports stories from around the web. Customize your newsletter to get articles on your favorite sports and teams. And the best part? It's free!