One Redskins fan's unfortunate August tweet is now coming back to haunt him, and if he keeps his word, he'll have to eat a hat because of it.
In August, one Redskins fan made a bold claim about Ryan Grant. Well, a few months later, that bold claim has totally backfired. And he's not just going to eat his words because of it, either.
Ryan Grant had three catches for 39 yards against the 49ers, but Jay Gruden wishes the wide receiver would speak up a little more.
Is it time to see more out of Josh Doctson? What is Ryan Grant's value? Redskins Insiders JP Finlay and Rich Tandler discuss.
Entering his fourth season in Washington, Ryan Grant has his best opportunity to date to have a big part in the offense after playing mostly a blocker role in 2016.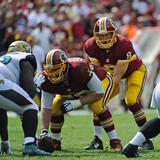 Earlier this week, Kirk Cousins took the blame for his overtime pick-six that led to the Washington Redskins' Week 5 loss to the Atlanta Falcons. On Wednesday, wide receiver Ryan Grant, who was the target on the pass, pointed the finger at himself instead."I slipped, Grant said to reporters, per The Washington Post. "It was supposed to be on my outside shoulder. I slipped, threw...
The most interesting position battle to monitor during the Washington Redskins' training camp might be at the slot wide receiver position. Last offseason, the Redskins signed Andre Roberts to a big contract to man the slot. After, they brought in late-round draft pick Ryan Grant and followed up in the 2015 NFL Draft with fourth-round wide receiver Jamison Crowder. It was both Grant...
It's safe to say Washington Redskins head coach Jay Gruden is very impressed with wide receiver Ryan Grant so far. "He's awesome, man. He really is," Gruden said, per ESPN. "He runs every route exactly like you tell him to run it. He doesn't make any mental mistakes. He's got big, strong hands. It's just right now with Pierre, DeSean. Andre, we draft Crowder, it's a crowded room...
Where Does Redskins Backfield Rank in the NFL? The Washington Redskins will be going to a more physical power running attack in 2015. So the performance of the running backs will play a big part of how the ... Ryan Grant impresses Redskins again, but still must wait ASHBURN, Va. – The problem for Ryan Grant should be a good one for the Washington Redskins. The coaches like...
Which Redskins Players had the Best Preseason? The Washington Redskins wrapped up their preseason schedule on Thursday beating the Tampa Bay Buccaneers 24-10 in a battle of backup's all over the field. The Redskins finished 3-1 this preseason and had several players who stood out. Ryan Grant – After being a fifth round draft pick [...]
MORE STORIES >>
Redskins News

Delivered to your inbox

You'll also receive Yardbarker's daily Top 10, featuring the best sports stories from around the web. Customize your newsletter to get articles on your favorite sports and teams. And the best part? It's free!