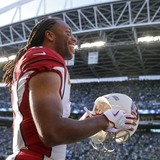 Each year at this time as we prepare for the upcoming NFL season, it is fun to reflect on some of the league's senior players. We are talking guys sometimes over a decade older than their peers but are still playing like young 20-somethings.It is hard to believe that the oldest active player in the league is 45 years old. There are also some quarterbacks who want to hit that mark...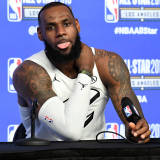 With a big offeason looming once the 2017-18 NBA regular season comes to an end, several ESPN writers spoke to NBA players to get their predictions on where they expect some of this summer's top free agents to land. In total, 48 players weighed in. Here are some highlights from the results of ESPN's survey: LeBron James is considered likely to return to the Cavaliers, with 59 percent...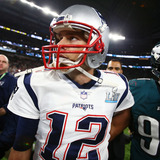 A Super Bowl ring given to a member of Tom Brady's family fetched nearly $350,000 at an auction Sunday morning, making it one of the most valuable pieces of recent sports memorabilia ever sold.The ring was a family version of the one Brady received for winning Super Bowl LI, meaning it has 265 diamonds instead of the standard 283 and is ten percent smaller than the version Brady...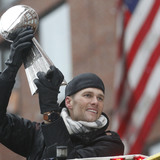 After the New England Patriots won Super Bowl LI, Tom Brady authorized the creation of a family version Super Bowl ring, and now it has been sold at auction for a record price.According to Darren Rovell of ESPN, the ring has the word "Brady" on it and features "265 diamonds compared to the 283 that Tom Brady's actual ring has and is about 10 percent smaller, has the same engraving...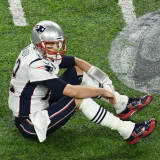 Those in Philadelphia and its surrounding areas are not soon going to let others forget that their Eagles defeated the mighty New England Patriots in Super Bowl LII earlier this month. It was the Eagles' first ever Super Bowl title. It came against a fellow east coast powerhouse with Philadelphia itself being major underdogs. Already a boisterous sports town, the hype is not going...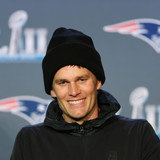 Reigning NFL MVP Tom Brady has not made any legitimate noise about wanting a raise from the $14 million base salary he's slated to earn next season. This doesn't mean Brady himself has not let the New England Patriots know he wants to be taken care of. As one of the most underpaid athletes in pro sports, it stands to reason he'll want to cash in. Brady has been playing under a team...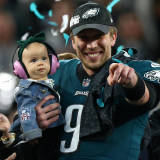 Super Bowl LII MVP Nick Foles continued making the rounds on the talk show circuit this week with an appearance Thursday night on "Jimmy Kimmel Live." The Philadelphia Eagles quarterback mentioned something about a situation that became quite the talker in the wake of his team's upset 41-33 victory over the New England Patriots.He has yet to hear from Tom Brady.Much was made in the...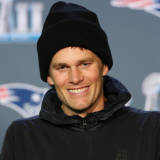 Tom Brady and wife Gisele Bundchen took to Instagram this Valentine's Day to post loving tributes to one another, something that is not all that uncommon for the two hopeless romantics. Bundchen got the social media displays of affection off to a start by posting a photo of herself and Brady sharing a kiss on an isolated beach with the setting sun framing the romantic shot. Shortly...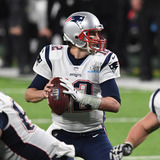 New England Patriots quarterback Tom Brady isn't sulking around the house in his pajamas after watching his team lose to the Philadelphia Eagles in Super Bowl LII last Sunday.What else would we expect from a five-time Super Bowl champion who has a wife that most men would literally give their left arm for? Well, Brady has decided to hit up the legendary Costa Rica coast with his...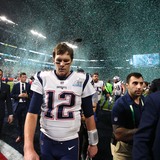 The Patriots trailed the Eagles during the majority of Super Bowl LII, and Tom Brady's ex-girlfriend Bridget Moynahan made sure to cleverly troll her former beau while the game was going on.Moynahan dated the Patriots quarterback from 2004-06, and also gave birth to a child in August 2007, with Brady being the father. She raised the boy by herself, and appears to still be a bit bitter...
MORE STORIES >>
Patriots News

Delivered to your inbox

You'll also receive Yardbarker's daily Top 10, featuring the best sports stories from around the web. Customize your newsletter to get articles on your favorite sports and teams. And the best part? It's free!