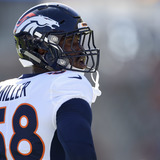 The Denver Broncos are getting left in the dust and sit tied for last place (3-6) in the AFC West. It has been a terrible stretch for linebacker Von Miller's Broncos, who have lost their last five games in a row.Apparently sick and tired of losing, Miller ordered fellow teammates Shane Ray and Shaq Barrett to the weight room to pump some iron, per Nicki Jhabvala of The Denver Post...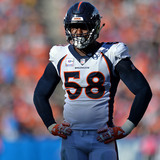 Broncos linebacker Von Miller will show some love for rap mogul Lil Wayne during Sunday night's game against the Patriots — on his feet.Miller will rock a pair of customized cleats that were designed to look like Weezy's 2007 mixtape "Da Drought 3" on the 10th anniversary of the release. They were also signed by Lil Wayne as well. Miller has turned in some big performances against...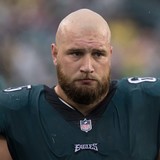 It's not often that an offensive lineman gets the best of Von Miller, but Lane Johnson managed to on Sunday.The Philadelphia Eagles right tackle was especially impressive on one particular play where he tossed a spinning Miller to the ground while facing the Denver Broncos star. Take a look: Nice move by Johnson, right? Eagles offensive line coach Jeff Stoutland apparently said that...
Von Miller provided a brutally honest take on the reeling 3-5 Denver Broncos following Sunday's 51-23 blowout loss to the Philadelphia Eagles."We are where we are right now," Miller said, via ESPN. "Right now, [Sunday] … we're not a good football team."We still have time. We still have time to be great. We're not a great football team right now, but that doesn't mean we don't have...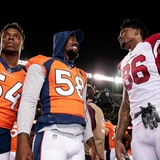 Halloween is still a week away, but it is going to be difficult for anyone to top the costume that Denver Broncos linebacker Brandon Marshall came up with at a party Monday night.As he proudly revealed on his Snapchat account, Marshall went to a Halloween party dressed as Von Miller. But Marshall didn't focus on the Miller who terrorizes opposing quarterbacks on the football field...
Denver Broncos linebacker Von Miller's decision to kneel during the national anthem before Sunday's game appears to have resulted in him losing an endorsement deal with a local business.Denver-area dealership Phil Long Ford on Monday announced it will not continue its endorsement deal with Miller due to the demonstration.The automobile dealership did clarify in a statement to Denver...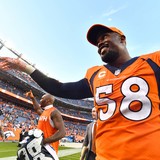 As a result of his actions prior to the Broncos' game against the Bills, a local dealership has requested an advertisement featuring Von Miller no longer be featured on a Denver television station.Sunday was a day unlike we have ever seen around the NFL. Prior to games around the country, teams and players across the league protested racial inequality and showed solidarity in response...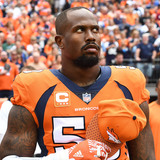 Denver Broncos linebacker Von Miller took responsibility for a strange unsportsmanlike conduct penalty that allowed the Buffalo Bills to put the game away on Sunday.Late in the fourth quarter, with the Broncos down 23-16, it looked like Denver had made a third down stop that would force the Bills to punt. However, Miller was hit with a 15-yard unsportsmanlike penalty for an interaction...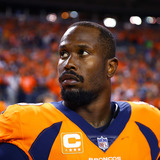 Von Miller and his Denver Broncos were frustrated in western New York throughout Sunday afternoon. With his team down by a touchdown late in the fourth quarter, Miller's frustrations apparently got the best of him.Or, at least, that's how the officials in Buffalo viewed it. After putting pressure on Bills quarterback Tyrod Taylor and taking him to the ground, Miller was called for...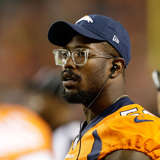 A Dallas-area native, Denver Broncos Pro Bowler Von Miller will take on his hometown Dallas Cowboys on Sunday. Despite being in the midst of his seventh NFL season, this is the first time Miller will play the Cowboys.And he seems pretty jacked up about it. More than that, the former NFL Defensive Player of the Year has a pretty interesting take about growing up in Dallas, one that...
MORE STORIES >>
Broncos News

Delivered to your inbox

You'll also receive Yardbarker's daily Top 10, featuring the best sports stories from around the web. Customize your newsletter to get articles on your favorite sports and teams. And the best part? It's free!