Found September 08, 2013 on oddmanrush.ca:
PLAYERS:
Erik Cole
,
David Desharnais
,
Carey Price
,
Brendan Gallagher
,
Alex Galchenyuk
,
Lars Eller
,
P.K. Subban
,
Jaroslav Halak
,
Andrei Markov
,
Vincent Lecavalier
,
George Parros
,
Brandon Prust
,
Antti Niemi
,
Brian Gionta
,
Jarred Tinordi
,
Pierre Gauthier
TEAMS:
Montreal Canadiens
,
Dallas Stars
,
St. Louis Blues
,
Philadelphia Flyers
,
San Jose Sharks
This 2013-14 NHL season preview features the Montreal Canadiens. Hockey's most storied franchise surprised some by winning the Northeast Division this past season by the slimmest of margins over Stanley Cup finalist and arch rival Boston. In General Manager Marc Bergevin's first season in charge of the "Bleu Blanc Rouge", the Canadiens put together their best winning percentage since 1988-89 under head coach Michel Therrien. The impressive part? They did it with sub-par seasons from Erik Cole, who was traded midway through the season, David Desharnais and goaltender Carey Price. The Habs got unlikely contributions from rookie of the year finalist Brendan Gallagher, 3rd overall pick Alex Galchenyuk and a breakout performance by Lars Eller. Add to that a Norris Trophy season by PK Subban, and you have a recipe for an accelerated rebuild and renewed Stanley Cup aspirations surfacing in Montreal. What went right in 2012-13 The story from start to finish this past season was PK Subban. From the dragged on contract negotiations and holdout, to the disciplinary measures taken by the team's management to try and reign him in, to the timely goals and big hits, Subban provided a city already nuts about hockey with plenty to talk about. On the ice, he led the team with 27 assists to go with his 11 goals in 42 games. He also finished second the team in both plus/minus (+12) and ice time (23:15 per game). He was far and away the team's MVP and, with a Norris Trophy win, has placed himself among the league's elite defensemen. The kids also stepped up in a big way for the Habs, starting with Calder Trophy runner-up Brendan Gallagher. The former 5th round pick made the team out of camp and was a buzz-saw on the ice for just over 13 minutes per game. He played a fearless style that endeared him to the fans, and also chipped in a somewhat unexpected amount of offense with 15 goals. The other kid that made noise in Montreal was 2012 3rd overall pick Alex Galchenyuk. While his talent was undeniable coming into the season, it was unclear how the knee injury he suffered during his draft year would affect him. Not only was he very good offensively, contributing 27 points in 48 games, but he also showed excellent play in all 3 zones, as evidenced by his team-high +14 rating. Slightly older than Galchenyuk and Gallagher is Lars Eller, who finally showed flashes of the player the Canadiens thought they were getting when they dealt fan favorite Jaroslav Halak to the Blues to get him. Eller placed 5th on the team with 30 points and registered a +8, showing improved confidence with the puck. Fehr Can't Beat Price by clydeorama Attribution-NonCommercial 2.0 Generic license via Flickr What went wrong in 2012-13 While the talent is certainly there for Carey Price to be one of the elite netminders in the league, he struggled to find the next level to his game last season. He was rarely the reason the Habs lost, but was just as rarely the reason they won. He has good size and is positionally and technically sound however, so new goaltending coach Stephane Waite will be looking to "clean between the ears" of the Canadiens goaltender in hopes of helping him to reach his very high potential. While defenseman Andrei Markov did put up an impressive 30 points in 48 games, his -9 rating while leading the team in ice time tells more of the story. He looked more than a step slower on most nights in the defensive zone than the dominant player he was before knee injuries ravaged his career. Generously listed at 5'7″ on the team's official website, David Desharnais was the revelation of what was otherwise a horrible 2011-12 season for Montreal, scoring 60 points. 2012-13 was a much different story for the diminutive center as he struggled to fight through the top checking he faced on a nightly basis, finishing with 28 points in 48 games and a -2 rating. While the Canadiens as a team generally had good numbers across the board, the one area that was lacking was the penalty kill. They finished 23rd in the league with a 79.8% success rate. As the 4th most penalized team in the NHL, that statistic becomes increasingly important. By Andrea Shives (Own work) [CC-BY-SA-3.0], via Wikimedia Commons So what did they do to get better? After striking out on Vincent Lecavalier, the Canadiens turned their attention for the second time in the last decade to Gatineau, Quebec native Danny Briere. This time, they got their man. Briere brings with him a wealth of experience, offensive ability and a flair for big-game performances. Briere ranks 5th in career playoff goals (50) and 6th in points (109) among active players, and comes to Montreal motivated to prove the doubters who say that "he's done" wrong. The Canadiens then went out and added some muscle by acquiring tough guy George Parros. With 1007 penalty minutes in 452 career games, Parros was brought in to take some of the pressure of Brandon Prust, who broke down over the course of the season because of having to be the team's "heavyweight" and often fight above his class. Speaking of muscle, defenseman Douglas Murray was a late summer signing by GM Marc Bergevin, but could prove invaluable. He gives the Canadiens a good fill-in for Alexei Emelin, who will start the season on the injured list thanks to a torn ACL and MCL suffered towards the end of last season, and is a nice complement to the speedy, puck-moving defensemen already on the roster. Player to watch This is the year for Carey Price. Stephane Waite has been hired for one reason: his expertise in the psychology of playing goal in the NHL. You have to like his track record with turning Antti Niemi and Corey Crawford, both arguably inferior goalies, into Stanley Cup winners. If he can get Carey to the next level, there's no telling how high his ceiling is. With the extra motivation of potentially being on Canada's Olympic roster come February, you should see a much more focused and determined Price. They will make the playoffs if… They're able to maintain their offensive depth and reduce the number of power-play goals against, one of the only sore spots last season. They will miss the playoffs if… The Norris Trophy season was an aberration and PK Subban reverts to taking dumb penalties at the worst times, and the kids all hit the dreaded sophomore slump. Trade bait Marc Bergevin has chosen to build this franchise through drafting and developing players, so it's unlikely you'll see him trade significant young assets to bring in help. That being said, it's hard to imagine Andrei Markov and Brian Gionta both finishing the year in Montreal if things go south, given that they will both be in the last year of their contracts. Rookie most likely to have an impact Even with Alexei Emelin out, Jarred Tinordi currently stands as the 7th or 8th defenseman on the depth chart. Still, he brings a dimension the Canadiens have very little of. If he can show enough in training camp to carve out a top 6 role, he could have an impact, especially on the penalty kill. His upside as a shutdown defender is extremely high, and he's not too far off from being with the big club full time. What should we expect this season? I believe last season was simply the beginning of a real resurgence in Montreal. One that can be sustained thanks to smart drafting and good player development. The team that Geoff Molson has put in place is finally giving Montreal a franchise built the right way, and that will translate into the Canadiens soon reclaiming a spot among the league's elite organizations. With the potential for Alex Galchenyuk to be the franchise center the team has lacked for decades, and young, core pieces like Pacioretty, Eller, Gallagher, Subban and Price, the Canadiens are much closer to a Stanley Cup championship after one season of Marc Bergevin than after 17 years of Rejean Houle, Andre Savard, Bob Gainey and Pierre Gauthier. Hockey's greatest franchise is once again in capable hands. Prediction 45-28-9, 99 points, 2nd in the Atlantic division, 3rd in the Eastern Conference The post 2013-14 NHL Season Preview: Montreal Canadiens appeared first on oddmanrush.ca.
Original Story:
http://www.oddmanrush.ca/2013-14-nhl-...
THE BACKYARD
BEST OF MAXIM
RELATED ARTICLES
As rookies of the Montreal Canadiens make their final impressions in Brossard today, the big boys are packing up for camp, which is set to begin this Thursday. Another NHL summer in the wind, the season of promise and opportunity is upon us. As we know, the Canadiens have 13 forwards and eight defensemen penned to one-way contracts, so the prospect of a rookie like Jarred Tinordi...
NHL News

Delivered to your inbox

You'll also receive Yardbarker's daily Top 10, featuring the best sports stories from around the web. Customize your newsletter to get articles on your favorite sports and teams. And the best part? It's free!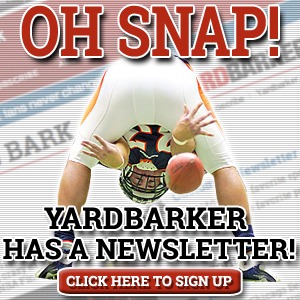 Latest Rumors
The Backyard

Today's Best Stuff

For Bloggers

Join the Yardbarker Network for more promotion, traffic, and money.

Company Info

Help

What is Yardbarker?

Yardbarker is the largest network of sports blogs and pro athlete blogs on the web. This site is the hub of the Yardbarker Network, where our editors and algorithms curate the best sports content from our network and beyond.