Found March 26, 2013 on Rob The Hockey Guy:
PLAYERS:
Ryan Kesler
,
Roberto Luongo
,
Mike Ribeiro
,
Henrik Sedin
,
Derek Roy
,
Vernon Fiddler
,
Maxim Lapierre
,
Cody Hodgson
,
Steve Ott
,
David Booth
,
Brandon Dubinsky
,
Jordan Schroeder
,
Eddie Lack
,
Sam Gagner
,
Keith Ballard
,
Marcel Goc
,
Maxime Talbot
,
Antoine Vermette
,
Manny Malhotra
,
Tyler Bozak
,
Mason Raymond
TEAMS:
Vancouver Canucks
,
Washington Capitals
,
Dallas Stars
,
Buffalo Sabres
,
Columbus Blue Jackets
,
Edmonton Oilers
,
Chicago Blackhawks
,
Florida Panthers
,
Philadelphia Flyers
,
Arizona Coyotes
,
Toronto Maple Leafs
With just over one week before the NHL's April 3rd trade deadline, now is as good a time as ever to look at potential players that Mike Gillis and the Canucks front office may be targeting. The Canucks are in the mix with a bunch of teams in the middle of the pack right now. They haven't impressed like Pittsburgh, Chicago, Boston or Anaheim, but that doesn't mean that this is a lost season by any means. Don't get me wrong, the Canucks (like many other teams) will need a lot of things to go right to have a chance to win the Stanley Cup. The Sedins need to be dominant, as does Ryan Kesler. The defense corps needs to be solid. Their goaltending needs to be great. And they need solid contributions from their role players. The Need The Canucks needs are fairly well documented. They desperately need a centre that can play on the third line, and possibly the second line if there's an injury. They could also use a right handed defenceman and/or a defenceman that could help the power play. A third 'nice to have' need would be a scoring winger to help boost the team's offence on the second line. Trade Bait Unfortunately for Canucks fans, the Canucks don't have a lot that they would be willing to part with in a trade. Roberto Luongo is the most obvious piece that Mike Gillis can dangle, but it remains to be seen if there is a team willing to give up a lot to get him. Apart from that, the Canucks are not in a great position to give up prospects due to the fact that they are an old team with not much coming up in the system. Today I will be looking at centres. Here are a few players that might be available: Mike Ribeiro (Washington): Pro: Ribeiro is the most prolific scorer on this list and with 34 points in 32 games he is having a fine season. He is in the final year of a contract that pays him $5 million per season. Ribeiro would certainly help in the secondary scoring department and would centre the second power play unit. If Ryan Kesler or Henrik Sedin gets injured, Ribeiro would be the perfect fill-in guy. Con: Washington isn't likely to want to trade their leading scorer for cheap. The Caps are playing better of late, and probably fancy their chances at making the playoffs. Ribeiro is also terrible at faceoffs (42.5%) and has questionable character. Rob Says: Unless he comes cheap, no thanks. If he costs much more than a couple of second round picks then it's a lot to pay for a guy that might not be a great fit in the room, on the ice and is a rental player.   Derek Roy (Dallas): Pro: An excellent second line centre, Roy would fit in well with the Canucks. He's having a decent year with 18 points in 26 games, while playing on the power play and the penalty kill. He's not your prototypical third line grinder, but he would give the Canucks three legitimate scoring lines. Con: The problem with Roy is that if he is acquired he isn't likely to stay long term. He wants big money as a UFA at the end of the year and he isn't likely to want to play third line centre next year either. Rob Says: I would love to have Roy, but he would cost too much for what the Canucks need him for. The fact that I don't see any future with him in Vancouver beyond this season is all the more reason why I wouldn't give up much more than a couple of second round picks, and that isn't likely to be enough.   Vernon Fiddler (Dallas): Pro: After dealing their captain Brendan Morrow, I'm going to assume the Stars are willing to part with most of their older players. Fiddler is the prototypical third line centre. He's gritty, kills penalties (more than any other forward on the Stars) and wins faceoffs (52%). He is on a contract that pays him $1.8 million this year and next. Con: He doesn't do a lot of scoring. With only 1 goal and 6 assists, he resembles Maxim Lapierre more than Cody Hodgson. Rob Says: If he can be acquired for a third round pick, he is the type of player that could help in the playoffs. If nothing else, bringing up his name is a great excuse to show this video again:   Steve Ott (Buffalo): Pro: Steve Ott does it all. He does everything that Vernon Fiddler does and does it better. Oh, and he can also score too. Ott has 17 points in 32 games for Buffalo this season and is under contract this year and next at a $2.95 million cap hit. He is a player that Mike Gillis tried to acquire last season when he was a member of the Dallas Stars Con: Buffalo just acquired him and they're trying to get grittier. He isn't likely a guy that the Sabres want to part with. Rob Says: If you're going to pay for a player, pay for Steve Ott. He is exactly what the Canucks need and he is a playoff-type player as well. I would trade one of their second tier prospects and a second round draft pick for him. Unfortunately, I think the Sabres will want roster players under contract, of which the Canucks don't have much to give. If they wanted David Booth, that would be nice.   Brandon Dubinsky (Columbus): Pro: He wins faceoffs (56.3%) and is the most relied upon penalty killing forward for the Blue Jackets. He is only two years removed from a season where he scored 24 goals and 54 points. He makes a reasonable $4.2 million for two more seasons after this year. Con: After a disappointing season last year with the Rangers, he only has one goal this season (to go along with 8 assists). Rob Says: The Blue Jackets have a lot of centres on their roster and could afford to part with one, especially considering that Dubinsky isn't much of a scoring threat this year. If Roberto Luongo ever decided to waive his no trade clause to play there (which I don't think is likely), Dubinsky would certainly be a piece coming back in return. Otherwise, draft picks and prospects (Jordan Schroeder?) would do the trick. Perhaps Eddie Lack would tickle their fancy as well.   Sam Gagner (Edmonton): Pro: He has a lot of talent and is enjoying perhaps his finest season in the NHL, playing both on the power play and penalty kill. He's also only 23 years old. Con: He isn't overly gritty and isn't great on faceoffs. He's a restricted free agent in the offseason and is due for a big raise. Rob Says: The Oilers need to do something, and perhaps that's going after Roberto Luongo. If they do, Gagner is an obvious piece that could be moved. Otherwise, they will want some established players under contract. Unless David Booth or Keith Ballard interests them, that isn't a fit. Another thing I like about him is he seems to do extremely well against the Chicago Blackhawks:   Marcel Goc (Florida): Pro: He is the top penalty killing forward for the Panthers and can contribute offensively as well. He is decent on faceoffs (50.8%) and has third line scoring talent (11 points in 27 games). He also had a good playoff with the Panthers last year. Con: Another Florida Panther! Nooooooooooooooooooooooooooooooooooooooooooooooo! Rob Says: If you get over the fact that the Canucks would be dipping into Florida, once again, Goc might not be a bad fit. He is under contract this year and next for only $1.7 million per season. He shouldn't cost more than a second round pick. Jarred Smithson (Florida): Pro: Smithson is big (6'3″, 205 lbs) and has lots of experience. He kills penalties and is excellent in the faceoff circle (52.4%). Con: He doesn't score. Rob Says: Smithson would be a plan B for the Canucks, as he is better suited for the fourth line than the third line. Still, the Panthers will want to get younger and the 34 year old Smithson is a UFA at the end of the year. Smithson is a BC boy, so there's that, and having gritty centres can't be a bad thing in a long playoff run. That said, he should be available for a 4th round (or later) draft pick.   Maxime Talbot (Philadelphia): Pro: He's a great character guy that does a little bit of everything. He was a key member of the Stanley Cup winning team in Pittsburgh and always performs well in the playoffs. Con: He doesn't speak good English? No, that's a lie, I can't think of anything I don't like about the guy. Rob Says: I don't see why the Flyers would want to get rid of Talbot, but they have to do something. They're on the outside looking in as far as the playoffs are concerned and they need to trade something.   Antoine Vermette (Phoenix): Pro: He is the second coming of Manny Malhotra in the faceoff circle, winning over 60% of his draws this season. He plays in all situations for the Coyotes and has 14 points in 32 games so far. He had an excellent postseason last year. He makes $3.75 million for two years beyond this season. Con: He can be a bit inconsistent at times, at least offensively. Rob Says: Vermette would be an excellent fit with the Canucks, but they will need Phoenix to fall out of contention first. If they're still in the hunt, I don't see them dealing him.   Tyler Bozak (Toronto): Pro: He plays in all situations for the Leafs, averaging over 20 minutes of ice time per game. He's also excellent on the draw (53.2%). Con: He's never played a playoff game and it remains to be seen how he would fit on a third line. Rob Says: Bozak is a UFA at the end of the year, which means the Canucks won't want to give up too much for him. The Leafs are trying to make the playoffs for the first time since 2004, so trading for future talent isn't an option. Mason Raymond might tickle their fancy, as he was drafted by current Leafs GM Dave Nonis.
Original Story:
http://www.robthehockeyguy.com/2013/0...
THE BACKYARD
BEST OF MAXIM
RELATED ARTICLES
Mason Raymond and Alexandre Burrows scored in the second period and the Vancouver Canucks moved into sole possession of first place in the Northwest Division with a 3-2 victory over the Colorado Avalanche on Sunday night. Jason Garrison added a goal for the Canucks, winners of four straight. Vancouver moved ahead of idle Minnesota by two points for the conference lead. Cory Schneider...
from Pierre LeBrun of ESPN, - All these months later and Roberto Luongo is still a Vancouver Canuck. Teams have been asking about him when calling Vancouver over the last little while -- perhaps just as much out of curiosity -- but teams are also asking about Cory Schneider. It's highly unlikely the Canucks move Schneider, even though the offers would be more substantive...
Cory Schneider stopped 17 shots and Maxim Lapierre scored the only goal in a shootout and the Vancouver Canucks won their fifth straight by defeating the Columbus Blue Jackets 1-0 on Tuesday. Schneider only saw two shots in the first period, but stopped 15 in the final 45 minutes for his seventh career shutout, and third this season. He stopped all three Columbus attempts in the...
The Vancouver Canucks can continue their winning stretch by preventing the Columbus Blue Jackets from starting what they hope is another successful run of their own. Trying for a fifth consecutive victory, the Canucks look to extend their home success over the Blue Jackets on Tuesday night. Vancouver (17-9-6) has won four straight one-goal games and continues to mix it up with Minnesota...
VANCOUVER, British Columbia (AP) -- When the Vancouver Canucks and Columbus Blue Jackets have played each other this season, the goals have been few and far between. Cory Schneider made 17 saves and Max Lapierre scored the shootout-winning goal and the Canucks beat the Blue Jackets 1-0 on Tuesday for their fifth straight victory. The past two meetings between the clubs -- both played...
NHL News

Delivered to your inbox

You'll also receive Yardbarker's daily Top 10, featuring the best sports stories from around the web. Customize your newsletter to get articles on your favorite sports and teams. And the best part? It's free!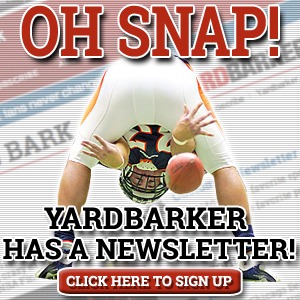 Latest Rumors
Best of Yardbarker

Today's Best Stuff

For Bloggers

Join the Yardbarker Network for more promotion, traffic, and money.

Company Info

Help

What is Yardbarker?

Yardbarker is the largest network of sports blogs and pro athlete blogs on the web. This site is the hub of the Yardbarker Network, where our editors and algorithms curate the best sports content from our network and beyond.