Found September 12, 2013 on isportsweb.com:
The Detroit Red Wings will end their 22-year playoff streak if at least half of the 22 reasons below are proven to be true. Because stats aren't everything in hockey, I had to include a few subjective excuses to cover the heart and passion aspect of the game. The Detroit Red Wings won't make the playoffs if… #22 – Keeping the tradition alive. (AP Photo / Carlos Osorio) 22. There isn't an octopus thrown at Joe Louis Arena on opening night, October 2nd. 21. The Detroit Tigers win the World Series and the Detroit Pistons make the playoffs. 20. Joe Louis Arena has a capacity percentage for the season below 90 percent. 19. The Buffalo Sabres and Ottawa Senators both finish with more than 95 points. 18. Niklas Kronwall averages less than 15 minutes of ice time per game. 17. They have a 7 game pointless streak any time during the season. 16. They rank worse than 25th in the NHL in scoring on the power play. 15. They rank worse than 25th in the NHL in allowing other teams to score on the power play. 14. They have more than 1,000 penalty minutes as a team at the end of the season. 13. They lose 15 or more games in overtime and shootouts combined. 12. A player scores more than 60 goals during the season. #12 – Steve Yzerman was the last Red Wing to do that with 62 goals in 1989-90 season which marks the last season they didn't make it to the playoffs. 11. Gustav Nyquist and Joakim Andersson both end up with the same point totals as last season (6 and 8 respectively). 10. They get fewer than 30 points out of the 30 games they have against their Atlantic Division opponents. 9. Justin Abdelkader spends more time in the penalty box for fighting than he does standing in front of the net. #8 – 2012 season stats for Stephen Weiss: 17 Games, 1 Goal, 3 Assists, Plus/Minus of -13 8. Stephen Weiss puts up similar numbers as he had last year as Florida Panther. 7. Daniel Alfredsson gets moved up to play on the 1st line. 6. Brendan Smith and Danny DeKeyser have a plus/minus rating below -15 combined at the end of season. 5. They come away pointless in their 5 games with the Florida Panthers. 4. They lose more than half of their games at Joe Louis Arena. 3. Jimmy Howard lets in an average of 3 goals or more per game. 2. Mike Babcock gets fired. #1 – The Detroit superstar duo, without them the Red Wings just aren't the same. (Getty Images / Ezra Shaw) 1. Pavel Datsyuk or Henrik Zetterberg get seriously injured and miss a majority of the season. Remember, as a safety net, I said at least 11 of these reasons need to be true for the Red Wings to miss the playoffs. Do you have any more reasons that I may have missed? Leave them in the comments below.
Original Story:
http://feedproxy.google.com/~r/isport...
THE BACKYARD
BEST OF MAXIM
RELATED ARTICLES
After all the talk about wanting more money, Daniel Cleary decided to stay a Detroit Red Wing by signing a one-year deal worth $1.75 million on Thursday, September 12th. It's been a long off-season for Cleary. In early July he was offered a three-year contract with the Red Wings but he turned it down asking for more money. The Wings responded by going out and signing Daniel Alfredsson...
New Detroit Red Wings forward Stephen Weiss says the franchise's perpetual contender status was a big reason he decided to come to Detroit. The Red Wings opened training camp Thursday in Traverse City, Mich. Detroit signed Daniel Alfredsson and Weiss and extended Pavel Datsyuk's deal, giving the franchise a better chance to have success as it shifts to the Eastern Conference...
With the Red Wings annual Traverse City training camp right around I'm going to sit down take a look at the roster and see what the lines might look like heading in to camp and in the season.The Red Wings made a Hugh splash in the off season with the sign of Daniel Alfredsson as well as the signing of Stephen Weiss. Alfredsson a player many thought would never leave Ottawa...
The Red Wings officially kick off training camp with three practices and a scrimmage today in Traverse City, and the Left Wing Lock's Sarah Lindenau's posted a link to the scrimmage's box score (it looks like all of the Wings' scrimmages and the Red vs. White game will be available on Pointstreak). This morning, the Free Press's Helene St. James ponders several...
Aside from Clearygate and the various media availabilities that took place at on Thursday, training camp did get underway at Centre Ice Arena. The Wings have been split into three teams--teams Lindsay, Delvecchio and Howe--and depending on who figuratively gets the short end of the stick, their days break down as follows: The first team to practice takes part in a pair of practices...
Things get complicated in the neutral zone, and that's what Friday's practices (despite its Bertuzzi-Nyquist-Tatar tales and quips and quotes) were about, though I do need to note this comment that Wings coach Mike Babcock made to the Free Press's Helene St. James, because it's essential: Mike Babcock said he reassembled his lines just based on "who has a chance...
The Red Wings' second day of training camp seemed to and did in fact involve more dump-and-retrieval drills, some power play work (which involved Mikael Samuelsson donning a black defenseman's jersey), neutral zone drills and the kind-of-sort-of-re-debut of Daniel Cleary, who was wearing #71 temporarily as the #11 jersey he's going to wear needed to be sewn up--thus one...
The Red Wings' didn't sign anyone today, and Daniel Cleary made his training camp debut--wearing #71, the "extra" jersey, until Paul Boyer could get a #11 jersey sewn up (when Mikael Samuelsson played on the point on the power play, he wore a black #71 jersey, so I'm guessing that the Wings made up red, white and black extras with that number)--and Team Howe...
Per the Left Wing Lock's Sarah Lindenau, here are the Red Wings' training camp "teams": Continue reading "Here are the Red Wings' training camp teams"
Maybe it'll turn out that Helm and Mikael Samuelsson and Todd Bertuzzi are lost for the season and Cleary is back as an insurance policy, a fourth line stabilizer. If that's the case, then signing him is simply a lateral move. But if his return means guys like Tatar and Nyquist don't get their shot, it's hard not to see this as a bad move for the Wings. -Allan Muir of...
Red Wings News

Delivered to your inbox

You'll also receive Yardbarker's daily Top 10, featuring the best sports stories from around the web. Customize your newsletter to get articles on your favorite sports and teams. And the best part? It's free!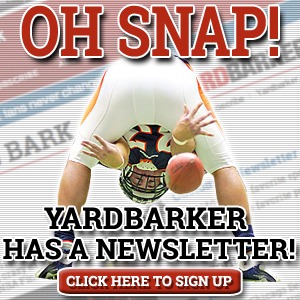 Latest Rumors
Best of Yardbarker

Today's Best Stuff

For Bloggers

Join the Yardbarker Network for more promotion, traffic, and money.

Company Info

Help

What is Yardbarker?

Yardbarker is the largest network of sports blogs and pro athlete blogs on the web. This site is the hub of the Yardbarker Network, where our editors and algorithms curate the best sports content from our network and beyond.