Found January 17, 2013 on Queen City Sports:
(Source: Marianne Helm/Getty Images North America) Each and every day,  hockey fans are talking about what roster moves their favorite team should make. Who they should trade, cut, sign, etc.. It all often becomes just noise in the ever-growing fantasy world of arm-chair general managers. Often times, however, the discussions worth having are rarely brought up. One discussion that Buffalo Sabres fans might start having soon pertains to the 2014 NHL offseason, and just what is in store for the team. Some people may not realize this, but some high-profile players are set to come off the books at the end of the 2013-2014 season. More specifically, off Buffalo's books. Ryan Miller, Thomas Vanek, and team captain Jason Pominville all have contracts that are set to expire at the end of next season. Those three players have been part of the Sabres "core" group — a unit that has been slowly dismantled — since the end of the previous lockout in 2005. A couple of years ago, it seemed that talking about whether or not these players would be around was a moot discussion. But now, that may not be the case. As we saw with the team's trading of Paul Gaustad and Derek Roy, general manager Darcy Regier doesn't seem to be against trading away players that he once viewed as key members of the organization. Each player's situation was different, sure, but Regier could have done what a lot of people always seem to expect out of him: re-sign them because of familiarity. In the case of Miller, Vanek, and Pominville, each situation will obviously be different. One player is the face of your franchise and the team leader in career wins as a goaltender (Miller), one is your enigmatic and dynamic scorer (Vanek), and the other is your leader and captain (Pominville). Each player means something different to the Sabres, but at the same time, they all mean the same. They are all key members of a Sabres team that hasn't won a playoff series since 2007, and at the time of the expiration of the contracts, that will have been a seven-year gap. Unless, of course, the team wins a playoff series this season. Some might associate with them as being from an era of Sabres hockey that had so much potential and came so close to realizing their dream only to falter when it mattered most. Others might think we've witnessed one of the greatest runs of stability in organization ever. Although, it'll be tough to find people with that perspective. The team hasn't even began to tip their hat either way as to the plans for these three players, but with the time to make a decision approaching in just over a year-and-a-half, maybe discussion should now be had. And if thought about, it's not all that early to be having it. Each player has one year left on their deal, and in a full season this is about the time people start to hear rumors of players in such situations being possible trade bait. However, with a lockout-shortened year, these conversations won't happen as early as usual. Does the team value one more than the other two? Will they go into a completely different direction and get rid of all three? Or will the trio all be signed to another set of long-term deals? It doesn't even seem unlikely that the team will send out feelers around the league to see what they could possibly get for one, or even all three, of their veterans. It goes without saying that production from these players is the biggest factor when it comes to the upcoming contract decisions. If all three play at the top of their game, then there is no question that the Sabres will look to re-sign them. If the production isn't there and the team is not making, and winning in, the postseason, then an era might end in Buffalo. *photos courtesy of Getty Images* The post A Brief Not So Far Off Look At the 2014 NHL Offseason appeared first on Queen City Sports.
Original Story:
http://queencitysports.net/sabres/a-b...
THE BACKYARD
BEST OF MAXIM
RELATED ARTICLES
A person familiar with the moves has told The Associated Press that the Buffalo Sabres have placed three players on waivers, including defenseman Adam Pardy. The Sabres, on Thursday, also placed minor league forwards Nick Tarnasky and Kevin Porter on waivers, the person said, speaking on the condition of anonymity because the team has not announced the moves. Pardy is a three-year...
The Buffalo Sabres began establishing their regular-season roster on Thursday by placing three players on waivers, including defenseman Adam Pardy. Also placed on the 24-hour waiver list were minor-league forwards Nick Tarnasky and Kevin Porter, a person familiar with the decisions told The Associated Press. The person spoke on the condition of anonymity because the Sabres have...
When Mikhail Grigorenko was the first Russian player the Buffalo Sabres drafted since Vyacheslav Buravchikov in the 5th round of the 2005 Entry Draft, the hype machine was started on whether Grigorenko was the answer to all of the Sabres' questions. That hype machine has been consistently primed for the start of the season and has come to a head with just a few days left before...
Mikhail Grigorenko, the Sabres' first-round draft pick last summer, has made Buffalo's active roster. Grigorenko, 18, has been skating on a line with veterans Steve Ott and Ville Leino all week after posting 29 goals in 33 games in the Quebec Major Junior Hockey League during the NHL Lockout. With Buffalo forwards Nathan Gerbe and Cody McCormick headed to injured reserve...
After placing Adam Pardy on waivers, and barring any moves before today's 5:00 p.m. deadline, the Sabres have their roster set at 23 for the season opener Sunday afternoon against the Flyers. Assuming that neither Nathan Gerbe nor Cody McCormick will be ready to play due to injuries, the forward lines will likely look like this: Vanek - Hodgson - Pominville Foligno - Ennis...
From Paul Hamilton of WGR SportsRadio 550, There are many things that have to fall into place if the Sabres are to contend. One of the biggest things this team needs is for Tyler Myers to not only be this team's best defenseman, but one of the best defensemen in the NHL. Many feel Shea Weber is the best defenseman in the league and Tyler Myers used the off season to spend...
Here we go, 3 days left until the Bruins drop the puck and we're headed into the meat of the Northeast Division. The Buffalo Sabres, one of DOY's most bitter rivals. The rivalry between the Bruins and the Sabres have been well documented over the past few season, culminating in Milan Lucic absolutely running the **** over Ryan Miller. Miller then calls Lucic a piece of *...
This week's Water Cooler features QCS writers Bradley Gelber, Brandon Hess, Jason Davis, and Robert Quinn Will Grigorenko make the Sabres roster out of camp? Grigorenko is the Sabres highest touted rookie since Tyler Myers (Getty Images) Bradley Gelber: I think he'll get his shot through at least the first five games. It's obviously early, but reports out of camp are that Grigorenko...
Can you believe it has been 10 years since Ryan Miller started his first NHL game? That might depend on how you feel about the Sabres.  I think if you have been miserable with their existence, the years kind of drag, but when you are happy, well, time flies when you're having fun, as dorks say. For me, it has been...kind of a fog.  I've had so many ups and downs...
One thing that Darcy Regier has managed well for the past few years has been his draft strategy. Glaring organizational weaknesses have been addressed in recent seasons via the draft and this approach has led to an impressive stockpile of talent in Buffalo's prospect cupboards. June's draft was certainly no exception as the Sabres took what may have been considered to be...
NHL News

Delivered to your inbox

You'll also receive Yardbarker's daily Top 10, featuring the best sports stories from around the web. Customize your newsletter to get articles on your favorite sports and teams. And the best part? It's free!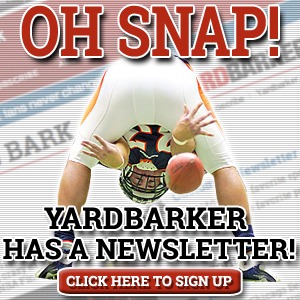 Latest Rumors
Best of Yardbarker

Today's Best Stuff

For Bloggers

Join the Yardbarker Network for more promotion, traffic, and money.

Company Info

Help

What is Yardbarker?

Yardbarker is the largest network of sports blogs and pro athlete blogs on the web. This site is the hub of the Yardbarker Network, where our editors and algorithms curate the best sports content from our network and beyond.