Found July 06, 2012 on Goon's World:
What a difference a couple of days make. Since the Zach Parise and Ryan Suter watch is over the summer is basically officially started.
Future UND goalie Zane Gothberg attended the Boston Bruins development camp and he is in a few of pictures on the Bruins Hockey Blog. [The Bruins Blog], [The Bruins Blog]
Check out this picture. [Click to open] If you look closely you will see that Zane is wearing Fighting Sioux hockey pants.
I haven't been able to find anything on Zane Gothberg's development camp with the Boston Bruins and I don't expect him to be a very early departure at UND because the Boston Bruins have a stable full of goalies.
James Murphy, ESPN.COM --- In late May, the Bruins signed Swedish free-agent goalie Niklas Svedberg. At the draft in Pittsburgh last week, they used their first selection on another goaltender in Belleville Bulls (OHL) goalie Malcolm Subban with the 24th overall pick. They also decided to invite Boston College star goaltender Parker Milner -- who is a free agent and has one more season left at the Heights after helping the Eagles to a national championship last season -- to development camp. In addition to Svedberg, Subban and Milner, goalies Zane Gothberg, Adam Morrison and Lars Volden are also attending camp. Sweeney sees nothing but positives out of the sudden logjam between the pipes.
Here is a nice article on Zane Gothberg - [Zane] Gothberg ready for the next level
One thing that you can't deny is that Zane Gothberg is a confident kid – the young goalie wants to come into camp and prove his worth to the UND coaching staff. Quote courtesy of the Hockey Writers Bob Mand.
Both Hargrove and Gothberg will be attending colleges in the fall: Zane will patrol the crease for the University of North Dakota Fighting Sioux while Colton will lace 'em up for the Western Michigan University Broncos.

Speaking of his goals as a freshman at UND, Gothberg said he wants to, "… Come in, put my best foot forward and try and get the starting job there….It's the competition that brings out the best in you and it's only going to make myself and my other goalie partners at North Dakota better. I just want to step up and prove that I can take the full bulk and be the starting goalie."
Recently, I have watched the Goalie thread unfold on Sioux Sports and I have found some of the comments to be interesting – I predict that if Aaron Dell returns to the UND for his senior season he will be the starting goaltender for the Fighting Sioux next season. Just a hunch and I predict that Dell will get the start in the big games when it matters the most. It takes a lot to unseat a former All-American like Aaron Dell.
Original Story:
http://feedproxy.google.com/~r/blogsp...
THE BACKYARD
BEST OF MAXIM
RELATED ARTICLES
Andrew Bodnarchuk has found a new home. The defenseman, who spent the bulk of the past four seasons with the Bruins' American Hockey League affiliate in Providence, signed a one-year deal with the Stanley Cup champion Kings on Friday. Bodnarchuk, a fifth-round pick of the Bruins in 2006, did play five games in Boston in 2009-10 and was recalled in February of this past season...
WILMINGTON, Mass. -- Even after being selected with the ninth overall pick in the 2011 draft, Bruins prospect Dougie Hamilton knew he still had plenty to learn before being ready for the NHL. He just wasn't prepared for how hard one of those lessons would be. A massive blueliner who is still growing, adding an inch and 11 pounds in the past year to stand at 6-foot-5, 204 pounds...
A.B. Can we talk about how sick this kid's Boston Bruins sweatshirt is? Or more importantly why 20 years later he isn't rocking a Tyler Seguin jersey? It would have been the ultimate tie-in. Old school 90′s shirt evolves into a 2012 phenom jersey. This video was funny but he missed a golden opportunity to bring it full circle. He must be a Canadiens fan now – the only reasonable explanat...
WILMINGTON, Mass. -- They've battled against each other for the past four years in the Ontario Hockey League. Soon they will be competing again for far greater stakes, vying for a spot on the big club in Boston. It's the kind of competition that could lead to some animosity and a bitter rivalry. It could, but not when Jared Knight and Ryan Spooner are the two parties in question...
It's amazing how long these offseasons can seem when you're not playing until the middle of June. The Bruins are taking a longer break than they would have liked, but they have already gotten through much of their extended offseason. We've already had the draft, the development camp and the opening of free agency, though the Bruins haven't actually participated in...
When the Boston Bruins front office and their fans learned in June that two-time Vezina Award Winner Goaltender Tim Thomas would sit out the 2012-2013 season, it raised some red flags on why he would do it and how the Bruins would go about handling the situation going forward. It was reported that Thomas wanted [...]
It may be the offseason but the Bruins are still keeping busy as they put together next year's team. Free agent season is upon the NHL, new contracts are being signed every day and the two biggest stars on the market -- Zach Parise and Ryan Suter -- just inked new deals with the Minnesota Wild. While the Bruins made an offer for Parise, they have remained quiet on the free agent...
Welcome to Julylights, a month long series taking the top plays of the '11-'12 season and giving them to you one a day, every day of the month of July.  Marty Turco is a seasoned vet. He has played in over 500 games, and has won 275 games in his career. However, Turco was not a regular in the NHL last season. He only played in five games for the Boston Bruins, but he made...
Wasn't it supposed to be a quiet offseason? Initially, the Boston Bruins promised that they weren't planning to very active in free agency, professing to be looking for roster tweaks rather than the splashy move. With the team's salary cap issues, it wasn't a surprising revelation for a club which just won the Stanley Cup 13 months ago and had kept its core relatively...
Perusing the internet today it appears that the Boston Bruins also offered Zach Parise a significant contract offer. Fluto Shinzawa, Boston Globe --- Before Sunday's market opening, GM Peter Chiarelli said he expected to be quiet. The Bruins have less than $3 million in available cap space. Had the Bruins signed Parise, they would have exceeded the $70.2 million cap by the...
Before we get started, let's just get a few basics out of the way.This is not a "Chiarelli sucks" post. We do not think Chiarelli should've pushed hard for Parise or Suter (though we wouldn't have complained if he did), especially give the Bruins current cap and who they need to re-sign next year.This certainly isn't a post in support of the vocal minority...
Compared to say, the Minnesota Wild or Dallas Stars, the Bruins have had a pretty calm offseason. That being said, it hasn't been a quiet offseason for Peter Chiarelli and the rest of the B's front office. They've already had to deal with the Tim Thomas scenario, they've re-signed Tuukka Rask to a one-year deal, locked up the fourth line, re-signed Chris Kelly and...
NHL News

Delivered to your inbox

You'll also receive Yardbarker's daily Top 10, featuring the best sports stories from around the web. Customize your newsletter to get articles on your favorite sports and teams. And the best part? It's free!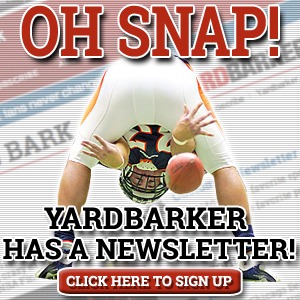 Latest Rumors
Best of Yardbarker

Today's Best Stuff

For Bloggers

Join the Yardbarker Network for more promotion, traffic, and money.

Company Info

Help

What is Yardbarker?

Yardbarker is the largest network of sports blogs and pro athlete blogs on the web. This site is the hub of the Yardbarker Network, where our editors and algorithms curate the best sports content from our network and beyond.