Found June 03, 2013 on Kukla's Korner:
This interview was posted a wee bit late, and it's a classic, "GM speaking from car, on phone, occasionally ear-dialing" interview, but this past Friday, Ken Holland spoke to WBBL's Huge Show's Bill Simonson, and he offered both reflections upon the regular season and playoff run that was, as well as the shape of the roster to come--stating that the Wings fully plan on having Tomas Tatar, Joakim Andersson, Gustav Nyquist, Danny DeKeyser and Brian Lashoff on the roster next year--and that the Wings will attempt to add some "secondary" players through free agency or possibly through trades. Holland speaks to Simonson for a total of 12 minutes: Download file
Original Story:
http://kuklaskorner.com/tmr/comments/...
THE BACKYARD
BEST OF MAXIM
RELATED ARTICLES
Detroit -- Now that the Red Wings are done, Darren Helm can afford to take his time to get completely healthy. Helm, who injured his back lifting weights before the lockout-shortened season started, was limited to one game, Jan. 25 against the Minnesota Wild. Wings general manager Ken Holland said Helm had seen four doctors and none of them found anything structurally wrong with...
If you didn't get the wedding announcement in the mail, don't worry ... that's not how things are done these days. Instead, former Dallas Stars great Mike Modano announced this weekend that he is engaged on his Facebook page. "It's official- we're engaged! couldn'tbehappier," Modano posted, along with a picture of the couple. Modano did not say...
In theory, this exhausted blogger (still, go figure) has a light morning. The Detroit Free Press (via photos) and Michigan Hockey (text, video, photos) looked back at the top moments of the Red Wings' 2013 season, USA Today posited a list of the top unrestricted free agents-to-be, and Valtteri Filppula's picture includes a ridiculously astute comment from Matt Kartozian...
Per the Grand Rapids Griffins' PR department, the Red Wings have officially assigned Danny DeKeyser to the Griffins, which probably means that he's healthy enough to play for them as his broken right thumb has healed: DANNY DeKEYSER JOINS GRIFFINS GRAND RAPIDS, Mich. – The Detroit Red Wings on Monday assigned defenseman Danny DeKeyser (de-KAI-zuhr) to the Grand...
With the Detroit Red Wings' 2013 season coming to a difficult end in a Game 7 overtime loss to the Chicago Blackhawks, the latest episode of The Detroit Sports Show podcast will take a look back at the Wings' playoff run. We'll also take a look-ahead to the 2014 season and free agency — specifically, how much did the play of the Wings' young guys late this year dictate...
This morning, the Free Press's Helene St. James pondered where Jordin Tootoo fits into the Red Wings' lineup going forward, pointing out that Wings coach Mike Babcock both lauded Tootoo's regular-season performance and stated taht Tootoo's essentially not the kind of player who's going to find himself skating during the playoffs lest he take an unnecessary penalty...
I've seen this happen, and it isn't pretty, but it's done without much fanfare: Certainly not what anyone around Hockeytown wants to see. twitter.com/Bill_Roose/sta… — The Wheel Deal (@Bill_Roose) June 4, 2013 Al & Dave make a mess. Ice removal day at The Joe. #sadday #redwings (Dan Mannes/DRW) @ Joe Louis Arena instagram.com/p/aJIPTQx4-B...
Amongst this afternoon's Red Wings-related news stories: First, foremost and for the record, the Detroit Free Press's readers named Fox Sports Detroit's Ken Daniels Michigan's best sports broadcaster, and I think MLive's readers got it right in naming Jimmy Howard the Wings' MVP (hell, even Lambert praised Howard today);   Second, the Grand Rapids...
A little under two days removed from the Red Wings' locker room clean-out day, a pair of pundits are already looking toward next season, when the Red Wings will move to what we've been told is a bigger, meaner but more "open" Eastern Conference. Fox Sports Detroit's Art Regner spoke with several Wings players and the Wings' coach about, as Mike Babcock...
First and foremost, beware: auto-play videos lurk within! Five days after the Red Wings' season-ending loss to Chicago and two after the team's locker room clean-out day, I'll admit it: I'm still pissed off. I'm still pissed off about the way the series unraveled and I'm still pissed off about the fact that the even-up refereeing gods as well as the outside...
The kids are all right. This was the first time since I can remember...there was not ONE mention of the Red Wings' age being a hindrance to their play-off performance.  I take that back...they were actually talking about the YOUTH of the organ-i-zation...when was the last time THAT happened? There's a lot of reasons to optimistic about this team's future.  The...
Obviously - this isn't the kind of thing I'd like to be writing about here in the early parts of June.  But at least the Red Wings gave us great hockey almost all the way through May. ...Yeah I know it wasn't ALWAYS great hockey.  But at least we have a team that you can actually be proud of.  Tell you what...we'll come back to that. The point of this post...
Red Wings News

Delivered to your inbox

You'll also receive Yardbarker's daily Top 10, featuring the best sports stories from around the web. Customize your newsletter to get articles on your favorite sports and teams. And the best part? It's free!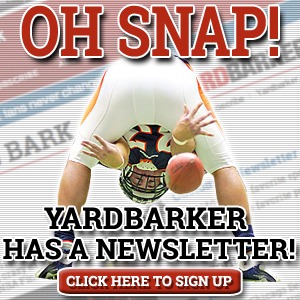 Latest Rumors
Best of Yardbarker

Today's Best Stuff

For Bloggers

Join the Yardbarker Network for more promotion, traffic, and money.

Company Info

Help

What is Yardbarker?

Yardbarker is the largest network of sports blogs and pro athlete blogs on the web. This site is the hub of the Yardbarker Network, where our editors and algorithms curate the best sports content from our network and beyond.