Found February 16, 2013 on Shutdown Line:
There are some people who hate change and it's understandable. Going through changes is never easy for anyone, especially when something has been the same way for such a long time. That's just the way humans work and sometimes it's justified because change isn't always a good thing. In the case, however, change can lead to great things and the Carolina Hurricanes underwent a pretty massive change this off-season. They lost a key cog in Brandon Sutter but also gained a couple huge pieces in Jordan Staal and Alexander Semin. No one knew whether or not these two players would work out for the Hurricanes but one thing we did know coming into this season was that we were going to see a completely different Hurricanes team. Not many knew how to respond to it. Some were worried, some were excited and some had no idea what to expect from this new-look team. As fans, it's been awhile since this club had made a few big splashes in the off-season and we had gotten used to the way this Hurricanes team had look for the last few years. A huge change like they had undergone this off-season obviously led to some skepticism by many people, myself included. Despite that, it's hard to argue that some big changes were needed in the Hurricanes case. This club had missed the playoffs three years in a row, were consistently among the league's bottom-feeders in even strength play and were on track to be a lottery team before Maurice was fired in favor of Muller in Decemeber of 2011. Change was brought on the coaching front last year and we saw the player personnel moves to go along with it during the following off-season with the hope that they would change this team for the better. There are still some other things that need to be worked out (mostly on defense) but so far, it's interesting to see how different this Hurricanes team is compared to the last two seasons. One of the main things I have been noticing is how Muller is deploying his forwards and how effective this strategy is compared to last season. Most fans are probably used to the zone-matching strategy that Paul Maurice brought here and Muller continued during the beginning of his reign as head coach. It was a simple but effective method where they would designate a "shutdown line" composed of three defensive fowards who started the majority of their shifts in the defensive zone and were constantly matched up against other team's top forwards. With Sutter gone, Muller isn't using this method anymore. He could do essentially the same thing with Jordan Staal but that would be kind of dumb for a few reasons, a main one being that  it would limit how much he could do offensively. The whole reason the Hurricanes acquired Staal was for his offensive upside, so burying him in the defensive zone wouldn't be very smart if they want to get the most out of him. Instead, we're seeing Muller taking on a more power-against-power approach with Jordan Staal playing tough minutes but not playing stritctly a defensive role. If you take a look at where the Hurricanes forwards are starting their shifts this year, you'll notice that J. Staal is near the bottom of the team in five-on-five offensive zone starts, but he isn't being assigned the same type of workload that Brandon Sutter, Patrick Dwyer and Andreas Nodl were burdened with last year. This is probably a good thing because it allows Staal to play against other teams top lines while not confining him offensively. J. Staal taking other team's top lines while starting more of his shifts in the defensive zone has allowed the Hurricanes to get the most out of their first line of Eric Staal, Jiri Tlusty and Alexander Semin, who have been more than fantastic.  I kind of expected J. Staal to play this type of role this year but the one thing I wasn't sure about is whether or not Carolina could find suitable wingers to play the tough minutes alongside him. Tuomo Ruutu's injury complicated this issue even more, but Muler has found a decent solution by placing Patrick Dwyer and Jeff Skinner on Staal's line. Dwyer is more of a third-liner but is the best defensive forward on the team and capable of playing the toughs without much issue. Skinner was an interesting choice, though. He was sheltered under both Muller and Maurice but the team wants to put J. Staal with a scorer and Skinner is the best option with Semin on the top-line. So far, this strategy has been fine if you go by their scoring chance numbers. Player 5v5 SCF 5v5 SCA SC +/- SC% EV CF/15 EV CA/15 Diff/15 Jordan Staal 78 66 12 0.542 6.04 5.11 0.93 Patrick Dwyer 46 43 3 0.517 4.66 4.35 0.30 Jeff Skinner 78 67 11 0.538 5.88 5.05 0.83 SCF = Scoring chances for, SCA = Scoring chances against, EV CF/15 = Even strength scoring chances for per 15 minutes, EV CA/15 = Even strength scoring chances against per 15 minutes, Diff/15 = Scoring chance differential per 15 minutes Dwyer and Staal have been worse defensively than I expected but this line has been on fire lately when it comes to creating scoring chances. Staal and Skinner have actually played some of their best hockey this season during the Hurricanes recent road trip and that was huge with the first line having a couple of bad games. The most impressive thing to me here is the play of Skinner. He is still only 20 years old, has never been known for his defense and is somehow managing to come away a net positive despite being thrown to the wolves on a shutdown pairing. Skinner still isn't great defensively and had a lot of trouble playing the toughs early on in the season but he's really come around as of late and is at least pushing the play in the right direction. If Skinner wants to be considered a top forward in the NHL, he has to learn to play tough minutes and he is doing that right now which is very encouraging.  This is all part of the change the Hurricanes are undergoing. We have players taking on newer roles, different players stepping up every night and almost a completely different team than what we've seen before. The Canes still have a few areas they need to work on (namely on the defensive side of things) but it's hard to say that the Hurricanes haven't changed for the better over the last calendar year. It's still too early for me to judge how far this team can/will go but I do like what I've seen thus far.
Original Story:
http://www.shutdownline.com/hurricane...
THE BACKYARD
BEST OF MAXIM
RELATED ARTICLES
Carolina Hurricanes left winger Jussi Jokinen scored a power play goal in the second period of Thursday night's NHL game against the Toronto Maple Leafs, then fell to the ice as his teammates were coming to celebrate with him. It was Jokinen's second goal of the season as the Hurricanes won the game 3-1. Video via NHL.com. H/T Puck Daddy. Visit us at holdoutsports...
RALEIGH, NC --- The Carolina Hurricanes are the hottest team in the Eastern Conference. That isn't an aberration, they are a darn good club. After starting the season 0-2, the Canes are 8-2-1 and are 5-1-1 in their last seven games. The first six games of that stretch came on the road, a grueling 12-day trip that ended up serving the team well. Not only did they pick up nine...
Over the last few months, I've discussed the importance of neutral zone play and tracking zone entries and today, we are finally going to take a look at how the Hurricanes are performing in that regard. Anybody who reads this blog already knows that I am a big follower of the statistical side of hockey and I've been tracking scoring chances for the Hurricanes (among other...
RALEIGH, N.C. (AP) -- Joe Corvo's confidence is growing for the Carolina Hurricanes. Corvo opened the scoring and assisted on the go-ahead goal in Carolina's 3-1 victory over the Toronto Maple Leafs on Thursday. The Hurricanes have won three straight and have gone 8-2-1 since starting the season 0-2. Corvo was a healthy scratch for three consecutive games earlier this...
The Hurricanes managed to put together one of their best defensive efforts of the season last night and they somehow did it with a depleted blue-line corps. They held the Maple Leafs to only seven scoring chances at even strength (six excluding empty net situations) and only 10 chances overall. Part of the reason for their success was having their top-nine be relentless on the forecheck...
Tonight's game against the Toronto Maple Leafs had the makings of being one of those old fashioned, high scoring run-and-gun style contests where the winner would be determined by who had the last shot on net. The Hurricanes, who haven't been good defensively this year, were missing two top-four defensemen in Joni Pitkanen and Tim Gleason while the Leafs have injuries all...
Some unfortunate news came earlier today when the Hurricanes announced that Jeff Skinner wasn't feeling well at practice today and would not be traveling with the team to Montreal for tomorrow's game. This will leave three key players out of the lineup with Tim Gleason and Joni Pitkanen also injured but that's hopefully only a short-term concern. More people are worried...
NHL News

Delivered to your inbox

You'll also receive Yardbarker's daily Top 10, featuring the best sports stories from around the web. Customize your newsletter to get articles on your favorite sports and teams. And the best part? It's free!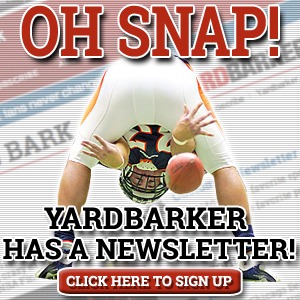 Latest Rumors
Best of Yardbarker

Today's Best Stuff

For Bloggers

Join the Yardbarker Network for more promotion, traffic, and money.

Company Info

Help

What is Yardbarker?

Yardbarker is the largest network of sports blogs and pro athlete blogs on the web. This site is the hub of the Yardbarker Network, where our editors and algorithms curate the best sports content from our network and beyond.