Found January 29, 2012 on centericechat.com:
Zdeno Chara's 108.8 mph slap shot Saturday night took the skills competition to a new level.
Is it a level we belong at? And is Chara a true natural, as a five-time slap shot champion in the skills competition?
Here's what he did last night:
We've come a long way in about 22 years, when the slap shot competition was introduced. In 1990, the All-Star weekend had the greatest names in one building from Chris Chelios to Brett Hull, Wayne Gretzky, and the then-slap shot champ, Al Iafrate.
Back then, slap shots rattled the nets at about 96 mph. Why? Well, take a look (at the 2-minute mark):
Somewhere along the line it seems slap shots have been getting ridiculously faster. With all respect to Chara, but is the annual event catering more to the glorification of the ability or showcasing the individual's true talent?
Observations: NHLers today get to start their momentum a few strides beyond the blue line, skate in and rifle a shot from about 25 feet out. Twenty-two years ago (see video), players got a couple of strides in all from within the zone and had to shoot from 35-40 feet out.
It'd take a bit of research to find out why and when these changes were made, but it seems these two factor into the rising in velocity and speed of the shots, and accuracy becomes less of an issue when shooting closer.
Is this a race to the top (of the speedometer)?
After all, the KHL is claiming the world's best and fastest at 114.1 mph. Of course, their players start from centre ice and skate within 15 feet.
But who's the true champion of slap shots? Guys like Alexander Ryazantsev of the KHL, or guys like Chara and Shea Weber who have an advantage in size and a skewed advantage in the more current skills competition? Or do we give praise to guys like Al MacInnis and Brett Hull for their in-game abilities to hammer the slap shot home?
Matthew Wilson is editor of Center Ice Chat. Follow him on Twitter @Mattjw24. Be sure to also Like us on Facebook and to Follow our Tumblr page. If you'd like to contribute, or appear as a guest columnist, please email us at CenterIceChat@gmail.com.

Original Story:
http://www.centericechat.com/2012/01/...
THE BACKYARD
BEST OF MAXIM
RELATED ARTICLES
Do you have any idea how fast 108 miles per hour is? It's really absurd. But Zdeno Chara can hit a hockey puck that fast with four-fifths of a mph to spare, as he showed during Saturday night's Hardest Shot portion of the NHL All-Star Skills Challenge. NESN Nation's Dan Duquette is kind of blown away with this one. That's almost too fast to make something move. Regardless...
Bruins defenseman Zdeno Chara, a team captain for today's NHL All-Star Game, has never forgotten his roots growing up under Soviet rule in Czechoslovakia.
OTTAWA -- Soon after Zdeno Chara walked into the room, he whipped out his phone and sent a text message to teammate Tyler Seguin. Chara had to ask Seguin if he would be cool doing the All-State NHL Breakaway Challenge on Saturday night at the 20...
OTTAWA — When does a 95.3-mph slap shot seem like child's play? When Zdeno Chara fires one at 108.8. It almost doesn't seem possible, but the Boston Bruins star broke his own record in the hardest shot event Saturday night's NHL All-Star SuperSkills competition, in the process leaving Washington Capitals ...
OTTAWA (AP) -- Marian Gaborik got the best of New York Rangers teammate Henrik Lundqvist, and Zdeno Chara scored the winning goal for the NHL All-Star team named after him. Even in defeat, Daniel Alfredsson rewarded the hometown fans with two goals and an assist, and then the Ottawa Senators captain provided a hint that he might come back for one more season. For an All-Star game...
The NHL All-Star game is a fun event, but ultimately, it's just that -- fun. It doesn't count for two points in the standings, has few bragging rights at stake and in general is just an excuse to see the best players in the league skating together without worrying about things as trivial as hitting or playing defense. Zdeno Chara, Tim Thomas and Tyler Seguin will all be participating...
Marian Gaborik got the better of New York Rangers teammate Henrik Lund qvist, and Zdeno Chara scored the winning goal for the NHL all-star team named after him.
OTTAWA -- The captains of both Team Alfredsson and Team Chara held private meetings earlier this afternoon to decide their lineups for the 2012 NHL All-Star Skills Competition, which will take place tomorrow night at ScotiaBank Place. As Team Alfredsson head coach John Tortorella confirmed in a press conference today, the coaches do not have any input on the Skills Competition...
Tweet OTTAWA (AP) -- Zdeno Chara's blistering hot slap shot and Patrick Kane's Superman cape weren't enough to beat Daniel Alfredsson an...
Dan Girardi leads all players by averaging 27:22 of action per game, more than two minutes above what Bruins strongman Zdeno Chara logs per appearance. The 27-year-old Girardi has become New York's version of Chara - a stay-at-home shutdown presence - for the Bruins' most viable competitor in the race for the Eastern Conference crown.
NHL News

Delivered to your inbox

You'll also receive Yardbarker's daily Top 10, featuring the best sports stories from around the web. Customize your newsletter to get articles on your favorite sports and teams. And the best part? It's free!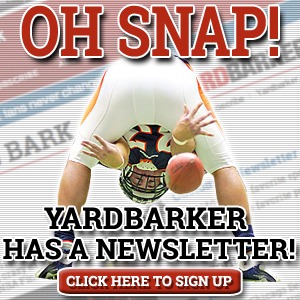 Latest Rumors
Best of Yardbarker

Today's Best Stuff

For Bloggers

Join the Yardbarker Network for more promotion, traffic, and money.

Company Info

Help

What is Yardbarker?

Yardbarker is the largest network of sports blogs and pro athlete blogs on the web. This site is the hub of the Yardbarker Network, where our editors and algorithms curate the best sports content from our network and beyond.