Found March 18, 2013 on The Prospect Park:
Peter Ceresnak (OHL Images) St. Patrick's Day was not very lucky for the one New York Ranger and one New York Islander prospect who saw their season come to an unhappy ending. Not every prospect has a happy ending to their season or their dream of an NHL career. Peter Ceresnak (NYR 11 6th) and his Peterborough Petes came up 1 win, 1 point short of making the OHL Eastern Conference playoffs after they dropped their regular season finale to the Brampton Battalion 5-2. An amazing run by the Petes who back in January were 16 points out of 8th place but they can't complain as they had a chance to control their destiny. Peterborough drew first blood scoring an even strength goal late in the first period to take a 1-0 lead into the first intermission. Brampton took control in the second period scoring a power play goal to first tie the game and then took the lead for good on an even strength goal late in the period. In the third, Brampton added a early even strength goal before scoring a shorthanded goal which gave them a 4-1 lead that was the backbreaker. The Petes would get a goal back while on the same power play but it wasn't enough. Ceresnak had a secondary assist on the Pete's second goal to finish his season 3-9-12 as in all likelihood has finished his career with the Petes. Most CHL teams don't bring back European players for an overage season since it would take up 2 spots (overage player and import player) that teams prefer to have flexibility with. As for the Rangers? Nothing against Ceresnak but in the 2 years in North America that Ceresnak has been here that he has shown anything close into becoming an NHL level player. The Rangers will most likely not sign Ceresnak to any kind of professional contract and Ceresnak will most likely return home to Slovakia. The only question that remains is how long will the Rangers retain the rights to Ceresnak? Under the new NHL/NHLPA collective bargaining agreement, the draft rights to a European player not selected as a member of a CHL team will be 4 years. The question is when does this rule go into effect right away, is it retroactive or does it start with the 2013 NHL Entry Draft? Haven't got a clear answer on this so honestly don't know. Don't call this a failure by the Rangers as the way they used the 6th round pick in 2011 is exactly what how you use it. They saw a prospect who was interested in coming to North America who while a project was one of Slovakia's better young players with NHL size and could fill a Ranger need. It didn't work so wish Ceresnak the best in the future. On the other hand, Scott Mayfield (NYI 11 2nd) and his Denver Pioneers may have seen their 2012-2013 season come to an end after a 4-3 loss to Colorado College in game 3 of their WCHA playoff series. Colorado wins the series 2-1 and advances to the WCHA's Final Five. As for Mayfield and Denver, not sure what to say as Colorado really wanted this game in the third period and think the most telling sign about the effort was even Denver's fans on their home ice did little to rally their own team. The small vocal Colorado fans once they took the lead got louder while Denver's disappeared. Mayfield was scoreless on 2 shots and a -1 as the next question is did the loss knock Denver out of the NCAA's? The most updated Pairwise rankings has Denver 13th down 3 spots from prior to the game. If you want to play with the tournaments like I did then Denver is right on the bubble with very little room for any more upsets in the league tournaments. It really should be if you can't even make it past the round of your league tournament then you don't belong in the NCAAs. Call Denver done as Mayfield finishes 4-13-17 which is respectable for a shutdown defender but 108 PIMs at the college level isn't. First pair defenders need to be on the ice not in the penalty box and Mayfield if he returns to Denver for his junior season needs to chop 40+ minutes from that number. Finally Brenden Kichton (NYI 11 5th) sat out his Spokane Chief's final regular season game against Portland on Sunday night. Portland sat out a few of their players so it was no big deal for Kichton to sit out as well. Kichton finishes as the leading scorer among WHL defensemen 22-63-85 and one has to wonder where is his contract from the Islanders? The Islanders can use all the help they can get as they don't have any real offense among their blueline prospects. Sign him or watch someone else do so.
Original Story:
http://feedproxy.google.com/~r/ThePro...
THE BACKYARD
BEST OF MAXIM
RELATED ARTICLES
Peter Ceresnak now holds the dubious distinction of being the only Rangers prospect to miss the playoffs in his respective league. Ceresnak, a member of the OHL's Peterborough Petes, lost their final game of the season last night to Brampton by a score of 5-2. The Petes missed the playoffs by a single point, and are one of four teams in the OHL to miss the playoffs. Ceresnak did...
Despite the fact the New York Islanders are hovering near a playoff spot, fans and analysts have continually pointed at the club as a potential seller near the trade deadline. Mark Streit (pictured above), Lubomir Visnovsky and Evgeni Nabokov (pictured above) are names that have surfaced as potential players that might be dealt to a contender looking for an additional veteran with...
from Arthur Staple of Newsday, There are nine games and 17 days until the NHL's trade deadline, so plenty can change for the Islanders between now and then. But it doesn't appear the Islanders' plans for Mark Streit, Lubomir Visnovsky and Evgeni Nabokov, three veterans who are on expiring contracts, will change between now and April 3. The Islanders...
It's mid March and the Islanders are one game over that pivotal .500 mark. But as Jack Capuano told Newsday's Art Staple, they shouldn't feel too good about themselves. I was happy to read that quote this morning with my coffee and sunflower seed bagel. It shows that Jack understands the real urgency -- even though he doesn't show it very often in the post game...
Casey Cizikas broke a third-period tie, and the New York Islanders held on to beat the Florida Panthers 4-3 after blowing a three-goal lead in the final frame Saturday night. Cizikas took a pass from Colin McDonald from behind the net and got it past goalie Scott Clemmensen from the left of the crease at 12:55. Kyle Okposo, Radek Martinek and Brad Boyes also scored, and Evgeni...
If not for Casey Cizikas and the grinding line is on, this game would have been another Isles loss. It was going so well. it was it was a three to zippo lead and the Panthers were given two minutes to score three goals. I don't even know how that happened. But it looked like a typical islander defensive breakdown. Sadly Matt Moulson looked like he was skating with lead...
SUNRISE, Fla. (AP) -- The New York Islanders nearly paid for relaxing too early against the Florida Panthers. Nursing a three-goal lead in the third period, the Islanders got quite a jolt when the Panthers rallied to tie it with three goals in less than two minutes. But Casey Cizikas broke that tie, and the Islanders held on to beat the Panthers 4-3 on Saturday night. "We...
Islanders News

Delivered to your inbox

You'll also receive Yardbarker's daily Top 10, featuring the best sports stories from around the web. Customize your newsletter to get articles on your favorite sports and teams. And the best part? It's free!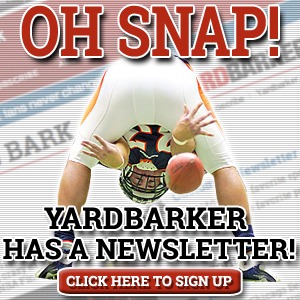 Latest Rumors
The Backyard

Today's Best Stuff

For Bloggers

Join the Yardbarker Network for more promotion, traffic, and money.

Company Info

Help

What is Yardbarker?

Yardbarker is the largest network of sports blogs and pro athlete blogs on the web. This site is the hub of the Yardbarker Network, where our editors and algorithms curate the best sports content from our network and beyond.