Found May 08, 2013 on Hyped Up Hockey:
Will Fleury get a chance to redeem himself? The announcement that Pittsburgh Penguins goalie Marc-Andre Fleury will sit out his first NHL playoff game in favor of Tomas Vokoun may signal the end of the "Flower" as a Penguin. After faltering in the post season each year since the Penguins Stanley Cup win in 2009, [...]
Original Story:
http://www.hypeduphockey.com/are-thes...
THE BACKYARD
BEST OF MAXIM
RELATED ARTICLES
Before I begin, I must confess that it pained me to write this piece. The last thing I want to do is be hard on a player—in this case Penguins goalie Marc-Andre Fleury—when he's down. Not only is Fleury the longest tenured Penguin—his career dates back to 2003-04—but he's been such a huge part to the team's success. Plus, he seems like such a kind and gentle soul. You...
Islanders and Penguins now tied 2-2 in the series. You have to think Vokoun gets the start in game 5 for the Penguins.(Nabokov wasn't great either, but good in the 3rd when it counted the most.) Here is goal #6 given up by Fleury tonight.     And below, watch the 3rd goal given up by Fleury. He just is off his game and maybe a night off will do him good....
The best playoff series in 2013 for my money has the Pittsburgh Penguins versus the New York Islanders. Nobody on the planet, including the New York Islanders fans, gave the New York Islanders a chance in this series. However, the Islanders have pushed the Pens to their limits in the high-scoring series of the first round. Mostly, because Marc-Andre Fleury cannot make a timely save Let...
Dan Bylsma and the Pittsburgh Penguins apparently could only watch so much. There's only so much you can take when you have one of the most talented rosters in all of hockey, yet you're struggling to get out of the first round for what would be the third straight season. The obvious continuing (and disturbing) trend for the Penguins and their fans is the play in goal of Marc...
Pittsburgh Penguins goaltender Marc-Andre Fleury flopped in the playoffs last season, so the team added veteran goaltender Tomas Vokoun.Fleury struggled again this spring, so coach Dan Bylsma replaced him with Vokoun – who brings a modest 3-8 career playoff record into Game 5 against the New York Islanders."Tomas is capable of being a great goalie for us," Bylsma told reporters...
The Pittsburgh Penguins were expected  by many to roll against the New York Islanders in their first-round series of the Stanley Cup playoffs. That hasn't been the case, however, and the reason is pretty clear. Goaltending. Marc-Andre Fleury  has been shaky once again, and after giving up six goals Tuesday night in Game 3, the Pens are making a change in net. Pittsburgh head...
Tom Rock offers some much-needed consolation to Marc-Andre Fleury: Fleury can take solace that this first-round performance is not as abysmal as last year's when he melted down against the Flyers and allowed 26 goals in six games. But it's close. Take away his shutout in Game 1 and he's allowed 14 goals in three games, more than the pace as last year's skid....
From the Penguins' Sam Kasan: Tomas Vokoun will be the Penguins starting goaltender in Game 5 Thursday night against the NY Islanders at CONSOL Energy Center. "We brought Tomas Vokoun in to play big games for us and be a goaltender we can count on to go in and play big games. He's done that this year for us," head coach Dan Bylsma said. In four games – three...
Welp. We've seen this fish before. Luckily, the Pens are coming back home for Game 5.  Gonna be a lot of chatter about Marc-Andre Fleury leading up to the biggest game of the season on Thursday.  
Pittsburgh Penguins coach Dan Bylsma insists he still believes in Marc-Andre Fleury, that the issues for the reeling Penguins go far beyond the struggles of their Stanley Cup-winning goaltender. Still, that didn't stop Bylsma from making a switch he hopes will shift momentum in Pittsburgh's highly entertaining but slightly bewildering first-round playoff series with the...
Penguins News

Delivered to your inbox

You'll also receive Yardbarker's daily Top 10, featuring the best sports stories from around the web. Customize your newsletter to get articles on your favorite sports and teams. And the best part? It's free!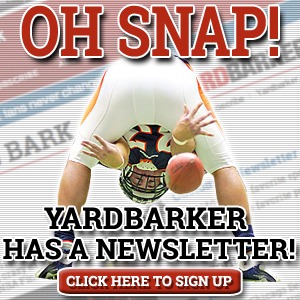 Latest Rumors
Best of Yardbarker

Today's Best Stuff

For Bloggers

Join the Yardbarker Network for more promotion, traffic, and money.

Company Info

Help

What is Yardbarker?

Yardbarker is the largest network of sports blogs and pro athlete blogs on the web. This site is the hub of the Yardbarker Network, where our editors and algorithms curate the best sports content from our network and beyond.