Found November 29, 2012 on Fox Sports Detroit:
It might not have been the traditional Red Wings' visit to the Detroit Medical Center's Children's Hospital, but spirits were still lifted. Coach Mike Babcock, general manager Ken Holland and radio play-by-play announcer Ken Kal were the first wave of Wings to visit the Children's Hospital this Thursday. Next Thursday, former players Kris Draper, Chris Chelios, Kirk Maltby and Chris Osgood will see the kids. "Usually it's the players and Mike Babcock, the coaching staff," Holland said. "Obviously this year with no players, we've put together a different group. I'm sure the people would like to see the players but for me, it's an opportunity to give back." Babcock doesn't just visit once a year. He's at the hospital so often that he has his own identification card. "I'm obviously real lucky, I get to see these kids all the time," Babcock said. "They come to games, this year they haven't come to games, we haven't had any. But I still managed to get here once before. Normally it's the players that are here with me at this time. But we got Grover and Ken Holland today, so it should be a lot of fun." During the holiday season, the Wings realize even more how difficult it can be when a child is ill. "It's interesting, when one of your children get sick, the whole family gets sick, it infects everybody," Babcock said. "When you're here and you see the work of the doctors, and you see the work of the nurses and the passion of the people that work here, it's inspiring to say the least and I think it puts things in perspective. I'm very blessed, I have three healthy children and a healthy wife and health is the first priority in anyone's life." Normally, the Wings are very busy at this time of the year, but with the lockout still going, some players have gone to play in Europe and some have remained in the area and are skating together at the Troy Sports Center. But what do front office people like Holland and Babcock do? "I don't know if I'm bored, I'm a busy guy, find lots to do, whether that be watching practices or running practices or spending time with my family or going to games, I've managed to keep very busy," Babcock said. "Now, would I rather be coaching the Red Wings? Absolutely. I think people on both sides of the equation, whether that be players, owners, management, everybody wants to get playing, we know how important it is for our game and for our fans." Like Babcock, Holland is hopeful that he'll soon be much busier. "I'll go to Grand Rapids Friday and Saturday," Holland said. "Obviously the workload is a half, a third of what it normally is. Usually you're at the office all day long. Now I go there for two, three hours and the phone never rings and I go home, maybe go to a game at night. I think everybody's got their fingers crossed that a solution can be found."
Original Story:
http://www.foxsportsdetroit.com/11/29...
THE BACKYARD
BEST OF MAXIM
RELATED ARTICLES
TROY, Mich. -- The Red Wings who remain in the metro Detroit area appear to be in a holding pattern. At the beginning of the month, the Wings who were skating at the Troy Sports Center said November would be a huge month in terms of labor negotiations. Now that November is coming to an end with no resolution in sight, what will they do now? Niklas Kronwall, one of several Wings...
Detroit Red Wings prospect Riley Sheahan faces charges under Michigan's tougher ''super drunk'' designation following a traffic stop during which police discovered him clad in a Teletubby costume. According to a Grand Rapids police report obtained by MLive.com (http://bit.ly/Y0NfXE ), Sheahan twice registered a blood alcohol level of 0.30 percent following his...
Two weeks ago we reported that Red Wings Prospect Riley Sheahan had been arrested for "Super-Drunk" driving.  He reportedly blew a .30, which is nearly four-times the legal limit. He was also wearing a teletubbies costume and was using his teammate Brendan Smith's I.D. to get into the bar.  Smith was supposed to be playing on the Red Wings this year, but because of the lockout...
Well we've all heard about it for the most part this past week and that's Red Wings prospect Riley Sheahan getting arrested for not only being 'super-drunk' but using his teammates (Brendan Smith) ID and being dressed as a teletubby when he was pulled over by Grand Rapids Police. Trevor Parkes (l.) Riley Sheahan (r.) via the New York Post Yeah you really can't make this...
Riley Sheahan, the Detroit Red Wings top pick in 2010, is allegedly the character from now on known as Super Drunk Tinky Winky. Sheahan, 20, who plays for the Grand Rapids Griffins, was wearing... Full story at Bob's Blitz ~ http://www.bobsblitz.com
Usually at this time of year, the Detroit Red Wings are busy establishing themselves as Stanley Cup contender, but while still being knee deep in the league imposed lockout, there is very little to report. Enter top prospect Riley Sheahan. Back on October 29, the Red Wings top pick from 2007, was pulled over by [...]
A Detroit Red Wings prospect faces charges under Michigan's tough ''super drunk'' designation following a traffic stop during which police discovered him clad in a Teletubby costume. According to a Grand Rapids police report obtained by MLive.com, Riley Sheahan twice registered a blood alcohol level of .30 percent when tested in jail following his arrest on Oct...
The Detroit Red Wings' top draft pick in 2010 was charged with "super drunk" driving after a traffic stop in Grand Rapids, Mich., in late October while wearing a purple Teletubby costume. Center Riley Sheahan's blood-alcohol level was .30, nearly four times the legal limit in Michigan, when he was arrested on Oct. 29 by Grand Rapids police, who spotted him going...
It's one thing to get arrested, but it's another thing to get arrested for a DUI while dressed as a Teletubby. Just ask Riley Sheahan, the Red Wings prospect who was cuffed last month for being qualified as "super drunk," while driving, according to MLive.com in Grand Rapids, Mich. According to the report, the 20-year-old was arrested with a blood-alcohol content of .30...
Check out this video of Grand Rapids Griffin and Detroit Red Wing Riley Sheahan's drunk driving arrest from the dashcame of a Grand Rapids Michigan Police Crusier. I was surprised that the female cop patted Sheahan down when there was a male officer standing right there. Related articles Wings pick gets DUI charge in Teletubby garb (espn.go.com) Red Wings Prospect Caught...
Recently, Todd Bertuzzi said that he believes the entire 2012-13 season will be lost. To put it mildly, that would really suck. In fact, some would argue that it would be the end of the world. Two full seasons lost in less than 10 years? Unforgivable! I'm still holding out hope that something can be done to save the season, but it's not much hope. Less than a glimmer...
The Big Leagues The Teletubbies may have made an appearance. Oh, and also the police.
NHL News

Delivered to your inbox

You'll also receive Yardbarker's daily Top 10, featuring the best sports stories from around the web. Customize your newsletter to get articles on your favorite sports and teams. And the best part? It's free!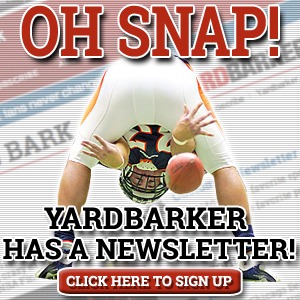 Latest Rumors
The Backyard

Today's Best Stuff

For Bloggers

Join the Yardbarker Network for more promotion, traffic, and money.

Company Info

Help

What is Yardbarker?

Yardbarker is the largest network of sports blogs and pro athlete blogs on the web. This site is the hub of the Yardbarker Network, where our editors and algorithms curate the best sports content from our network and beyond.