Found March 17, 2012 on Puck Huffers:
PLAYERS:
Chris Kunitz
,
James Neal
,
Sidney Crosby
,
Marek Zidlicky
,
Andy Greene
,
Alexei Ponikarovsky
,
Pascal Dupuis
,
Martin Brodeur
,
Matt Cooke
,
Petr Sykora
,
Kris Letang
,
Matt Niskanen
,
Jordan Staal
TEAMS:
Pittsburgh Penguins
,
New Jersey Devils
We all know the Kafkaesque terror that comes out of playing in New Jersey. Well, someone must have given it tuberculosis because it didn't show up.

The Penguins have won 11 straight. This game had its painful little hiccups. Crosby still hasn't scored; maybe we should trade him. I mean he is kind of too pretty to hang out with the other kids:


Oh, Captain. it's good to see you back and making unattractive faces.

MOST STUNNING AND OCCASIONALLY UPSETTING MOMENTS
Chris Kunitz was awarded a penalty shot early, but Brodeur definitely didn't bite on his move. Like 2 seconds later James Neal scored a goal super early on off of the faceoff. Brodeur was unable to deal with this and it was so shocking that nobody took any pictures of anything. Just a "derp" move by the press.
They did, however, capture this great Pens fans presence in NJ during warmups. We'll take it. It is a sign of things to come.
Oh wait here is a weird picture of Neal as Kovalchuk looks on in soft angst and wonders where his favorite jeans are right now and if they miss him.




Brodeur then made a series of insane saves on Sid. Slapshot, rebounds.


Does Sidney Crosby even seem like a real person anymore? Does he seem more like the unrealistic Baby Jesus of the past? Does he seem like he is being suspended above a stormy ocean looking straight into the eyes of Poseidon, unflinching in his resolve?

Whatever. He's pretty good.

We hear about a terrifying place that Marek Zidlicky once inhabited called "Mike Yeo's doghouse." We can only assume that Sidney Crosby has never been there. What a terrifying idea.

Andy Greene Some kid named Josefson scored a goal that was like barely a goal.

w/e. We had our doubts but they were few. Nothing else really happened.

MOST MEMORIES
When Alexei Ponikarovsky shot the puck into the logo.



But Pascal Dupuis runs all of his shifts lately in God Mode. Zero ***** given. His face at having sniped Martin Brodeur is priceless. Some monounsaturated fats undulated out of his orifices as the goal went in. See?



Then, all of a sudden, Matt Cooke emerged from his lair and tipped a shot in.


Brodeur's face tells a terrifying story. Matt Cooke's ass is all up in his business and it is a stunning sight. We love it when people go to the net. Starting to see more and more of the Matt Cooke we know and love, from the past, before all of the Bad Things happened.

MOST AMMUNITION AND WARMEST KITCHEN FIRE
Then. Then! The Pens got a PP. And Crosby, battling along the boards, manages to thread some kind of unbelievable pass to Gene for a one-timer. One of the best passes we've seen in a long, long, LONG time. Jesus Christ.


GATHER 'ROUND THE KIDS, EUGENE
WE MADE IT THROUGH THE WINTER!!!!

By the end of the third, the shots were something like 26-9 Penguins. Seriously.

AS THE ICE AROUND OUR HEARTS MELTS
The sun rose on the 3rd period, which was strange and awkward.
Everyone was out examining the spring seedlings when Petr Sykora frolicked up and made a thing happen.
We were pretty Whatevs about it. We can't get mad at Petey. We just can't.
But it was 4-2, and we didn't want to have some kind of wretched collapse into the depths of the Earth. There is, of course, a win streak at risk here. And embarrassment to the Devils. Which we are sick of.


NEVER THE **** YOU MIND, CHILDREN

PENS WIN! 5-2. yup.

INDIVIDUAL AWARD
PRETTY PARTY


The stars are just perfectly placed.
Not Fleury's best game, but it's kind of hard to stay sharp when you only face 14 shots. We understand.


We dare you not to get terrified of Sid's eyes boring into your soul through the visor here.


Who's the pretty one here? Volchenkov, clearly.

ALTERNATIVE THREE STARS
1. Kris Letang - still going strong
2. Matt Niskanen - because
3. Jordan Staal - beast

philly in 10 minutes! go pens.
Original Story:
http://www.puckhuffers.com/2012-artic...
THE BACKYARD
BEST OF MAXIM
RELATED ARTICLES
Pittsburgh Penguins superstar Sidney Crosby's return to the ice looked even better the following day - at least in the scoring column. Crosby, who was back in the lineup Thursday night after missing 40 games with concussion-like symptoms, had an assist in Thursday's 5-2 victory over the New York Rangers that extended Pittsburgh's winning streak to 10 games. On Friday...
The greatest hockey player on the planet is returning to NHL action tonight and all eyes will be on how he moves, how he handles the puck, handles contact, and, most importantly, how he scores. Everybody knows that the Pittsburgh Penguins are one of the most potent offenses in the league, but tonight they'll be facing the Eastern Conference-leading New York Rangers, who have a...
The questions surrounding the Pittsburgh Penguins are quickly being answered. Questions such as: How good would the Penguins be if Sidney Crosby and the rest of their injured players were healthy in time for the playoffs? Will the return of Crosby to a club surging without him disrupt the mojo that had the Penguins storming toward the top of the Eastern Conference? On one Thursday...
Dan Bylsma promised to keep Sidney Crosby's minutes under control as his star center eased his way back into the lineup following a three-month layoff. It might be time to take the shackles off. Crosby collected five assists during Pittsburgh's three-game road trip through New York, New Jersey and Philadelphia that saw the Penguins pull within a point of the Eastern Conference...
A goaltending matchup tonight by two Vets who squared off in the 2003 Cup Finals, hometown hero Martin Brodeur welcomed Avs netminder Jenn-Sebastian Gigure in a game who's main focus was primarily on two men, nearly HALF their age; Gabriel Langdeskog of Colorado, 19 years of age, visiting Devils rookie sensation, 22 year old Adam Henrique. Henrique entering play tonight tied...
Bergen Record - Rangers ripped by Crosby-led Pens, 5-2New York Post - Penguins cut Rangers' lead to four points in Crosby's returnDaily News - No Kid-ing: Sid leads Pens past NYRNew York Times - Crosby Blends In as Penguins Stand Tall Against RangersNewsday - Penguins get Sidney Crosby back, roll past RangersRemember to follow me on Twitter & Facebook or e-mail me at ...
Matt Cooke scored a pair of goals and Sidney Crosby had an assist in a triumphant return to the lineup as the red-hot Pittsburgh Penguins extended their winning streak to 10 games with a 5-2 victory over the host New York Rangers on Thursday.Evgeni Malkin, Chris Kunitz and Pascal Dupuis also scored goals as the Penguins whittled Eastern Conference-leading New York's lead to four...
from Dave Lozo of NHL.com, 1 Pittsburgh (44-21-6) If you're the type of person desperate for negative Sidney Crosby news, here you go: He has a 10-game goal drought. However, if you are that type of person, seek help. He has five points in three games since coming back Thursday. 2 St. Louis (46-19-8) Did anyone have the Blues as the first team to clinch a Stanley Cup Playoff...
The return of Sidney Crosby promptly ended the Rangers mini-winning streak as the Pens dropped the Rangers tonight 5-2 at Madison Square Garden.  The Blue shirt's Jekyll and Hyde play in this game ultimately was their undoing.  There was a lot of positives to take away from this game as well as quite a few negatives.  To the bullets… 1st Period The Rangers started off the...
  Was there a Sidney Crosby return?  I could not tell.  There were seven other games besides the one that felt like it was shown on 3435 networks.  Yes #87 has tons of fantasy ramifications surely but to say it was the motherload would be just inaccurate.  Some will say the bigger impact in Pittsburgh may be the return of Kris Letang so take notes fantasy fans...
Welcome to another installment of "The Week Ahead". We have a lot on tap for this segment so let's get started.Three Stars of the Week1) Semyon Varlamov, Colorado AvalancheTo get into the Stanley Cup Playoffs, an NHL team needs good goaltending. Right now, Colorado Avalanche starting netminder Semyon Varlamov is doing all that and more. Varlamov won three games and...
NHL News

Delivered to your inbox

You'll also receive Yardbarker's daily Top 10, featuring the best sports stories from around the web. Customize your newsletter to get articles on your favorite sports and teams. And the best part? It's free!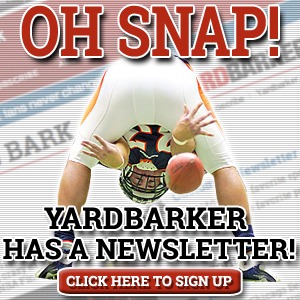 Latest Rumors
Best of Yardbarker

Today's Best Stuff

For Bloggers

Join the Yardbarker Network for more promotion, traffic, and money.

Company Info

Help

What is Yardbarker?

Yardbarker is the largest network of sports blogs and pro athlete blogs on the web. This site is the hub of the Yardbarker Network, where our editors and algorithms curate the best sports content from our network and beyond.