Found August 07, 2013 on Blue Seat Blogs:
PLAYERS:
Dan Girardi
,
Dmitri Kalinin
,
Brad Richards
,
Martin Biron
,
Ryan Callahan
,
Fedor Tyutin
,
Marc Staal
,
Ryan McDonagh
,
Derek Morris
,
Nigel Dawes
,
Petr Prucha
TEAMS:
New York Rangers
,
Arizona Coyotes
,
Columbus Blue Jackets
,
Montreal Canadiens
As the offseason wears on, us and Matt Josephs of Blue Line Station (Twitter: 11Matt_Josephs8) will be running a tournament for the Best Ranger since the 2005 lockout. Yesterday we saw #7 Brad Richards barely squeak by #10 Martin Biron in overtime. Today's matchup is #2 Dan Girardi vs. #15 Dmitri Kalinin. Dan Girardi (acquired – 2006 undrafted free agent) Girardi is this team's version of a Cinderella story. Signed as an undrafted free agent out of the OHL's Guelph Storm (and Ryan Callahan's teammate), Girardi was never a noted scorer, which is why he was never noticed. But the Rangers noticed him (presumably) while scouting Cally, and signed him to an AHL deal in the summer of 2005. They didn't sign him to an NHL contract until 2006 after impressing in the ECHL and AHL. After his deal, he played another 45 games in the AHL before sticking with the big club permanently. Over the next six seasons, Girardi missed a total of just four (!!) games. When you take into account the minutes (sometimes up to 30) he plays and the number of shots he blocks, that's an impressive feat. Girardi isn't a noted scorer (31-123-154 in his career), but he's one of the best shutdown defensemen in the game today. Girardi has been the steady rock on defense, and players such as Fedor Tyutin, Marc Staal, and Ryan McDonagh have flourished while playing with him. Girardi was given the 'A' when Staal went down with his injuries, and it's no mystery as to why. Dmitri Kalinin (acquired – 2008 unrestricted free agent) Kalinin played just 58 games of his one-year contract with the Rangers, putting up a line of 1-12-13 while barely surviving on the bottom pairing on defense. Signed from Buffalo, Kalinin was supposed to bring balance to the bottom pairing, but he was unable to do so. The Coyotes were nice enough to take Kalinin off of Slats' hands at the trade deadline, when they shipped Derek Morris to New York for Kalinin, Nigel Dawes, and Petr Prucha. So who do you think is the better Ranger, Girardi or Kalinin? Vote thumbs up for the higher seed (Girardi), or thumbs down for the lower seed (Kalinin). Voting ends at midnight tonight. Tweet
Original Story:
http://www.blueseatblogs.com/2013/08/...
THE BACKYARD
BEST OF MAXIM
RELATED ARTICLES
While no official announcement has been made, it appears the Rangers have signed undrafted free agent defenseman Charlie Dodero of the Sudbury Wolves, per Michael Kantor's Twitter. The 6′, 195-lb defenseman just finished his age-20 season in the OHL, putting up a line of 7-20-27 with a -23 rating. The -23 rating is a bit misleading, as Sudbury wasn't solid defensively, and...
As the offseason wears on, us and Matt Josephs of Blue Line Station (Twitter: 11Matt_Josephs8) will be running a tournament for the Best Ranger since the 2005 lockout. Yesterday we saw #6 Petr Prucha beat #11 Paul Mara. Today's matchup is #7 Brad Richards vs. #10 Martin Biron. Brad Richards (acquired – 2011 unrestricted free agent) Richards came on board with the Rangers in July...
Last week, Henrik Lundqvist expressed safety concerns about the NHL's recommendation to shorten the length of goaltender's leg pads. Well it looks like those recommendations have become a reality as the Rangers netminder tweeted out a pic of his new, shorter pads.... Here's Lundqvist on the new pads... "Not sure how it will affect my game. Hopefully...
Think Miller is the first call up? Think again (Seth Wenig/AP) One thing that we can be sure about next season is that there will be injuries. If we learned anything from this postseason, it's that you can never have enough depth, because you never know when the injuries will begin to mount. It was one area that Slats worked very diligently to address this offseason, and he did...
There is little sense in attempting to even try to figure out exactly what the heck was going on during a recent commercial shoot that involved New York Rangers goaltender Henrik Lundqvist and a bottle containing some kind of thick-ish white, creamy substance. Nor does it make much sense to try to figure out how […]The post Facial! This image from a Henrik Lundqvist ad shoot is...
As the offseason wears on, us and Matt Josephs of Blue Line Station (Twitter: 11Matt_Josephs8) will be running a tournament for the Best Ranger since the 2005 lockout. Yesterday we saw #2 Dan Girardi blow out #15 Dmitri Kalinin. Today's matchup is #1 Marc Staal vs. #16 Darius Kasparaitis. Marc Staal (acquired – 2005 draft, 1st round) The Rangers traded up in the 2005 draft, surrendering...
When the season begins in October the New York Rangers could possibly be without their captain Ryan Callahan. Callahan the fearless shot-blocker who has donned the C in New York for a few years now underwent surgery to repair a torn labrum this summer. That would be less than ideal. Yes missing a month's worth of games this season isn't as big of a deal as last season...
Like it or not, the NHL is going to be hosting six outdoor games in 2014. Two of these games will take place in Yankee Stadium and will feature the New York Rangers. The first will take place on January 26th between the Devils and Rangers and then three days later the Rangers will battle the Islanders.  Whether you're in favor of the NHL hosting so many outdoor games in a...
NHL News

Delivered to your inbox

You'll also receive Yardbarker's daily Top 10, featuring the best sports stories from around the web. Customize your newsletter to get articles on your favorite sports and teams. And the best part? It's free!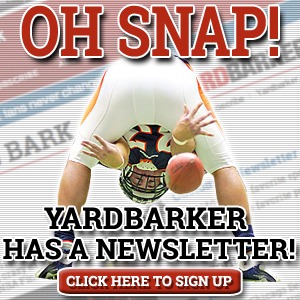 Latest Rumors
Best of Yardbarker

Today's Best Stuff

For Bloggers

Join the Yardbarker Network for more promotion, traffic, and money.

Company Info

Help

What is Yardbarker?

Yardbarker is the largest network of sports blogs and pro athlete blogs on the web. This site is the hub of the Yardbarker Network, where our editors and algorithms curate the best sports content from our network and beyond.