Found August 26, 2013 on Blue Seat Blogs:
PLAYERS:
Rick Nash
,
Petr Prucha
,
Brandon Dubinsky
,
Artem Anisimov
,
Tim Erixon
,
Kerby Rychel
,
Steven Delisle
,
Pavel Buchnevich
,
Tony Amonte
,
Jaromir Jagr
,
Tom Renney
,
Nigel Dawes
,
Dmitri Kalinin
TEAMS:
New York Rangers
,
Phoenix Coyotes
,
Columbus Blue Jackets
,
New Jersey Devils
,
Montreal Canadiens
As the offseason wears on, us and Matt Josephs of Blue Line Station (Twitter: 11Matt_Josephs8) will be running a tournament for the Best Ranger since the 2005 lockout. Today the second round continues with #3 Rick Nash vs. #6 Petr Prucha. Just a note: I am on vacation. The tournament posts are still going up, but I had to schedule them in advance, so the winners of the previous matchups won't be posted in the picture until I get back next week. I am still keeping track though. Rick Nash (acquired – 2012 trade with Columbus) Nash came to the Rangers in an offseason blockbuster that sent Brandon Dubinsky, Artem Anisimov, Tim Erixon, and a 2013 1st round pick (Kerby Rychel) to the Blue Jackets for Nash, Steven Delisle, and a 2013 3rd round pick (Pavel Buchnevich). Nash was everything that was advertised for the Rangers, putting up 21 goals and 42 points in 44 games. Over an 82-game season, that averages out to about 40 goals and 80 points. Nash is the game breaker that the Rangers have needed desperately. With Nash, they have someone who can draw the opposition's top defenders and still come out with a dominant shift. It is necessary to point out that with Nash, the Rangers were expected to be a dominant offensive force. However, the struggles of Gaborik and Richards threw a wrench into that, leading to Gaborik's trade for key depth players. None of that is on Nash, who performed in a manner that we expected. Petr Prucha (acquired – 2002 draft, 8th round) Prucha burst on to the scene as a rookie in the 2005-2006 season, becoming the first Ranger rookie to score 30 goals in a season since Tony Amonte 14 seasons prior. The tiny winger (listed at 6′ and 175 lbs, but I think that's generous) won over Ranger fans very quickly with his goal scoring and his blue collar play. Prucha clicked with Jaromir Jagr on the top powerplay unit, and never looked back. He scored 22 goals in his second season with the Rangers, but dropped off and found himself as a healthy scratch for the majority of his final two seasons in New York. Prucha was a healthy scratch so often that he wasn't even included in the Tom Renney line generator. Prucha was eventually sent to Phoenix with Nigel Dawes and Dmitri Kalinin for Derek Morris. He spent two more years there before bolting for the KHL. During his Rangers career, Prucha had a line of 63-50-113 in 237 games. So who do you think is the better Ranger, Nash or Prucha? Vote thumbs up for the higher seed (Nash), or thumbs down for the lower seed (Prucha). Voting ends at midnight tonight. Tweet
Original Story:
http://www.blueseatblogs.com/2013/08/...
THE BACKYARD
BEST OF MAXIM
RELATED ARTICLES
(Image Credit: Newsday) Rangers GM Glen Sather raised some eyebrows last week when he told Edmonton's Team 1260 that he's received lots of interest in center Brian Boyle, but is loath to deal the 28-year-old. "I've had a lot of requests for Brian's services," Sather said. "I'm not anxious to trade him. I think he's a good player, he's a great team guy and I think...
Derek Dorsett, penalty killing machine (Image Credit: Getty Images) September is almost upon us, which means that we are getting closer and closer to hockey season. The Rangers didn't make any major overhauls this offseason, so what you saw last year is pretty much the same team you will get this year. Some much-needed depth was added, which absolutely makes this team better, but...
Entering the summer of 2013 the Rangers faced the unenviable task of having to re-sign four key RFA's: Ryan McDonagh, Derek Stepan, Mats Zuccarello and Carl Hagelin, within the constraints of a decreased salary cap. Three of those deals are done and the club is still working on getting Stepan finished up before camp opens […]
As the offseason wears on, us and Matt Josephs of Blue Line Station (Twitter: 11Matt_Josephs8) will be running a tournament for the Best Ranger since the 2005 lockout. Today the second round continues with #2 Dan Girardi vs. #7 Brad Richards. Just a note: I am on vacation. The tournament posts are still going up, but I had to schedule them in advance, so the winners of the previous...
Defenseman Steve Eminger has come to a preliminary agreement with the KHL's Admiral Vladivostok according to Sport-Express and CSN's Sarah Baicker. Eminger was originally taken with the 12th overall pick in the 2002 NHL Entry Draft. At his height in 2008-09 he had five goals and 26 points in 71 contests while averaging 21:37 minutes per game. However he has been unable to re...
Marc Staal spoke with ESPN's Pierre LeBrun today at the Canadian Olympic Orientation Camp. His statements are the clearest indication and support what others including GM Glen Sather has been staying that Staal is 100%, which includes his eye injured by a puck last April against the Penguins. Assuming this is true, and I have no real reason to doubt it, based on the quote below...
By Dylan Howlett (@DylanHowlett) A team falls two games short of reaching the Stanley Cup Final. What does it do to bridge the gap of those two games, exactly? It reverts to bad habits. It trades three budding prospects for an imposing sniper. It reverts to old habits. It keeps its acerbic coach, hopes his voice won't become too hoarse to connect with his players, hopes his affection...
While we wait for training camp to open in September 12, not much is going on in Rangers land. Based on that, I wanted to get back to the 20+ offseason questions. As a reminder here is a link to the 20+ questions initially raised, I have explicitly covered questions 1, 2, 3, 4, 5, 6, 7, 8, 9, 10, 12 and 14 previously. Implicitly, we covered 16. Is Darroll Powe brought back for depth...
"I know I can play the game. Sometimes I might have to defend myself a little bit to people who think I can't play anymore. I'm very motivated. [Last season] kept me very hungry all summer." "I know Alain a little bit and really like him as a person. "I don't know him as a coach but I've only heard good things about him from guys who played for him in Vancouver...
from Damien Cox of the Toronto Star, The angles are different. There's less emphasis on pounding the net with shots. It's easier for forwards given more room to manoeuvre to simply wander into traffic-free areas where they aren't very effective. But you can't talk your way into understanding the big ice, although bringing in Ralph Krueger to provide some helpful...
NHL News

Delivered to your inbox

You'll also receive Yardbarker's daily Top 10, featuring the best sports stories from around the web. Customize your newsletter to get articles on your favorite sports and teams. And the best part? It's free!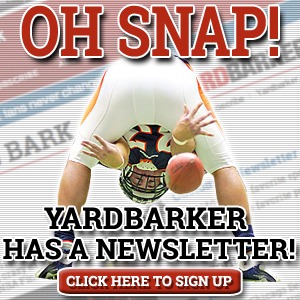 Latest Rumors
The Backyard

Today's Best Stuff

For Bloggers

Join the Yardbarker Network for more promotion, traffic, and money.

Company Info

Help

What is Yardbarker?

Yardbarker is the largest network of sports blogs and pro athlete blogs on the web. This site is the hub of the Yardbarker Network, where our editors and algorithms curate the best sports content from our network and beyond.