Found April 26, 2012 on Red Light District Hockey:
PLAYERS:
Ray Shero
,
Sidney Crosby
,
Evgeni Malkin
,
Jordan Staal
,
Kris Letang
,
Matt Cooke
,
Pascal Dupuis
,
Tyler Kennedy
,
Paul Martin
,
Zbynek Michalek
,
Brian Strait
,
Simon Despres
,
Brooks Orpik
,
Dan Bylsma
,
Bruce Boudreau
TEAMS:
Pittsburgh Penguins
,
Vancouver Canucks

Following another disappointing playoff showing in Pittsburgh, Penguins GM Ray Shero is now faced with some tough decisions in the offseason to determine where his team goes from here.
In today's "what have you done for me lately" NHL, the Penguins are quickly gaining the reputation as an ultra-talented group unable to come up big when it counts. Since winning the Cup in 2009, the Pens now have lost three of their last four playoff series, putting superstars Sidney Crosby and Evgeni Malkin directly in the crosshairs of criticism for their perceived inability to lead this group to higher achievements of late. Sure, regular season success is great to a certain extent, but playoff success ultimately determines one fate. Just ask the Vancouver Canucks.
For starters, Pens GM Ray Shero is close to reaching a major crossroads regarding his superstar centers. Both Crosby and Jordan Staal only have one year remaining in their current deals and are slated to become UFA's after next season, while Malkin has two years left on his deal. Despite the uncertainty surrounding the future ceiling of the NHL's salary cap, it remains unlikely that the Penguins will be able to afford to retain all three players, especially considering Kris Letang is in line for a major pay raise soon. And when you consider everything that Crosby's gone through health-wise over the past 16 months, Shero's decision on who to re-sign and who to possibly trade in 2013 may not be as clear-cut as once imagined, depending on how things transpire next season. It's also worth mentioning that three key role players – Matt Cooke, Pascal Dupuis and Tyler Kennedy – all become UFA's after next year, complicating matters that much more.
After this year's early playoff exit, it's quite clear that the Penguins defense corps is in need of upgrading, but Shero will have to pull off his best Houdini act in order to pull it off. Defensemen Paul Martin and Zbynek Michalek, two high-priced free agents signed by Shero two offseasons ago, have been unmitigated busts in their time thus far in Steeltown. But the bigger issue surrounding the two rearguards isn't whether they should be moved, it's whether they can be.
At the forefront of Shero's dilemma are their immovable contracts; Martin still has three years left on his 5-year, $25 million deal, while Michalek is owed $4 million in each of the next three seasons as well. While talented young blueliners Brian Strait, Simon Despres and Joe Morrow wait in the wings for their turn to crack the lineup, Shero's biggest challenge may just be trying to ship out the dead weight to make room for them.
Letang, meanwhile, who's coming off multiple concussions and a subpar playoff performance, is currently the Pens' fourth-highest paid defenseman (also behind Brooks Orpik) and stands to get a sizeable raise before his contract expires in two years. How the Pens will be able to afford it, if they can't move Martin's and/or Michalek's contracts, remains to be seen.
There's also been plenty of talk surrounding Head Coach Dan Bylsma and whether or not his services should be retained. Bylsma, who led the team to their Cup victory three years ago, will undoubtedly get another shot at leading his team back to the top. But if Bruce Boudreau's and Randy Carlyle's firings this season taught us anything, it's that regular season success and past winnings are no guarantees of job security in the present. If the Penguins take another misstep next year, it will likely mean the end for Bylsma.
For now, the Penguins remain as one of the league's elite teams heading into 2012-13. But the bigger concern is, can Shero make the right choices moving forward to keep them there.
Photo Credit: Getty Images


Original Story:
http://www.rldhockey.net/2012/04/big-...
THE BACKYARD
BEST OF MAXIM
RELATED ARTICLES
The Pittsburgh Post-Gazette's Shelly Anderson reveals some surprising and very good news from the Pittsburgh Penguins' end-of-season media availability: The NHL lost a season, 2004-05, to a work stoppage the previous time it had to hammer out a new collective bargaining agreement with the NHL Players' Association. Penguins defenseman Brooks Orpik, a team union representative...
from David Shoalts of the Globe and Mail, Ray Shero had a perfectly sensible reaction to the Pittsburgh Penguins getting bounced in the first round of the Stanley Cup playoffs. The Penguins general manager met with the media Tuesday for the first time since they were eliminated Sunday by their cross-state rivals, the Philadelphia Flyers, and essentially said, hey, stuff happens...
For yours truly, watching on Sunday as the Pittsburgh Penguins fell to the Philadelphia Flyers was like watching the end of the world as we know it. I forgot for about 24 hours that other teams were still playing in their drive towards the Cup and that in fact, the WHL and NHL post seasons were in full swing. After hearing that Florida and New Jersey were in a heated battle and Phoenix...
The Pittsburgh Penguins are sticking with coach Dan Bylsma and star centers Sidney Crosby, Jordan Staal and Evgeni Malkin. Other than that, general manager Ray Shero says it's a ''big summer'' for the franchise as it tries to figure out what happened during its first-round implosion against Philadelphia. The Penguins won 51 games during the regular season but...
NHL News

Delivered to your inbox

You'll also receive Yardbarker's daily Top 10, featuring the best sports stories from around the web. Customize your newsletter to get articles on your favorite sports and teams. And the best part? It's free!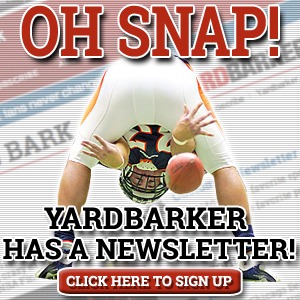 Latest Rumors
Best of Yardbarker

Today's Best Stuff

For Bloggers

Join the Yardbarker Network for more promotion, traffic, and money.

Company Info

Help

What is Yardbarker?

Yardbarker is the largest network of sports blogs and pro athlete blogs on the web. This site is the hub of the Yardbarker Network, where our editors and algorithms curate the best sports content from our network and beyond.