Posted January 31, 2013 on AP on Fox
It seemed a near certainty Roberto Luongo had played his final game in a Vancouver Canucks sweater after Cory Schneider supplanted him as the team's No. 1 goaltender during last season's playoffs. Now, he's proving to be an asset. Luongo will make his third straight start Friday night as Vancouver hosts the rival Chicago Blackhawks, who have earned 13 of a possible 14 points to start the season. Canucks general manager Mike Gillis has made no secret he's actively shopping Luongo, who entered 2013 as Schneider's backup after posting his fewest wins (31) since 2003-04. Luongo also gave way to Schneider after dropping the first two games of a first-round playoff loss to eighth-seeded Los Angeles. Schneider started four of the team's first five games this year, posting a 3.13 goals-against average and being relieved by Luongo in an opening-night loss to Anaheim. Luongo has been solid, though, going 1-0-2 with a 1.61 GAA after making 24 saves in Wednesday's 3-0 victory over Colorado. "You just take it for what it is," Luongo said. "I'm playing hockey in the NHL. I consider myself lucky." Coach Alain Vigneault has decided to ride out Luongo's hot streak, making clear that having two capable goaltenders is only a positive for the Canucks (3-2-2). "When I call on one to go in our net, I know he's going to give us the best chance to win and the other one is going to support him," Vigneault said. Luongo has played a key role in the constantly developing rivalry against Chicago and is 2-0-1 with a 1.60 GAA in his last three starts in the series, including the postseason. Last season ended a streak of three consecutive playoff meetings, of which the Blackhawks won two before Vancouver's seven-game victory after nearly blowing a 3-0 series lead in 2011. Things may get heated in this matchup. The last one, a 2-1 overtime win for the Blackhawks on March 21, led to Chicago defenseman Duncan Keith's five-game suspension for a hit that caused Daniel Sedin to miss nine regular-season and three postseason games with a concussion. "We expect a playoff-type (atmosphere). It's an important game for everybody," Chicago coach Joel Quenneville said. "When we go there the building is alive and it will be an exciting game." The Blackhawks (6-0-1) set a franchise record by winning their first six games before falling 3-2 in a shootout to Minnesota on Wednesday to begin a six-game road trip. Captain Jonathan Toews, who scored his fourth goal, said the hot start will only benefit them in a shortened season. "We're on a long road trip right now and we can't look too far ahead," Toews said. "We've put ourselves in a good spot and we've got to make it even tougher for teams to catch us." One reason for Chicago's success has been a penalty-killing unit that has snuffed out 26 of opponents' 27 chances with the man advantage. The Blackhawks have killed off all 19 short-handed situations on the road, while Vancouver has converted just 1 of 15 power-play chances over its last three games. "It's been huge for us but, No. 1, we would like to stay out of the box a little bit more," Toews said. "If we happen to be going to the box, then we're confident if the game is on the line we can get the job done." Corey Crawford has been solid in net with a 1.79 GAA after making 23 saves Wednesday, though it's unclear if he or backup Ray Emery will get the nod Friday with Chicago playing the next night in Calgary. Vancouver has won five of the last seven home meetings, including the playoffs.
Original Story:
http://msn.foxsports.com/nhl/story/Bl...
THE BACKYARD
BEST OF MAXIM
RELATED ARTICLES
Here we go again… Really? Do you want to talk about something else around the water cooler today? The Canucks won, so you have most, if not all of your hair; and it was only a Wednesday, so you're probably not droopy eyed and clinging to that fifth cup of coffee. I just wanted to take a second to touch on the goalie issues the Canucks are currently having, or not currently having...
Roberto Luongo made 24 saves for his first win of the season and the Vancouver Canucks beat the Colorado Avalanche 3-0 on Wednesday night. Luongo, who has been on the trading block since Cory Schneider replaced him as Vancouver's No. 1 goaltender, was rarely tested but still made some big saves in his 61st career shutout. With the Canucks leading 2-0 in the third, Luongo stopped...
For The NHL Gamblers! Headline: Canucks Look to Snap Two game Slide – Host Avalanche Wednesday Night The Vancouver Canucks can thank Roberto Luongo for the one point they gained in Los Angeles on Monday night – he was clearly the best player on the ice for an obviously tired Vancouver squad. The Canucks will likely turn back to Cory Schneider when they host the Colorado Avalanche...
Roberto Luongo turned in a 24-save shutout over the Colorado Avalanche last night as the Canucks improved to 3-2-2 this season. Zack Kassian had his fifth goal of the year in the win. Let's take a look at the rest of a short night on ice. Chicago lost its first game of the season in a shootout 3-2 to the Minnesota Wild. The notable happening in that game was that goaltender Nicklas...
By Bill Kellett Getty Images No one in the city of Vancouver thought they would ever see Roberto Luongo in net again for the Vancouver Canucks. Yet, there he was between the pipes in the first game of the season. He took over in relief of the newly anointed No. 1 Cory Schneider after possibly his worst game in professional hockey. One game later, there he was again drawing the starting...
Follow me on twitter @IanEsplen to chat hockey, sports and life in general anytime The stage is now set for a controversy, as Roberto Luongo played himself back into the number one role and all Cory Schneider could do was watch. But then again, that's nothing new in Vancouver when it comes to goaltenders; we like our goalies like we like our ice cream – a new flavour...
Love 'Em & Hate 'Em Boxscore | Recap  For all the hype, this was probably the tamest edition of the Canucks/Blackhawks rivalry. There was absolutely no rough stuff aside from Sheldon Brookbank chasing after Alex Burrows after he cheekily slipped the puck in the net on an offside call. Both teams came into the game saying all the right things about just wanting to get the...
Best & Worst Nucks It may be an unusual season in terms of length in this post-lockout world, but aside from that it's yet another year and yet another slow start for the Vancouver Canucks. However, unless the uncertain tangle the team is in gets unravelled mighty quick this year could be done and dusted. The middling start for the team matches the indifferent performance of...
For The NHL Gamblers! Headline: Heated and Hated Rivalry Continues – Canucks Host Blackhawks Friday Night One of the best rivalry's in the NHL writes another chapter Friday night when the Chicago Blackhawks, fresh of their first loss of the season (albeit a shootout loss) pays visit to the Vancouver Canucks who climbed over .500 with a 3-0 win over Colorado on Wednesday night...
Home, Sweet, Home The Vancouver Canucks are back at home for a quick two game home stand, which sees them play host tonight to the Colorado Avalanche tonight and the Chicago Blackhawks on Friday. Here then are my Canucks gameday tips for how to put a W in the win column tonight. Glass Half Full The California road trip that saw the Canucks play three games in four nights probably...
Guess what everyone?   Thomas goes crazy and builds a bunker? It's all Tuukka's fault. J.F.K wasn't wearing a helmet? Tuukka's fault. Roberto Luongo's tires deflated? Tuukka's fault. Tom Brady blows against the Ravens? Tuukka' fault. U.S. recession? Tuukka's fault. Tsunami's? Totally...
Here we go… time to renew hostilities The Vancouver Canucks are back in action tonight. They close out this two game home stand against their bitter rivals from the Central division, the Chicago Blackhawks. Tonight has a little something else going for it than most Canucks and Blackhawks games do. It will be the first time the two teams have played since Duncan Keith ended Daniel...
NHL News

Delivered to your inbox

You'll also receive Yardbarker's daily Top 10, featuring the best sports stories from around the web. Customize your newsletter to get articles on your favorite sports and teams. And the best part? It's free!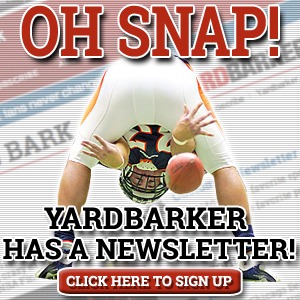 Latest Rumors
The Backyard

Today's Best Stuff

For Bloggers

Join the Yardbarker Network for more promotion, traffic, and money.

Company Info

Help

What is Yardbarker?

Yardbarker is the largest network of sports blogs and pro athlete blogs on the web. This site is the hub of the Yardbarker Network, where our editors and algorithms curate the best sports content from our network and beyond.