Found October 29, 2011 on Buzz On Broad:

We all know Bobby Clarke and Eric Lindros had their differences. It is no secret.
A major component of the problems between Clarke and Lindros were because of Lindros' family. They played a huge role in his career decisions.
Back in 2007 after Lindros announced his retirement, Clarke spoke to Hockey Night In Canada Radio.
"He was an easy guy to have around, didn't cause problems, and didn't really demand anything extra for himself. He didn't cause any problems — it was his family that ended up causing problems, between Eric and myself or between Eric and the team."

"Nobody in our organization seemed to be safe from the family's blame whenever something went wrong with Eric. It just seemed bigger than Eric playing … and alienated him from the team."

"Eric, no less than any other player, got the best treatment we could possibly provide for him … but the family always felt we didn't do that. His family was blaming everybody and it just tore him away from the team."
Clarke was able to get past the family issue, and made it clear that he thought Lindros should be in the Hall Of Fame.
"Yes, based on his ability to play the game and based on his contributions as a player."

"I think you have to separate all the crap that went on. Particularly when he played for the Flyers, it was just outstanding, dominant hockey — the first of the huge, big men with small man's skill."
Fast forward to 2011. The Winter Classic has everyone excited, regardless of the fact that it is borderline impossible to get tickets to the game. Two-thirds of the Legion Of Doom will be there: Eric Lindros, John LeClair, Mikael Renberg.
ESPN.com recently caught up with Bob Clarke and Eric Lindros, who will be sharing the ice at Citizens Bank Park. They both seem to have gotten over their issues and moved on.
"It's no big deal to me,'' Clarke told ESPN.com. "Not at all. Lindros was an MVP; he helped our club. That part I like. I didn't like the parents involved; I didn't like what they did, and once it started hurting our club, then I was offended by it. But as far as Eric playing hockey for us, he played hard for us and he played good for us. He deserves to be out there.''

"I hope so for his sake,'' Clarke said of Lindros. "Because he left with so much bitterness and so much anger. And I guess I did, too. I was bitter and angry, too. But once he was gone, I moved on, I didn't care after that. Let's hope we're all mature enough now, enough time has passed and everything has healed.''
Lindros responded via email to ESPN.com:
"I've been excited since I received a phone call from Paul Holmgren inviting me to represent the Flyers and Flyer fans at the Alumni Game of the Winter Classic Weekend," he said. "Old friends from Philly have been blowing up my phone ever since word got out. I can't wait to get back there, see them and play for the fans again. Looks to be a great event. It was very nice of Bob to say some of the things he has said, and I too look forward to catching up with him.

While a great deal of time has passed, my beliefs on the subject of my representation have not. I had great representatives looking out for my best interests and safety. They just happened to be my parents. In the past, I have not found it worth my time to discuss and publicize much of what went on. Maybe I should have. Maybe that was a mistake. But I still, to this day, don't see the point. With that said, everyone is welcome to their opinion. Reading what Bob said and knowing him, well, that's just Bob's way.

Time to move on with more important things. I am so excited to be heading back to Philly in January and more than likely before that. It's going to be a great weekend. I will not have played in a game this big for almost 5 [years]. Pumped!"
Their words reflect maturity, but it is also crystal clear that neither party is completely over what happened.
Regardless of what you may think of Lindros, the man was an incredible talent. It is safe to say everyone in Philadelphia is just as pumped as he is  to see him back on the ice. Here is a video taking a look back at his career.
Original Story:
http://www.buzzonbroad.com/2011/10/bo...
THE BACKYARD
BEST OF MAXIM
RELATED ARTICLES
Flyers legend Eric Lindros will be doing what once seemed impossible -- he will be donning the Flyers colors once again. The former Flyers captain will be wearing the Orange and Black during the Flyers alumni game outdoors against the New York Rangers, Lindros told ESPN.com. The game is set to take place Dec. 31 at Citizens Bank Park -- a couple of days before the annual NHL Winter...
There's been so much focus on the Philadelphia Flyers' side of the Winter Classic alumni game — Eric Lindros and a potential Legion of Doom reunion, the possibility of Bobby Clarke and other Bullies in the game — that the New York Rangers' roster has been somewhat overshadowed. One anticipates that players like Mark Messier, Brian Leetch, Mike Richter and Adam Graves...
Flyers News

Delivered to your inbox

You'll also receive Yardbarker's daily Top 10, featuring the best sports stories from around the web. Customize your newsletter to get articles on your favorite sports and teams. And the best part? It's free!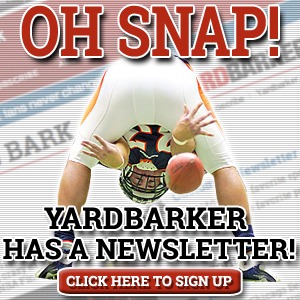 Latest Rumors
The Backyard

Today's Best Stuff

For Bloggers

Join the Yardbarker Network for more promotion, traffic, and money.

Company Info

Help

What is Yardbarker?

Yardbarker is the largest network of sports blogs and pro athlete blogs on the web. This site is the hub of the Yardbarker Network, where our editors and algorithms curate the best sports content from our network and beyond.