Found July 12, 2012 on centericechat.com:
Although the Boston Bruins are on the approved list of teams that Columbus Blue Jackets forward Rick Nash would accept a trade to, do not expect the 2011 Stanley Cup champions to make a push for the talented winger. Nash would love to play for the Bruins next season and beyond. He would be an instant upgrade to Boston's offense, especially on their anemic power play. The Blue Jackets could actually take on Tim Thomas so that they could ensure they will reach the minimum salary cap number for the upcoming season. It is a move that could benefit both teams. Unfortunately, it does not appear likely that the Bruins will trade for Nash at any point this offseason. By now, we all know that Columbus has an extremely high asking price that many teams around the league are simply unwilling to meet, even to acquire someone such as Nash. The offensive minded winger would help out any team, sure, but that does not mean that teams will be looking to unload half of their current roster and top prospects to acquire one player. Not even Nash. It is reported that the Blue Jackets want a package centered around one of the top defensive prospects in the game in Dougie Hamilton, as well as either Tyler Seguin or Milan Lucic. It remains highly unlikely that the Bruins would be unwilling to move any of the three aforementioned players for Nash or anyone else who is rumored to be available for trade. Dealing Lucic and his combination of size and speed or Seguin and his immeasurable potential does not fit the plan in Boston. Nash would be a nice addition, but not at the expense of changing the entire look and feel of what the Bruins already have in place, which is a perennially young Cup contender. The Blue Jackets will have to see if they can force the hand of another team to cave into their ridiculously high demands.  
Original Story:
http://www.centericechat.com/2012/07/...
THE BACKYARD
BEST OF MAXIM
RELATED ARTICLES
Rick Nash asked for a trade in January. He was not dealt at the trade deadline in February, nor at the draft in June. Now it's nearly two weeks into the free agency period with Zach Parise and the bulk of the options for scoring help up front off the market, and Nash still remains property of the Columbus Blue Jackets. How could such an elite player be up for grabs this long...
It's a new day, which means that it is time for your daily, "Rick Nash trade talks are going absolutely nowhere," update. From Blue Jackets' beat writer Aaron Portzline: "The Blue Jackets are still trying to trade captain Rick Nash, but the last few days have been exceptionally quiet between Jackets GM Scott Howson and his potential trade partners... what...
Kevin McGran at the Toronto Star reports that the Rangers organization would have been gutted if they traded for Rick Nash at the trade deadline..."Other teams, notably the Rangers, refused such high demands at the trade deadline. It was noted recently to the Star by one Ranger front-office employee that Howson wanted so much, the Rangers would look like the Blue Jackets by...
The NHL trade deadline came and went in late February, and so did the NHL draft in late June. The start of NHL free agency is now getting smaller and smaller in the rear view mirror, but Rick Nash -- who requested a trade in January -- is still a member of the Columbus Blue Jackets. How much longer can this go on? Blue Jackets GM Scott Howson remains resolute, insisting he won...
It makes perfect sense doesn't it? Most GTA born youth who grow up playing hockey dream of one day suiting up for the blue and white. Not Brampton-raised Rick Nash, who is currently looking for a way out of the lowly Columbus Blue Jackets. The power forward has revealed six teams that he would approve [...]
  So we lost out on the guy that was supposed to rejuvenate a defensive corps that lost its best player, and one of the best defenseman to ever play the game. Ryan Suter didn't happen. And what is our defense going to do? I have Brendan Smith doing everything next year, so I'm not worried, but what we still haven't fixed is that forward sniper position. And no, I...
The Bruins would love to acquire Rick Nash from the Columbus Blue Jackets. The 28-year-old forward wouldn't mind going to Boston either, as the Bruins were one of six teams on Nash's preferred trade list. The problem facing the Bruins -- as well as the Red Wings, Rangers, Flyers, Penguins and Sharks, who are the other five teams on the list -- is that Blue Jackets general...
In yet another piece on Rick Nash, Greg Wyshynski at Puck Daddy discusses how the Columbus captain still has a Junior Hockey mentality meaning he tries to do too much on his own and thinks his size and power can overcome multiple player coverage from the defense.Wyshyski adds this quote from former Ranger and TSN analyst Ray Ferraro on the impact John Tortorella would have on Nash...
Many have asked: One call can change all, but I get no sense that a Rick Nash trade is imminent. Holding pattern for now. #CBJ— Aaron Portzline (@Aportzline) July 10, 2012 ...sweet, can't tell you how excited I am to hear this news....with all the news being posted about Nash on this blog lately, I'm ready to change the name to The Rick Nash Blog.***In news I'm assuming...
Eric Staal got some very good news a few weeks back when his Hurricanes made a trade with the Pittsburgh Penguins to acquire one of Staal's, brothers, Jordan, to play in Carolina. It not only made the Staal brothers happier, but it also made the Hurricanes much better. But as it sounds, Eric is hoping that his Hurricanes are not quite through adding some key pieces...
  While some players, particularly power forward Rick Nash, don't want to play hockey in Toronto because they feel their every move will be scrutinized, James van Riemsdyk can't wait to become the centre of attention for the Maple Leafs, literally. The 6'3″, 200 pound forward spoke to reporters in Toronto on Wednesday for the [...]
NHL News

Delivered to your inbox

You'll also receive Yardbarker's daily Top 10, featuring the best sports stories from around the web. Customize your newsletter to get articles on your favorite sports and teams. And the best part? It's free!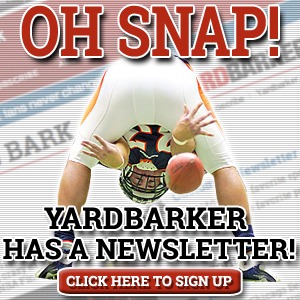 Latest Rumors
Best of Yardbarker

Today's Best Stuff

For Bloggers

Join the Yardbarker Network for more promotion, traffic, and money.

Company Info

Help

What is Yardbarker?

Yardbarker is the largest network of sports blogs and pro athlete blogs on the web. This site is the hub of the Yardbarker Network, where our editors and algorithms curate the best sports content from our network and beyond.