Found April 20, 2012 on Fox Sports Florida:
NEWARK, NJ Devils goaltender Martin Brodeur has seen and done it all in his 21 years in the NHL. The future Hall of Famer has played in more games and made more saves than any netminder in league history, and the three-time Stanley Cup champion has more wins than any goalie to ever play the game. So when New Jersey needed the cagy veteran to come up with a standout performance in Game 4 of the Eastern Conference quarterfinals against Florida after one of the worst playoff games of his career a disastrous showing that was both Brodeur's shortest playoff outing (22:18) and lowest save percentage (0.75, 9-of-12) in 184 career playoff appearances there was little concern that he wouldn't deliver. "It wasn't really a decision," Devils coach Pete DeBoer said of the choice to start Brodeur in Game 4 after pulling him on Tuesday. "I knew when we took him out last game that I would start him again. He's been our go-to guy the entire second half of the year, and he's played exceptional for us." But even the Devils, perhaps, didn't expect the kind of performance they ended up getting from their undisputed leader between the pipes. Brodeur reclaimed command of the crease Thursday, stopping 26 Panthers shots in a 4-0 shutout to knot the series at 2-2. It was the 24th career playoff shutout for Brodeur already the NHL's all-time leader in regular-season shutouts moving him past Patrick Roy and into first on the NHL's all-time playoff shutout list, as well. "I'm fortunate to have a lot of these records now, but it is what it is," Brodeur said after the game, downplaying the importance of what he had just accomplished. "I just want to win. We're part of a great thing here with guys caring about each other, and I just want to play well for them." And it's that humble nature and level headedness even despite the addition of another monumental record to his resume that has contributed so greatly to Brodeur's prolonged success in the league. "He's not a guy that's motivated by personal stats," DeBoer said. "Those are things I'm sure he's going to enjoy when he's retired, but this guy enjoys the battle and being in there in the heat of it with the game on the line. That's what he enjoys right now, and that's what he plays for." The start of Game 4 couldn't have been more different from Game 3 for both teams. The Panthers and Devils, who combined for five first-period goals on Tuesday, each held their ground early on Thursday. After 20 minutes of play, the score was tied at 0-0, and for a large portion of the period, neither team even got a good enough at the net look to take a decent shot. There was only one shot on goal between the teams over the final 7:37 of the period, and Brodeur and Panthers goalie Scott Clemmensen each finished the frame with 10 saves. Brodeur stopped seven more shots in the second period, but again, his teammates made his job relatively easy, allowing just one shot on goal in the final 9:52. Clemmensen made two huge stops on a power play following a Panthers high sticking penalty early in the second, but Florida was never able to clear the puck out of the Devils' offensive zone. And with 30 seconds left on the man-advantage New Jersey captain Zach Parise scored on a deflection in front of the net, giving the Devils a 1-0 lead all the cushion Brodeur would need with 13:52 left in the period. The Devils took a 2-0 lead 2:02 into the final period on a top-shelf laser by Steve Bernier, who snuck the puck over Clemmensen's left shoulder, making amends for a critical incidental contact call that disallowed what would have been a game-tying goal in Game 3. Then a one-timer from David Clarkson to Travis Zajac pushed the lead to 3-0 just 1:33 later. Brodeur stopped a Marcel Goc slapshot with 11:54 to go in the game, which elicited a "Mar-ty's Bet-ter" chant out of the crowd a slight at the former Devil Clemmenson then 26 seconds later, Ilya Kovalchuk delivered the dagger, giving New Jersey a 4-0 advantage. In addition to their goaltender, New Jersey's NHL-best penalty kill unit, which struggled so mightily in the first three games of the series allowing six Panthers goals on 10 opportunities was also back to normal Thursday and stymied the Panthers on each of their six chances with a man-advantage. "It's really important when you get your goaltender to make saves early and you just see the way he was moving early," Parise said. "We feed off of it. And on the penalty kill, he made some big saves there too. When your penalty kill is a little fragile you need your goalie to make big saves, and he did that tonight and we never really looked back." When you've played as many games as Brodeur has, you become as adept at handling the agony defeat as you do at keeping a level head after wins and as the NHL's all-time leader in losses, too, Marty would know. He's been doing this so long that he's, amazingly, both the NHL's active leader in fewest goals allowed per game and most goals allowed overall, so it was unlikely that a few pucks slipping past him in Game 3 would have a significant long-term impact. "It's disappointing to blow a three-goal lead, but you have to take everything in stride," Brodeur said. "I'm not Superman here, you get affected by certain things that happen to you. So I just wanted to make sure I focused and played well." Now the series heads back to Florida, where the teams will face off again on Saturday at 6:30 p.m. ET in a crucial Game 5. New Jersey unquestionably has the momentum heading in, and you'd have to imagine Brodeur's Game 4 rally following an embarrassing Game 3 loss is a sign of good things to come for his team. "What separates him from ordinary goalies isn't just his talent, it's his mental makeup," DeBoer said. "That's what has allowed him to play as long as he has at the level he has. He's just mentally tougher and he's able to handle those highs and lows without it affecting his game." "He's the best goalie of all time," Kovalchuk said of Brodeur's Game 4 shutout. "He just played the game he always plays." Follow Sam Gardner on Twitter: @sam_gardner
Original Story:
http://www.foxsportsflorida.com/04/20...
THE BACKYARD
BEST OF MAXIM
RELATED ARTICLES
Martin Brodeur watched the end of game three from the bench after he allowed three goals on 12 shots. Game four produced different results though. Back between the pipes, Brodeur turned aside every shot that made its way to him en route to a 4-0 Devils victory. Brodeur looked like the Marty of old, with his glove hand lightning quick and his pads ready to kick out any low shot. Brodeur's...
Martin Brodeur bounced back from his shortest postseason performance with a record-setting 24th Stanley Cup playoff shutout, leading the New Jersey Devils to a 4-0 victory over the Florida Panthers Thursday night, tying their first-round series at 2-all. Brodeur made 26 saves in taking over sole possession of the postseason shutout mark from Patrick Roy. The 39-year-old goaltender...
Martin Brodeur was looking for redemption in all the right places Thursday evening against the Florida Panthers in Game 4 of the Eastern Conference quarterfinals. When he was yanked from the crease last game, the veteran goaltender knew he needed to redeem himself for his team. His stellar performance would go on to have personal significance for the Stanley Cup Playoffs...
Is there a record that Martin Brodeur hasn't broken? As the New Jersey Devils defeated the Florida Panthers 4-0 in Newark, Brodeur earned his 24th career playoff shut out. That is one more than NHL Hall of Famer Patrick Roy and new league record. Brodeur already holds records in regular season wins, in which he surpassed Roy for back in 2009. He also is the NHL's all-time...
Martin Brodeur has always had the ability to bounce back after a bad game. This is just one of the many qualities that make the New Jersey Devils goaltender the best in NHL history. Brodeur did it again Thursday night, coming off his shortest post-season performance to being back in vintage form. Martin Brodeur made 26 saves as his New Jersey Devils blanked the Florida Panthers 4...
Martin Brodeur made 25 saves for his NHL-record 24th career playoff shutout as the host New Jersey Devils blanked the Florida Panthers 4-0 to level their Eastern Conference quarterfinal series at two games apiece. Brodeur, who got the hook 2:18 into the second period of Game 3 after allowing three goals on 12 shots, was unbeatable in Game 4 to pass retired netminder Patrick Roy...
Last night the New Jersey Devils shutout the Florida Panthers 4-0 at the Prudential Center in what was considered by many to be close to a must-win game. With the Devils picking up that win, they now head back to Florida for Game Five with the series tied at two. Here are some notes on the game. - Obviously last night's win was huge for a number of obvious reasons (tying the...
Martin Brodeur recorded his record breaking 24th shutout in the playoffs to lead New Jersey to a 4-0 win over Florida. Brodeur passed Patrick Roy on the playoff shutout list while stopping 26 shots. Watch the game highlights…
Tune into FOX Sports Florida at 7 p.m. to watch the Florida Panthers take on the New Jersey Devils. NHL Panthers territory. NEWARK, N.J. (AP) -- Sitting on the bench in the second period after his shortest stint ever in a playoff game, New Jersey Devils goaltender Martin Brodeur never worried whether coach Pete DeBoer would turn to him again in Game 4 against the Florida Panthers...
NEWARK, N.J. The NHL's best penalty-kill unit had its worst night of the season Tuesday, and that untimely flop when a man down may have killed its chances at a first-round playoff upset. The New Jersey Devils had everything going their way early on during their Game 3 matchup with the Florida Panthers at the Prudential Center, taking a commanding 3-0 lead before many fans...
*stats based on playoffs. *** means player is questionable for the game Match-up - Devils (48 wins, 102 points) @ Panthers (38 wins, 94 points) Road/Home records - 24-15-2 -------------- 21-9-11 TV - TSN2 (HD), NHL Network (US), RDSI, MSG-Plus (HD) Puck drop - 6:30 PM ET Series score - Tied at 2 Projected starting goalies - Martin Brodeur (NJ) vs. Jose Theodore (FLA) ...
*stats based on playoffs. Match-up - Panthers (38 wins, 94 points) @ Devils (48 wins, 102 points) Road/Home records - 17-17-7 -------------- 24-13-4 TV - TSN (HD), NHL Network (US), RDSI, MSG-Plus (HD), FS-Florida (HD) Puck drop - 7:00 PM ET Series score - Panthers lead 2-1 Projected starting goalies - Scott Clemmensen (FLA) vs. Martin Brodeur (NJ) Battle of the stats...
NHL News

Delivered to your inbox

You'll also receive Yardbarker's daily Top 10, featuring the best sports stories from around the web. Customize your newsletter to get articles on your favorite sports and teams. And the best part? It's free!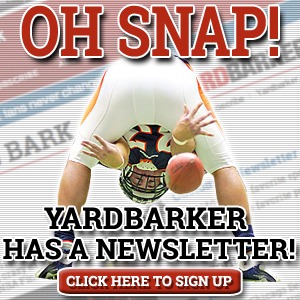 Latest Rumors
The Backyard

Today's Best Stuff

For Bloggers

Join the Yardbarker Network for more promotion, traffic, and money.

Company Info

Help

What is Yardbarker?

Yardbarker is the largest network of sports blogs and pro athlete blogs on the web. This site is the hub of the Yardbarker Network, where our editors and algorithms curate the best sports content from our network and beyond.