The Bruins players, and their fans, are ready for Saturday night's season opener The Bruins got back on the ice Tuesday night as they faced off against the Providence Bruins in the Garden. Personally, my expectations were not high for this scrimmage, seeing as how the Bruins haven't played an actual game together in over half a year. That, along with the fact that these are scrimmages and not actual preseason games, definitely add to the sloppiness we saw Tuesday night. Alas, this was still good for the Bs to get a run, and also good for Providence players getting a look from coaches and the fans. I have a feeling both Bruins coaches told their players to play at three-fourths, or even half speed, to reduce risk of injury in a game that has no actual significance. That being said, the Bruins game is heavily predicated so much on physical play, you have to figure they were a bit limited in how they could approach this one. There were even a few instances where Chara and others would ride a Providence player to send them a message if they did something that is expected of them in the regular season, but not in a scrimmage against your own team (One instance that comes to mind is when Providence defenseman Bobby Robins nudged Tukka Rask while he was covering up the puck. Chara let him know about it). The Bs hit hard, with no regrets, and without that physical play, there is no way you can actually analyze their play and compare it to a regular season atmosphere. But let's do it anyways. Brad Marchand looked to be in midseason form, netting a goal and an assist with his nice feed to Dennis Seidenberg. Marchand always seems to be an X-factor for the Bruins. He's one of those guys you love to have on your team, and hate to play against. Marchand didn't looked to be gassed either, seeing as how he was one of the few who didn't lace up the skates abroad this fall. Although Rich Peverley also chipped in a goal, the rest of the Bs forwards were mildly quiet, which isn't necessarily a bad thing seeing how this team hasn't played together in much too long. Although the defense looked solid for the most part, you can't feel good about giving up 7 goals, even when its a scrimmage against your minor league squad. Tuukka Rask looked extremely rusty, giving up some easy goals, including three in a matter of four minutes. If anything negative came out of this game, it was Rask. He looked slow on his reads, and didn't seem to have that swagger he normally has (again, I'm not worried about the fire, this is a tune-up scrimmage). Rask has big expectations this season, and could make or break the Bruins season. All in all, it was great to see the Bruins on the ice again, and what would a Bruins game be without a fight, even if it is a preseason. The aforementioned Robins ran into Adam McQuaid late in the third period, and McQuaid looked ready to give the young bully a taste of his own medicine. Although the two tangled up for a bit, Robins connected on one punch and knocked McQuaid down. Although surprising, it was good to see the two teams show some fire. The Bruins host the Rangers on Saturday in the highly anticipated (and long-awaited) season opener. Hopefully the Bruins can take a look at this game and move forward in the right direction.  
Original Story:
http://www.bostonsbettah.com/?p=5632
MORE FROM YARDBARKER
NHL News

Delivered to your inbox

You'll also receive Yardbarker's daily Top 10, featuring the best sports stories from around the web. Customize your newsletter to get articles on your favorite sports and teams. And the best part? It's free!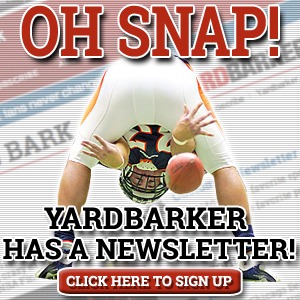 Latest Rumors
Best of Yardbarker

Today's Best Stuff

For Bloggers

Join the Yardbarker Network for more promotion, traffic, and money.

Company Info

Help

What is Yardbarker?

Yardbarker is the largest network of sports blogs and pro athlete blogs on the web. This site is the hub of the Yardbarker Network, where our editors and algorithms curate the best sports content from our network and beyond.