Found March 13, 2012 on Buzz On Broad:
Game notes:
Ilya Bryzgalov tied a Flyers record with his third consecutive shutout tonight, joining John Vanbiesbrouck as the only other goaltender to do so.  Vanbiesbrouck recorded three consecutive shutouts from October 20-24, 1999.
Vanbiesbrouck was involved in one other span of three consecutive shutouts.  The Flyers shut out their opponent three games in a row from Jan. 7-13, 1999.  Vanbiesbrouck was the sole goaltender in the first and third game of those three, and relieved Ron Hextall during the second game, thus splitting the shutout. 
Bryzgalov extended his shutout streak to 196:13.
Sixteen of the Flyers' 18 skaters recorded at least one shot on net tonight.
Hits were 38-32 tonight in favor of New Jersey.  Braydon Coburn led the Flyers with seven hits.  He also had three blocked shots and his 100th NHL assist.
The Devils had three shots on goal in the third period.  It's the third time this season in six games against the Devils that the Flyers have held them to three or fewer shots in the third period.  New Jersey had three shots in the third on October 8 (Flyers 2 at NJ 0) and had one shot in the third on February 4 (New Jersey 6 at Flyers 4). 
New Jersey's 17 shots were the second-fewest allowed by the Flyers in a game this season (16 at Tampa Bay, 12/27/11). 
Claude Giroux was 10-for-13 (77 percent) on faceoffs.
Quotes and video highlights are after the jump.   Flyers right wing Danny Briere Q: On the goal "Relief, probably. I think that was a perfect example of some who's not playing with a lot of confidence on the first shot. Ninety Nine percent of the time, I would have faked a shot and gone around the defensemen, but I was so nervous, I tried to rush it, just like I've been the last few games. Hopefully now I can relax a little bit and start scoring more goals. It was frustrating lately, especially when the chances were there. The one in the second period when Jake fed it back door, I mean, it was flat all of the way and then at the last second it hit a rut, went and jumped over my stick. That's exactly the way it was going lately, but I guess this is a big relief and a huge win for us, too." Q: Have you seen a guy less enthused about a three game shutout streak than Bryz? "I'm sure inside he is. I mean, with everything he had to go through this year, it has to be something special for him. Finally he is playing with a lot of confidence. There was a point blank shot in the third period and it looked like nothing. He just went down, took the blocker out and deflected the puck in the corner. To us on the bench, this is a huge play, it's a huge chance for them and you're sitting on their end and you see Bryz making a casual save like that and it's like 'Oh, maybe not. Maybe that wasn't even a good chance." And the other team is not able to create any momentum from it, so it's been fun. He makes all of us look better playing that way. It's fun for us as well." Q: This is the second time in Flyers history a goalie has had three shutouts in a row. Have you played with a goalie that's been this hot before? "I mean, I've been around a long time. I'm getting old, but I've played with goalies that have been on hot streaks. I can't remember being part of three straight shutouts though." Q: Danny, did you think it was odd when you saw Brodeur skate out of the net when he did? "To be honest, I had no clue until Jake got the puck and he rushed it out of the zone. Just by the reaction of the crowd, I knew there was something going on and I looked up and there was no goalie. That's when I realized. All I was thinking was try to get open for him. I has the feeling, knowing Jake, he's gonna try to get me out of the slump, so I owe him a dinner at least." Q: Coach said this morning that he had confidence in you and he predicted you'd have a big game tonight. You might not have been feeling the confidence, but is it nice to hear that coach was? "Yes, you know what, I'll be honest with you guys. Peter had a pretty good talk yesterday. Gave me a lot of confidence with the talk that we had. I have to give him a lot of credit for the way he made me feel coming into tonight's game. It was a good feeling. Playing with Jake, too, I'm hoping that we're able to build something. You have to give a lot of credit to Wellwood, too. I thought Eric played tremendous. He was skating, created some chances, was first on the forecheck all over the ice." Q: Could you give us a little bit specifics of what you guys kind of talked about a little bit? What he told you? "Just about my game. Just trying to tell me to stay with it. Good things were gonna happen if you worked the right way and keep creating chances, at some point, it's gonna work out." Q: You mentioned you're a veteran guy, though. It's still nice to hear those things? You know what you need to do to get out of it, but it's still nice to hear those things? "Yeah, we saw Bryz earlier said kind of the same thing. When things aren't going your way, confidence is something that can carry you a long way or take you out of the way. Yeah, it was nice, I have to give him credit for that." Q: Danny, for the last two weeks, Bryz has refused to talk about himself. Even tonight, after the game he talks about the team. How much has that helped him, do you think, and steadied him? You said that that happened in a meeting, but how much has that changed his game? "Oh boy, I don't know. I don't think that's the reason why he's playing so well. I think confidence has a lot to do with it, He just needed to get in a groove. We saw it before the shutout streak. He was playing well. I go back to the two games that we lost in Edmonton and San Jose where he played great, we just didn't give him any goal support. So, he's been going on for at least three or four weeks now that he's been playing well." Q: I guess what I was getting at is do you think he's taking some pressure off of himself. It's not him, it's the whole team. Before, he maybe thought he had to do it all? "Well, I went through the same thing my first year. You come in with a big contract, there's lots of expectations, you put a lot of pressure on yourself and you want to perform. You know how passionate the people of Philadelphia are and you want to give back. And sometimes it works against you, so I know how hard it was for him to fight through it, but you have to give him credit for the way he's been playing lately." Q: Did you and Sean have a special pre-game meal, since he also snapped a (inaudible)? "No, we had a nice dinner with the kids last night, that's about all I can say." Q: Have you given much thought though, one roommate hadn't scored in almost two months and the other, 66 days? You being the 66 days. "Oh really? Thanks! No, to be honest, I knew that both of us were in a little bit of a funk, but I didn't know how long it was for him. It's gonna be a big relief in the household." ... Philadelphia Flyers defenseman Kimmo Timonen Q: How'd you feel tonight? "Well, I haven't skated for 7 days, which is quite a long time during the season but…a little rusty. Playing the right side is a little different for me but we got two points, we played a really good game, Bryz was really good in the net…and that was kind of a playoff game, the way we played, so hopefully we can keep it going that way. I'm happy to be back." Q: When you look at 8 weeks earlier, who would've thought Bryz would be in a position to do what he's done now? He just became the second Flyer goalie in history to have 3 straight shutouts— "Definitely not you guys, I'll tell you that."  [laughter] "But, it's not easy to come from a different team with totally different expectations. You know, you talk about Phoenix media, there's not much pressure. You come here to Philly and it's a lot more media, a lot more pressure and it takes time. It was and adjustment time for him, I'm sure. He looks more happy now, more comfortable, he's playing with a lot of confidence. That happens when you're goalie plays well—you win games. I hate to say that but that's 50, 60 percent of you're team. " Q: You've talked in the past about the importance of playing well at home, and you guys have played well on the road all year but, I think you can see a difference in this team in the month of March… "If you don't win home games you're not going to win the Stanley Cup and that's the bottom line of it.  The same goes for the road games too, if you don't win games on the road you're not going to win [the Cup]. We've been really solid throughout the year on the road but sometimes you come home and you think things are going to happen easier but they wont. It looks like the last couple of weeks we've really been focused coming to the game, coming to the rink and everybody individually is ready to play and good things will happen. There are no passengers, there are five guys out there, Bryz the net so….it's a solid team effort." Q: A couple of years ago you were in that situation coming here from a different kind of market. Did it take you time to adjust? "It did and it's not easy. You know, at that time I signed a big deal too and it's a lot more pressure. You expect yourself to play well every night and obviously when we talk about goalies, it's totally different as a player. Obviously he [Bryz] wasn't having a great start like he was hoping and maybe the pressure was getting up there but now he's, like I said, he feels comfortable, he looks happy and he's happy coming to the rink and that's a big thing. " Q: He doesn't look happy to us, he doesn't look happy for us, in front of us…But in front of you guys… "There's always….you have to remember, like myself, there's probably two personalities. It's a media personality and then there's a locker room [personality] with the guys. Some guys are different." Q: So with you guys he's pleasant? "He's happy, yeah. He's talking and he's happy and you can tell he's really comfortable."
Original Story:
http://www.buzzonbroad.com/2012/03/br...
THE BACKYARD
BEST OF MAXIM
RELATED ARTICLES
Well, that headline kinda wrote itself, didn't it? More than enough has been said about Ilya Bryzgalov's struggles in his first season in Philadelphia, which seemed to curiously coincide with his Stephen Hawking-like insight into how big the universe is in comparison to everyone's problems on HBO's Road to the Winter Classic. Bryzgalov, who signed a nine-year, $51...
Ilya Bryzgalov stopped 17 shots for this third straight shutout and fourth in five games to lead the Philadelphia Flyers to a 3-0 win over the New Jersey Devils on Tuesday night. Sean Couturier, Jakub Voracek and Danny Briere scored to provide the offense. After an underwhelming start to the season, Bryzgalov has dominated of late and proved worthy of the nine-year, $51 million...
Ilya Bryzgalov recorded his third straight shutout and fourth in five games by turning aside 17 shots as the host Philadelphia Flyers regained sole possession of fifth place in the Eastern Conference with a 3-0 victory over the New Jersey Devils on Tuesday. Jakub Voracek scored in his return from a head injury and rookie Sean Couturier tallied for just the second time in 24 contests...
NEW YORK - Philadelphia Flyers goaltender Ilya Bryzgalov, New Jersey Devils left wing Ilya Kovalchuk and St. Louis Blues goaltender Jaroslav Halak have been named the NHLs Three Stars for the week ending March 11. FIRST STAR ILYA BRYZGALOV, G, PHILADELPHIA FLYERS Bryzgalov posted a 3-0-0 record, 0.65 goals-against average and .979 save percentage in three starts as the Flyers ...
After an up and down season, the Philadelphia Flyers $51 million man has caught fire. Ilya Bryzgalov has heard the boo birds this season on his own home ice, has found celebrity and promptly lost it again, has been benched for the Winter Classic, has given the press a boatload of amazing quotes, and was even "lost in the woods." However, the enigmatic Russian has found his game...
PHILADELPHIA — The Philadelphia Flyers signed Ilya Bryzgalov to a huge contract last summer in hopes he would end their goaltending problems. Right now, he's play even better than they could have expected. Bryzgalov, the reigning First Star of the Week, stopped 17 shots for his third straight shutout and fourth in five games as the Flyers blanked New Jersey 3-0 on Tuesday night...
Ilya Bryzgalov made 29 saves, coming within 6:30 of a fourth straight shutout. and the Philadelphia Flyers beat the New York Islanders 3-2 on Thursday night for their seventh win in eight games. Zac Rinaldo, Claude Giroux and Scott Hartnell scored for the Flyers (41-22-7), who stayed two points behind Pittsburgh for fourth place in the Eastern Conference. Michael Grabner ruined...
The New Jersey Devils fell to the Philadelphia Flyers in the second game of a home-and-home series tonight by a score of 3-0. After a strong defensive first period, the Devils had a hard time getting anything going offensively. Flyers' goaltender Ilya Bryzgalov collected his fourth shutout in five games; the Flyers now sit alone in fifth place in the Eastern Conference with 87...
The Philadelphia Flyers have been hot of late, largely due to the exceptional play of goaltender Ilya Bryzgalov. His history against the New York Islanders hasn't been as good, however. Bryzgalov will likely be in net as he seeks a franchise-record fourth consecutive shutout when Philadelphia looks for its sixth straight victory at Nassau Coliseum on Thursday night. The Flyers...
  There was something lost in all this Ilya Bryzgalov talk and that of course would be Kari Lehtonen.  Sure Bryzgalov has a shutout streak that seems to keep going at around ten periods or so, Lehtonen quietly plays on a team that faces a ton of shots and high quality chances.  Not all numbers are created equal as we know and right now it just seems that Dallas cannot lose, similar...
Welcome to another installment of "The Week Ahead" here at RLD Hockey. By now, you folks know the drill, so let's get started.Three Stars of the Week1) Ilya Bryzgalov, Philadelphia FlyersDoes everyone remember when Philadelphia Flyers netminder Ilya Bryzgalov could not stop a beach ball? Well, it appears that those days could be long behind the 9-year man between the...
Flyers News

Delivered to your inbox

You'll also receive Yardbarker's daily Top 10, featuring the best sports stories from around the web. Customize your newsletter to get articles on your favorite sports and teams. And the best part? It's free!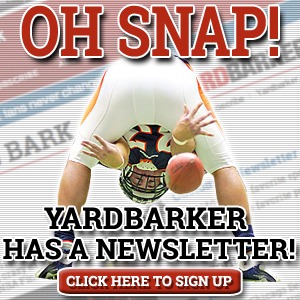 Latest Rumors
Best of Yardbarker

Today's Best Stuff

For Bloggers

Join the Yardbarker Network for more promotion, traffic, and money.

Company Info

Help

What is Yardbarker?

Yardbarker is the largest network of sports blogs and pro athlete blogs on the web. This site is the hub of the Yardbarker Network, where our editors and algorithms curate the best sports content from our network and beyond.