Found June 26, 2012 on NorthWest Sports Beat:
Per a
press release
this AM from the team website of the Vancouver Canucks we've learned that former Winnipeg Jets forward Scott Arniel one of the most sought after coaches and is back in charge of his old team.
Only now the Manitoba Moose are in a new city.
Namely Chicago.
The Canucks announced today that Arniel has been named as Coach of the Canucks AHL affiliate Chicago Wolves.
Personally I like this move. I liked Arniel as a player, and I liked his results as the Moose bench boss for the time we had him. Sure he didn't do anything special in C-Bus but the players liked him, and he was good in the room.
Time will tell.
Scott Arniel is now 49. He's from Kingston, ON.
What's he been up to the last few years you ask? Well, he was head coach of the Columbus Blue Jackets during the 2010/11 and 2011/12 seasons.
His record during that time was 45-60-18.
Prior to coaching the Blue Jackets, Arniel was the Head Coach of the Canucks AHL affiliate the Manitoba Moose 2006/07.
Looking at his Coaching numbers from the Moose he in 2008/09 he had 50 regular season wins, and 25 road wins, while tying the franchise mark for the most home wins in one season 25.
The Moose finished first overall in the entire American Hockey League for the first time ever that season with a record of 50-23-1-6 for 107 points.
He won the A.R. Pieri Memorial Award as the league's outstanding coach for 2008/09.
In four seasons under Arniel, the Moose won over 40 games each season and compiled a record of 181-106-33 in 320 games and earned two North Division regular season titles (2006/07 & 2008/09).
Quote: "We are thrilled to have Scott return to our organization," said Mike Gillis, Vancouver Canucks President & General Manager. "He has had a large impact on the development of a number of our current roster players and we are confident he'll again play an instrumental role in player development. Scott brings a great deal of character, experience and expertise to the head coaching position."
scott-arniel-jets.jpg
Original Story:
http://www.nwsportsbeat.com/forums/va...
THE BACKYARD
BEST OF MAXIM
RELATED ARTICLES
Two former Vancouver Canucks made it to the Hockey Hall of Fame today. Now while I hardly consider Mats Sundin a "former Canuck" I guess this time that is fine. In my opinion though the Canucks dropped the ball this time. There should have been seperate press releases. That much is obvious isn't it? I digress....here is the release. Quote: Vancouver...
Vancouver, B.C. – The Vancouver Canucks, in conjunction with the Chicago Wolves, announced today that Scott Arniel has been named as Head Coach of the Canucks AHL affiliate Chicago Wolves. "We are thrilled to have Scott return to our organization," said Mike Gillis, Vancouver Canucks President & General Manager. "He has had a large impact on the development of a number...
NWSB Insider and Vancouver Canucks blogger The Flying V - Kevin Vanstone weighs in on the amazing news today for Nucks fans that The Russian Rocket Pavel Bure has been inducted into the 2012 Class of the NHL Hockey Hall of Fame. At 478 career points Bure only sits 7th all time among Canucks players, but boasts the best goal-per-game averages Vancouver has ever seen. Joe Sakic, Adam...
Hey everyone, Mitch here. Rob was crazy enough to give me some admin control so I could publish my own posts. Once you get past the grammatical errors I think we'll get along just fine. Today I'm going to profile Dennis Wideman. Name: Dennis Wideman Size: 6'0″, 200 lbs Age: 28 Why the Canucks might want him: Wideman might be one of the more underrated UFA defencemen on the...
This has to be the best Vancouver Canucks video I've ever seen! I didnt make it but I came across it VIA corey schneiders Twitter! Enjoy boys & girls.
via Aaron Portzline tweets, Told by very good source #Canucks G Roberto Luongo has - to this point—declined to waive no-trade clause to go to #Blackhawks or #Leafs. Only place Luongo is willing to be traded, as of today, is back to the Florida #Panthers. If you are not aware, Luongo's wife is from south Florida and still has family there.
from Mike Brophy of Sportsnet, I always suspected Mats Sundin would be elected to the Hockey Hall of Fame, but not on the first ballot. With all due respect to the big Swede, I always felt there was enough ammunition for not voting him into the Hall that, at the very least, he would have to wait a few more years before being enshrined. No Stanley Cup. No trips to the Stanley Cup...
I'm starting to regret calling this the "UFA of the Day" because some days we don't have a UFA, and other days (like today), we have two! Well here at RobTheHockeyGuy, we pass the savings onto you. Today I'm focusing on one of the most intriguing and highly sought after UFAs to be: Justin Schultz. Name: Justin Schultz Age: 21 Size: 6'1″, 185 lbs Why the Canucks might...
For some reason I couldn't find a similar picture of Sundin... Shanahan was up for the Hockey Hall of Fame this year and I haven't wrote about it, because, well, I figured I'd get to it when he was inducted.  Because of course he'd be inducted right?  Going against the likes of Bure and Sundin, talented guys but ones who never won anything, Shanny and Sakic were...
The 2012 Hockey Hall of Fame class will include, Mats Sundin, Joe Sakic, Adam Oates, and Pavel Bure. Here's what the four have to say about this great acomplishment... (via Hockey Hall of Fame Website)Pavel Bure: "It is a tremendous honour to be selected to the Hockey Hall of Fame. Growing up I never even thought I would be able to play in the NHL, much less make it into...
This afternoon on Hockey Central, Jeff Marek and John Shannon were discussing the Rick Nash situation and coming back from a commercial break, they had the following exchange: Shannon: "If anybody is wondering why the Ottawa deal hasn't gone through… pretty obvious… " Marek: "For Nash, you mean?" Shannon: "With Rick Nash. Ottawa is not on the list...
In his latest 30 Thoughts blog post, Hockey Night in Canada's Elliotte Friedman has devoted a plethora of digital ink towards items that should pique the interest of Senators fans. But, rather than just copying-and-pasting some of the information related to impending UFA Justin Schultz and free agency, I'll encourage you to go to his blog and check it out yourself. Here are...
NHL News

Delivered to your inbox

You'll also receive Yardbarker's daily Top 10, featuring the best sports stories from around the web. Customize your newsletter to get articles on your favorite sports and teams. And the best part? It's free!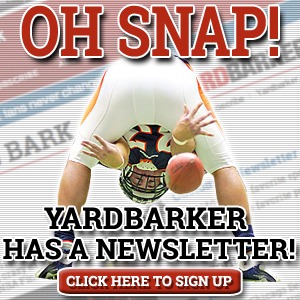 Latest Rumors
Best of Yardbarker

Today's Best Stuff

For Bloggers

Join the Yardbarker Network for more promotion, traffic, and money.

Company Info

Help

What is Yardbarker?

Yardbarker is the largest network of sports blogs and pro athlete blogs on the web. This site is the hub of the Yardbarker Network, where our editors and algorithms curate the best sports content from our network and beyond.